Recruiting Flashback: Dustin Fox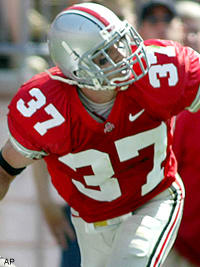 In the Fox family, it is the uncles apparently who know best.
Many believed that Canton (Ohio) GlenOak safety Dustin Fox would follow in the footsteps of his brother Derek and sign with Penn State.
But instead, the younger Fox – nephew of former Buckeyes Tim Fox, Dick and Ken Kuhn and Mark Stier – opted to commit to Ohio State in July.
"Derek being at Penn State didn't affect me too much," Dustin Fox said. "That wasn't that big of an issue. Ohio State's got great tradition, and our family's got great tradition there. Derek would have gone there, I'm sure, if there wasn't that mishap with Ohio State."
The mishap Dustin referred to was the recruitment of his brother.
"It just didn't work out for Derek (at Ohio State) because they waited a little bit too long to jump on," Dustin said. "Penn State jumped at the opportunity to have Derek and Derek fell in love with Penn State."
The younger Fox found himself rooting for Penn State as Derek became a regular in the secondary for the Nittany Lions.
"It was hard when Ohio State played Penn State because you wanted to cheer for Ohio State, but you wanted to see Penn State win," he said. "I jumped on the bandwagon to cheer for my brother."
But Fox's family ties to Ohio State run pretty deep. They include the following:
* Dick Kuhn, a sophomore tight end on the 1968 national championship team;
* Stier, a linebacker who was the most valuable player for the '68 champions;
* Ken Kuhn, a linebacker and captain on OSU's 1975 Big Ten championship team; and
* Tim Fox, a defensive back and also a captain for the '75 team that went 11-0 before dropping the Rose Bowl to UCLA. Of all of his Buckeye uncles, Fox said he emulates his only uncle on his father's side.
"I've seen him actually play on film," Fox said of Tim Fox. "I've seen films of him at Ohio State and in the NFL with the Patriots and the Chargers. He played with the Browns for a year and I remember watching a game on TV, but that's about as far as I can remember."
Fox knows he earned his scholarship offer on his own. But coming from a widely known family did not hurt him.
"They started recruiting me before my sophomore season," Fox said. "They had just heard about me and the bloodlines were there. "But probably what made them recruit me so hard is I guess I look good on film. I'm a pretty big hitter. I've got good speed and I can jump very well."
Fox has been a two-year starter on both sides of the ball at GlenOak, where Tim and Derek also starred. As a sophomore free safety, he recorded 101 tackles and grabbed three interceptions for a 1-9 team. Last season, he had 66 stops and intercepted six passes for a 5-5 team.
"He has a lot of speed," said GlenOak coach Jack Rose. "He's a smart player, a student of the game. He has the big-play capability and there's not too many guys like that."
Offensively, Fox has starred as both a running back and a wide receiver. He rushed for 700 yards and also had 200 yards in receptions.
"To be honest with you, I think he can be equally as good on either side of the ball," Rose said. "But he really has a love for the defensive side of the ball. He has the ability to make a lot of plays on that side of the football."
Fox is also a star on the track, where he has been clocked at 10.7 seconds in the 100 meters and gone just over 22 feet in the long jump. He helped his school's 4x100 relay team finish fourth at the state meet and took seventh himself in the long jump.
"I love track," Fox said. "If I get the opportunity, I'd love to do it at Ohio State."
Fox is close to catching his brother in the vertical leap. Dustin has gone as high as 40 inches, while Derek can go 42. But Dustin's athletic talents just complement his natural football instincts.
"He anticipates well," Rose said. "He snaps to the ball. He's one of those guys who, in one step, is probably at full speed. Plus, he has the ability to change direction, accelerate quickly and he reads an offense real well."
Fox hopes to follow his uncle Tim's legacy as a standout safety for the Buckeyes.
"Free safety is where I'm going to play," he said. "That's my forte, I guess. And, if I could play offense in college, I would really like to play receiver. I can catch the rock. "But I love safety. Just the fact you can run the field and be able to come up and make the hits and make big plays."
Dustin compared his abilities to those of his relatives.
"Derek is more of a thick, linebacker type," Dustin said. "But then I have, I think, Tim's athletic ability. He did well for himself. He was an All-American and was a first-round draft pick. I'd like to get those goals and go beyond that."
Although Tim Fox resides in the Boston area, Dustin said the former pro has shared some of his secrets. "We worked together this summer," Fox said. "He showed me some footwork skills and tricks of the trade, working on stuff that other high school kids aren't working on to get me ahead of the game."
For now, though, Fox is working hard to have a big senior season with the Golden Eagles. "I just need to be a good leader for our team," he said. "I don't have any stats set for what I've got to do, but if I'm out there on the field and our team wins the game, that's the most important thing. "If I happen to get some good stats and get some touchdowns and get some picks, that will be great because that will give me the individual goal that I'm looking for. I want to get the big award (Mr. Football). But I'm just going to do my best to get our team in the playoffs and, hopefully, win a state championship."
THE FOX FILE
NAME - Dustin Fox
HIGH SCHOOL - Canton (Ohio) GlenOak
POSITION - Defensive back
HEIGHT, WEIGHT - 6-0, 190 pounds
40-YARD DASH TIME - 4.4 seconds
BENCH PRESS - 260 pounds
GRADE-POINT AVERAGE - 2.8
COLLEGE ENTRANCE TEST - Scored a 19 on the ACT.
VITAL STATISTICS - Fox is ranked as Ohio's No. 1 prospect by Prep Football Prospects of Ohio and No. 3 by The Ohio Football Recruiting News. He is also a Rivals100.com Recruiting national top-100 player, ranking fourth among all safety prospects. SuperPrep rates him the No. 7 defensive back prospect nationally. Last year, he was the only underclassman on the Division I All-Ohio first team. He had 66 tackles and six interceptions for a 5-5 team. He returned his first kick of the season for a 71-yard touchdown. As a sophomore, he had 101 tackles and three INTs for a 1-9 squad. Fox projects as a free safety at the college level.
COACH'S COMMENT - "He jumps right out at you when you see him on the field. He just has tremendous acceleration and hits real well on defense. He really takes the proper angle and when he gets there he knows how to tackle people. He's a great kid and a team player. Sometimes he's almost too good to be true. Ohio State got a heck of a player there, but more importantly they got a better person." - GlenOak coach Jack Rose.
HOBBIES - Fox enjoys watching movies on DVD and skiing in the winter.
SCHOOLS INTERESTED IN - Fox committed to Ohio State in July, picking the Buckeyes over Penn State, Michigan, Indiana and Notre Dame.
(Reprinted from the Sept. 9, 2000 issue of Buckeye Sports Bulletin.)