Torres wows at Ohio State camp
Anthony Torres came into Ohio State's one-day camp as a complete unknown, but the 2018 tight end from Indiana left as one of the most impressive prospects on the field.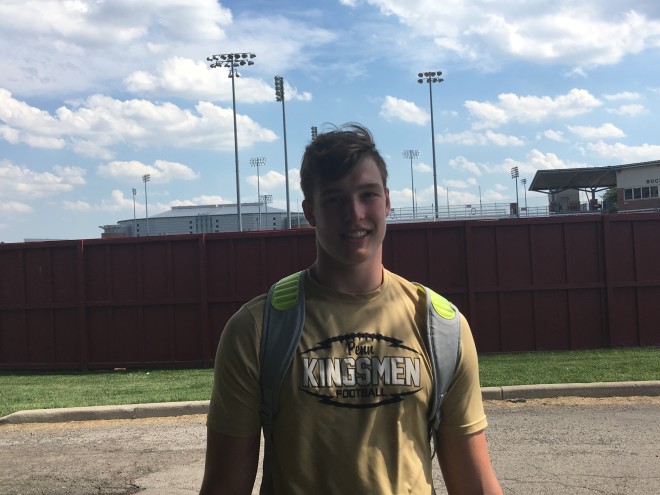 Anthony Torres came into Ohio State's first one-day camp of the summer with exactly zero scholarship offers. He left that camp with exactly zero offers. On the surface, it doesn't seem like it was exactly a huge day for the 2018 tight end from Mishawaka (Ind.) Penn, just outside of South Bend. Yet, the 6-foot-6, 233-pound recruit turned so many heads and impressed so many coaches that it would be foolish to simply scratch the surface for a take like that.
Torres came to Ohio State as an unknown quantity, but left the day having received personal attention and meetings with Ohio State head coach Urban Meyer, offensive coordinator and tight ends coach Ed Warinner, and recruiting coordinator Mark Pantoni. He and his family received as much personal attention as almost any other recruit on campus, including multiple prospects with several Power Five offers. Were it not for Ohio State hogging Torres and gushing over him, he may well have been offered by every MAC school in attendance.
"[Going back to the offices] was awesome. I did not expect it all. They just talked me to briefly about the future," Torres said. "It's a great feeling, it just makes me want to work harder because I know my potential now."
Torres came in hoping to show some coaches what he could do on a football field. He spent last season at Penn behind some older and also-talented tight ends on the depth chart for a team that made a state title run. His performance exceeded even what he thought he'd be capable of.
"I wanted to get some exposure, have a good time, and to show what I could do. This isn't what I expected. I expected less," Torres smiled. "But I had a great time… It was a great experience. It's a beautiful campus and I had a great time."
Torres' performance led him to those introductions with Urban Meyer and other Ohio State coaches, and it won't be the last time he sits down with college head coaches – not even close. It's a foreign feeling for Torres and one he's not used to.
"It's not pressure but I'm nervous just because it's a huge step forward from not playing any time really last year to coming here this season and seeing interest from coaches like that," Torres said.
Torres' conversations with Ohio State back in the offices at the Woody Hayes Athletic Center proved fruitful. Torres will be back to campus later this summer for a return trip and it will be entirely unsurprising if he picks up a Buckeye offer when he does make it back. Don't be shocked if the regional powerhouses all begin pursuing Torres sooner rather than later.
"They said they would love to have me back [for Friday Night Lights on July 22nd," Torres said and also indicated that he did plan to make the return trip, along with visits to Michigan and Michigan State from June 20th to the 23rd. He later added: "[Coach Warinner] is a great guy, he's fun to be around. He has a good personality."
In addition to the Big Ten trio of Michigan, Michigan State, and Ohio State, Torres has strong connections to the Fighting Irish. Not only is Notre Dame practically in his backyard – it's just a 20-minute drive from his high school – it's also home to his older brother, Austin Torres, a senior on the Irish basketball team.
"I haven't talked with Notre Dame at all, but my brother goes there and plays basketball there, so it's a big part of my life," Torres said.
There is little doubt that Torres' lack of communication with the hometown school will not last long. Prospects this impressive on the field simply don't go unnoticed in today's day and age of recruiting, despite a relative lack of padded playing time on Friday nights. There's a long way to go until 2018's National Signing Day, but big things are coming for Anthony Torres.