North Carolina transfer kicker commits to Ohio State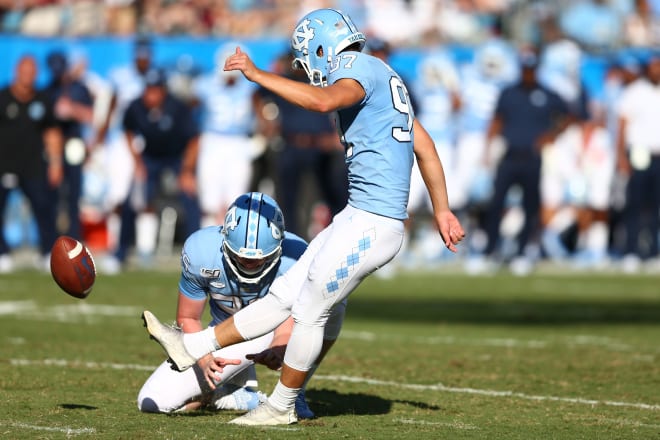 Ohio State will have another option at the kicker position for the 2021 season, as North Carolina transfer Noah Ruggles committed to the Buckeyes Wednesday.
In four years with the Tar Heels, the Odessa, Florida, native was a perfect 48-for-48 on extra points and hit 19-of-27 field-goal attempts.
Ruggles, a two-star prospect out of the 2017 class, did the bulk of that work in 2019, when he racked up 102 points for North Carolina. Ruggles attempted just one extra point in 2020, and did not attempt a field goal.
Blake Haubeil, who began the 2020 season as Ohio State's starting kicker, departed for the NFL this year following a senior campaign in which injuries bit into his time on the field considerably.
In Haubeil's place last season, true freshman Jake Seibert, the No. 1 kicker in the 2020 class, became the top option in several big spots for the Buckeyes. Seibert finished the season 16-for-16 on extra-point attempts, and 1-for-2 on field goals.
Siebert missed his first field-goal attempt in April's spring game, but new special teams coordinator Parker Fleming said he's seen improvement from the Cincinnati, Ohio, native over the offseason.
"Jake's development has been really good," Fleming said in April. "Had a great winter to get stronger and work through tough –– there's a lot of things specialists need, mentally, physically, all that."
RELATED: Parker Fleming dealing with turnover at key special teams positions
With Ruggles joining the fold though, it appears a competition at the position will be imminent heading into the 2021 slate.