Luke Wypler, C.J. Stroud combine to bring high IQ to Ohio State offense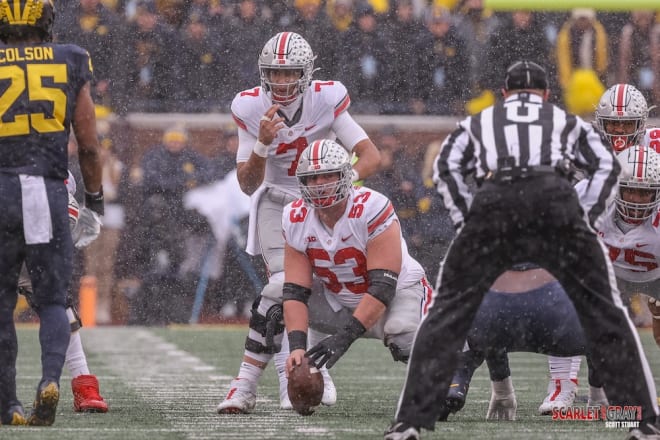 It was weird for Luke Wypler to go back and watch himself at center in Ohio State's 2021 season opener against Minnesota.
The redshirt sophomore saw an inexperienced player making his first career start, looking around, bouncing around every play. He saw a player who was not confident, who was not settled, who was not calm.
Wypler and his quarterback were in the same boat.
But the center and C.J. Stroud already had a relationship, building chemistry along with tackles Dawand Jones and Paris Johnson Jr. when they would watch film in the dorms together, dissecting what they would do in game situations that weren't even a part of.
Heading into the 2021 season, Wypler didn't feel like he was thrown into the fire. It was something he had prepared all season for.
Heading into 2022, the third-year center feels the same, seeing the in-game experience he has as just an added bonus.
"As the season went on, by Week 8, Week 9 there, when you're kind of in the thick of it, going through the brunt of the Big Ten schedule, you really feel how much difference and how much confidence you start playing with," Wypler said.
That confidence only continues to grow between the redshirt sophomore center and his redshirt sophomore quarterback.
After starting 12 games together in 2021, Wypler said he and Stroud have developed a good rapport, setting the tone for the rest of the Ohio State offense at its source.
"We know what each other (is) thinking every play, so it's easy to communicate without actually having to communicate," Wypler said.
It's because both Wypler and Stroud have the same trademark, that same love for game study, for football IQ, dating back to those film sessions in the dorms.
Both he and his quarterback, Wypler said, have a great understanding of this Ohio State offense with each heading into their third year in the system. With that knowledge comes ownership.
"I think you're going to start to see C.J. take a lot more control of the offense," Wypler said. "He knows what the team needs and what he likes."
But this doesn't shock Wypler.

The Ohio State redshirt sophomore center raves about Stroud's ability to feel the pocket and to deliver the throw in whatever situation to whoever will listen, including offensive line coach Justin Frye. Wypler sees a quarterback with a next-level pocket presence and football IQ that's "off the charts."
"I remember, I used to say when I was a freshman when Justin was here, I would see Justin do things with the football that you sit behind him and you're looking like, 'Is that normal? I've never seen that before,'" Wypler said.
"Now, C.J. getting his opportunity, it's the same look. I see the ball come over my shoulder and I'm like, 'Oh, that's not normal.'"
Stroud sees that same knowledge in his center, a level of attention to detail that's unmatched, that's exactly what he needs.
"To me, Luke is probably one of the smartest people I have ever been around," Stroud said. "Sometimes a little too smart for his own good, but I think that's a good thing. He's always double-checking, triple-checking things and I think that's a great thing."
With the experience in the Ohio State offense together, Wypler and Stroud's jobs become second nature: getting the calls from the sideline, recognizing each defense they face and seeing what the players across from them are set to do.
To the pair, it's just about the rapport of being on the same page, being able to tell, "We're going here, we're going here," without saying a word.
Last season, it's something Wypler was ready for, but had to build into. Heading into 2022 with 12 starts under his belt with Stroud, the redshirt sophomore center is already one step ahead.