Haskins signs with Ohio State to live out dream
The Buckeyes needed a quarterback in the class of 2016 and Dwayne Haskins Jr. is a perfect for Urban Meyer's future offense.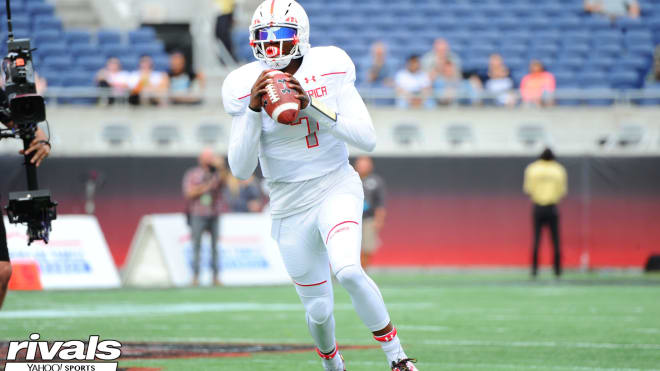 There were some uneasy moments throughout the Ohio State fan base when Tristen Wallace announced he was decommiting from Ohio State and the very real situation arose where the Buckeyes did not have a quarterback commit in the class of 2016.
The Buckeyes went back to an old target and then Maryland commit with Dwayne Haskins Jr. and a brief rekindling led to a commitment for Ohio State and a quarterback of the future. The Rivals100 signal caller hails from Potomac (Md.) and checks in at 6-foot-2, 188 pounds.
Haskins signed his letter of intent on Wednesday and now is an official member of the Ohio State class and Haskins played a big part in the recruitment of at least one player for the Buckeyes if not more. Linebacker Keandre Jones joined Haskins in leaving Maryland for Ohio State and wide receiver Binjimen Victor committed to Ohio State on the same day that the pair from Maryland made their pledges known.
Jones is much more of a thrower than a runner but that does not mean that Haskins cannot run, it is just not a focal point of his game and the Buckeyes made it known during his recruitment that a balanced offense was the goal in the future, likely a message directed at Haskins.
Haskins had always considered Ohio State a dream school but reportedly did not feel that the offense would suit his skills when it was largely a quarterback read style of offense. The Buckeyes got back into the quarterback market and made it known that their future quarterback would be more of a thrower.
"Ohio State is getting one of the best pure passers in this recruiting cycle," BuckeyeGrove.com analyst Marc Givler said when Haskins committed to the Buckeyes. "Haskins is an outstanding distributor of the football and he can really spin it. His accuracy, ability to get rid of the ball quickly, and his decision making are all strengths of his game."
The Buckeyes will have J.T. Barrett for two more seasons and then will have Stephen Collier, Joe Burrow and Torrance Gibson all on the roster once Haskins reports in the summer. Ohio State already has a quarterback commit in the fold for the class of 2017 with Danny Clark out of Akron (Ohio). Even after losing both Cardale Jones and Braxton Miller to the NFL, the Buckeyes will have no shortage of quarterbacks looking to step up in a backup role to Barrett.