Fulton Analysis: Stick to the script
The last five games have in many ways been a tune-up for what the Ohio State offense can expect when they face Penn State.
Nittany Lions defensive coordinator Brent Pry's primary principle reflects someone who coached under Virginia Tech's Bud Foster and former Penn State defensive coordinator Bob Schoop – outnumber the run game. Generally operating from a 4-3 over front, Pry's goal is to have eight defenders to defend all eight run gaps, with each defender responsible for one gap.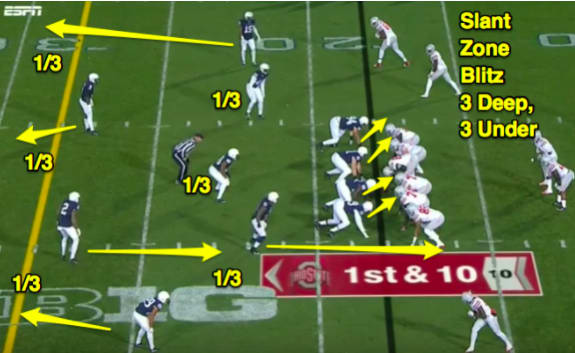 To do so, Pry will generally play either cover 4 – with his safeties reading the number 2 receiver to play the run – or cover 3, with a safety coming down at the snap.
Pry regularly slants his defensive line, while mixing in 5-man edge zone run blitzes. Like Ohio State this edge run pressure can come from a safety, overhang linebacker, or corner.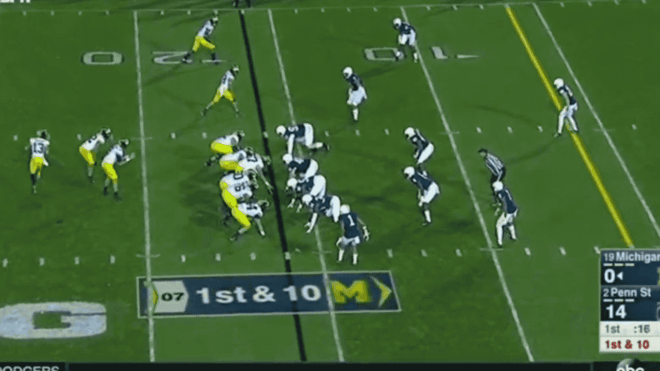 Pry will then revert to more base zone coverage on passing downs.
Penn State has stellar defenders at all three levels. Although defensive end Shareef Miller is developing as an edge presence, the Nittany Lion defensive line is primarily made up of solid players whose primary responsibility is keeping the offensive line off the Penn State linebackers – namely middle linebacker Jason Cabinda.
The Nittany Lion defense may be strongest in the secondary. By some metrics, cornerback Grant Haley has been the best cover defender in college football. And Pry is well positioned to bring a safety down to play the run with safety Marcus Allen, who frequently functions as a fourth linebacker.
Pry's strategic concepts were on display when Penn State faced Ohio State last season. The Nittany Lion defensive line frequently slanted – with the direction determined by halfback and tight end alignment. A safety set the edge to one side, with the slot overhang defender often cheating to play the run to the opposite edge. Behind the eight-man front, Pry often used a 3 deep zone behind to prevent explosive plays.
This, of course, is the general formula that many opponents have used against the Ohio State offense. And many of the problems that have plagued the Buckeyes against such defensive schemes were apparent in the contest last season – namely an inability to consistently stretch the defense horizontally to exploit the intermediate zones between the run-focused front and three deep defenders.
Ohio State did have success with such mid-range plays against Penn State in 2016. Below, J.T. Barrett completed a three-levels crossing route.
This is the same basic concept that the Buckeyes used against Nebraska.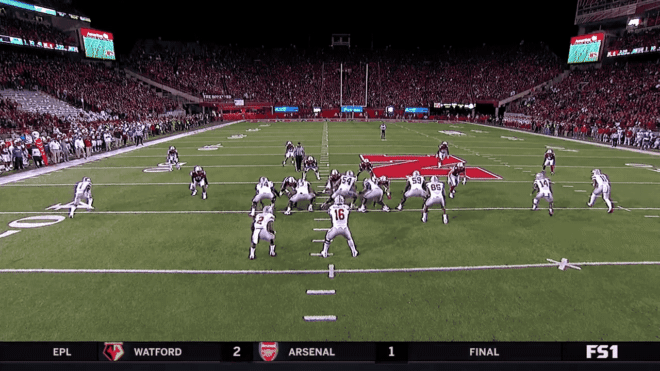 But against Penn State last season, such throws when ahead of schedule were few and far between. Even while largely eschewing the quarterback-run game, Ohio State ran on 27 of 31 first downs outside of two hurry-up drives – all while generally being outnumbered at the point of attack. The result was that, according to Chad Peltier, Ohio State faced, on average, 7.4 yards to go on third down against the Nittany Lions.
This season, since the loss to Oklahoma in September, new offensive coordinator Kevin Wilson and quarterbacks coach Ryan Day's primary focus against defenses using similar concepts as Penn State has been stretching those defenses horizontally.
Ohio State began doing so by throwing wide receiver screens to combat defenses cheating overhang slot defender against the run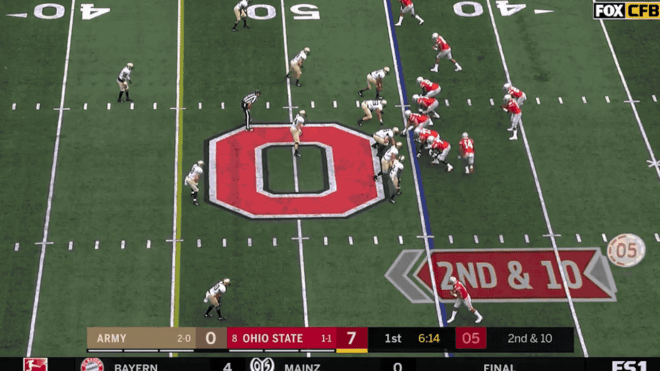 Once defenses became concerned about such screens – often having their safety come down aggressively – Wilson and Day took advantage with play-action passes that place a vertical hi-lo stretch on the remaining deep zone defenders.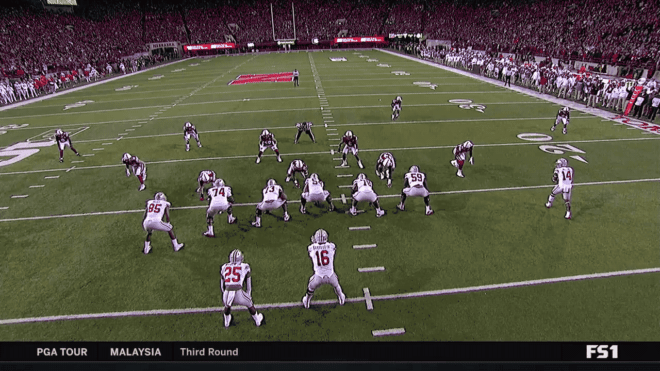 Perhaps the best example of Wilson and Day's focus is with what has become Ohio State's go-to play this season – mesh. With a triangle stretch in the middle of the field between the two shallow crosses and the middle curl, combined with the tailback wheel route, mesh is very difficult to defend if a defense uses a three deep, three under zone to bring edge run support.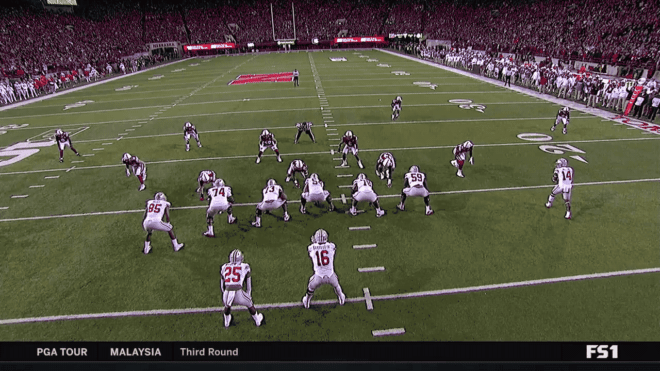 More systemically, Ohio State's run-pass balance represents a stark departure from years past. According to Peltier, the Buckeyes have thrown the football nearly 46% of the time on standard downs. Perhaps because of that – in addition to the more explosive run threat from J.K. Dobbins – Ohio State has been the most efficient offense in college football. By staying ahead of schedule, the Buckeyes have the best passing down conversion rate, as they have provided themselves manageable third downs.
Now Ohio State must prove that they can remain committed to this plan against a top opponent. In some ways, these types of games expand the playbook for the Buckeyes, as Urban Meyer is more willing to use J.T. Barrett as a runner. This provides different options to constrain the defense – for instance, using an empty backfield for mesh combined with the quarterback- run threat.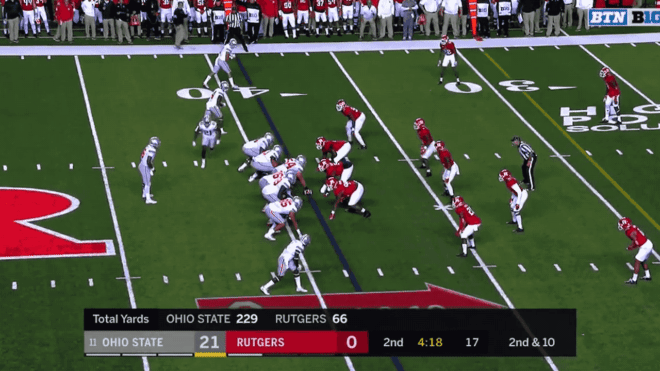 One of the few areas that Michigan had success with Penn State was with quarterback scrambles against coverage-focused defenders.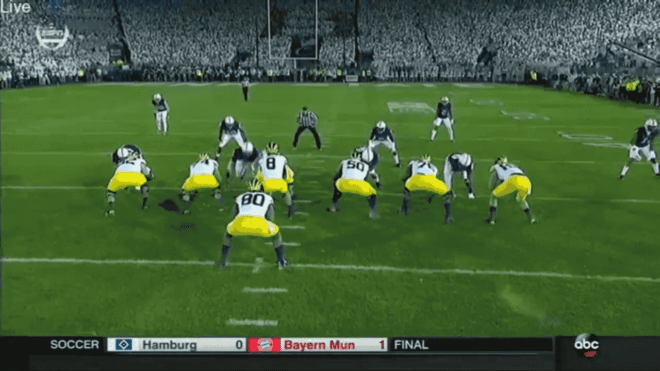 But self-evidently, Meyer's staff must use the quarterback run threat as an adder – not a crutch. If Pry is committed to outnumbering Ohio State in the box in a similar manner to last year, Wilson and Day must continue to execute the same game plan as in recent weeks – stretching the field horizontally on early downs.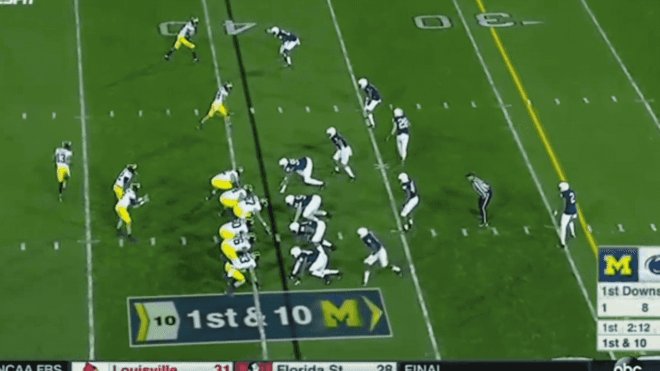 Although Penn State's safeties excel at playing the run downhill, they can struggle against the pass and in space – providing opportunities for Dobbins and H slot receivers Parris Campbell and K.J. Hill.