Fulton Analysis: Overwhelmed
After an opening play pick six, the Ohio State offense had a fairly fast start – before defensive ineptitude, turnovers, and events overwhelmed any chance the Buckeyes had against Iowa.
Iowa has traditionally been a 4-3 over, split safety zone team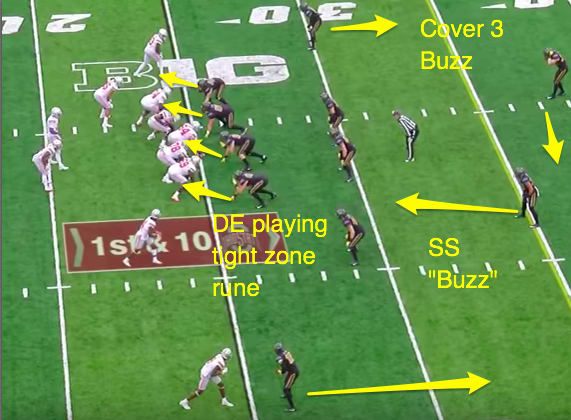 In buzz, Iowa could effectively use their strong safety as an underneath rover to jump middle routes, such as mesh, that have been successful for Ohio State this season. This enabled the Hawkeyes' first interception.
Iowa similarly freed their corners to sink back down against mid-range routes. The Hawkeyes' focused on corralling intermediate throws – while potentially leaving them vulnerable deep. This was the opposite of how most teams have defended Ohio State this season – most defenses have protected against deep throws, while leaving the intermediate zones open.
Up front, the Hawkeyes frequently slanted to force quarterback J.T. Barrett to keep on read plays.
Ohio State successfully moved the football early against this strategy. Barrett repeatedly kept for successful runs on tight zone.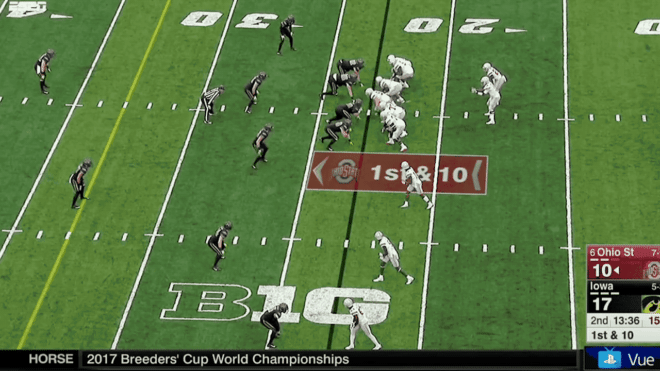 And the Buckeyes hit several vertical play-action throws behind Iowa's sinking corners.
Ohio State's first touchdown came off a sail (flood) concept, where the outside wide receiver Terry McLaurin's vertical route was open after the corner jumped the middle deep out.
The Buckeyes' next touchdown was another successful hard play-action look with center Billy Price pulling – this time a post-dig combination, creating a vertical stretch on Iowa's middle of the field safety.
But troubles began for the Buckeye offense with consecutive offensive line injuries. Tied at 17 and driving past the 50-yard line, Ohio State suffered injuries to left tackle Jamarco Jones and right guard Demetrius Knox. Iowa quickly exploited backup left tackle Josh Alabi to free an unblocked blitzer, sacking Barrett and effectively ending that drive.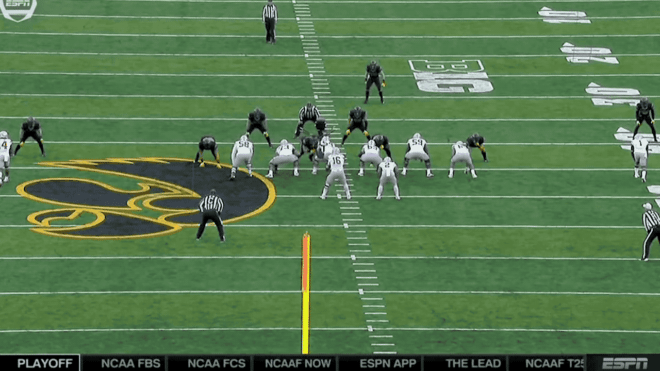 Then, after a subsequent Iowa touchdown (enabled by a targeting penalty on Nick Bosa), the Hawkeyes' secondary strategy again paid off. Ohio State ran another sail combination But this time – rather than throw the deep route, Barrett tried to force it to the middle out. The corner sank back on the throw, leading to an interception.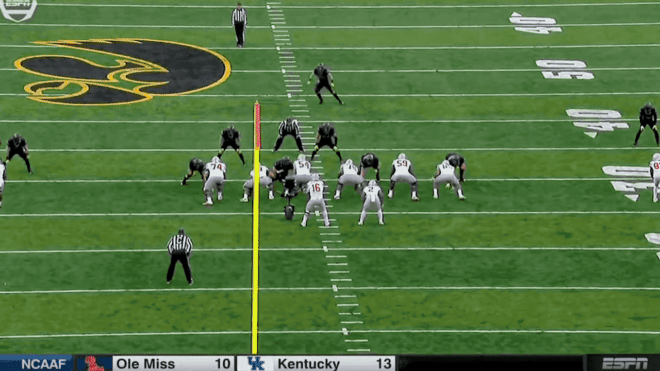 Suddenly, what was a 17-17 game with Ohio State driving was 31-17 at the half.
After the second interception, Barrett became more hesitant. Iowa's intermediate-route focus seemed to continue to cause problems, as Barrett was too slow to look downfield – and the coaching staff did not sufficiently adjust to the fact that Iowa was suddenly taking away the mid-range routes that other teams had previously left open. Below, Barrett waited too long to throw to K.J. Hill, resulting in pressure.
He also began to force the football as a runner – here failing to give on this toss read.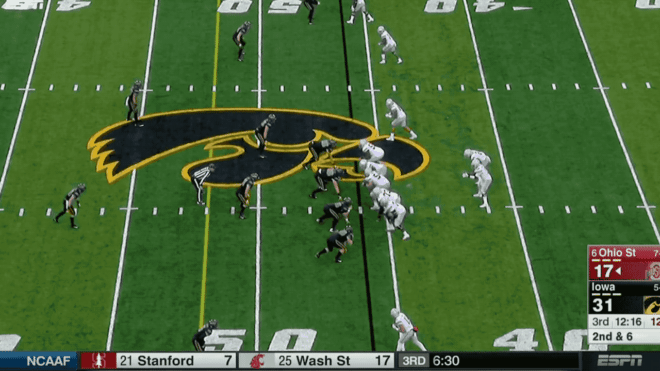 Other weak spots for the offense also reemerged. The Buckeyes had critical penalties. Wide receivers dropped passes. This throw below from Barrett was late. But Ohio State still needed McLaurin to make this catch.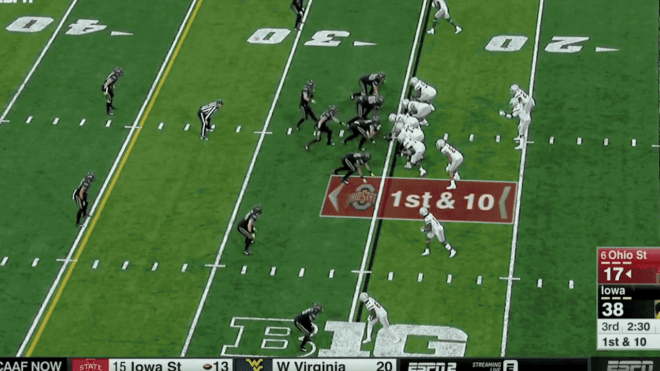 The Ohio State run game also repeatedly suffered from poor blocking from the tight end position.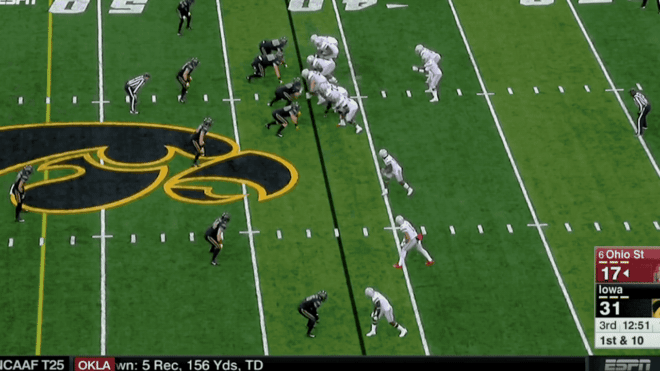 These mistakes – along with two additional interceptions – negated any chance for an Ohio State comeback.
The number of Barrett carries vis a vie running backs J.K. Dobbins and Mike Weber was not the cause of Ohio State's loss. Perhaps Ohio State could have used more runs such as bash to negate Iowa's strategy of crashing down against tight zone.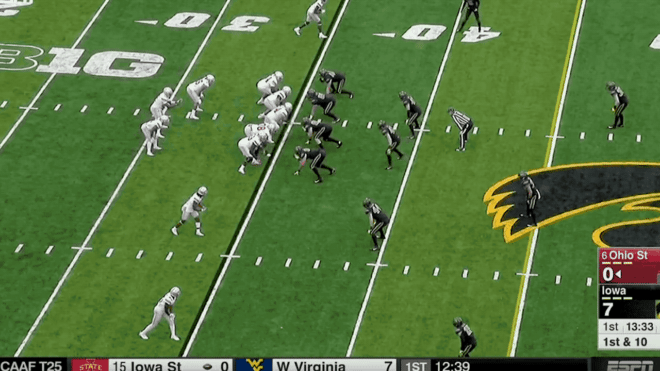 More gap plays – like dart – could have also allowed the Buckeye tailbacks to run the football inside. Using such runs can prevent the defenses from dictating who keeps on tight zone and forcing Ohio State to primarily be an edge run team.
But there seems to be some reluctance to run Dobbins too frequently, particularly inside. And Barrett's strength generally is making reads in the spread run game. A spread-read offense must have the quarterback keep when warranted.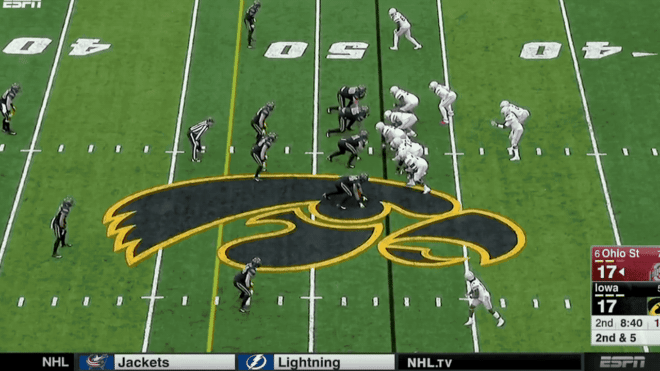 Otherwise, an offense loses any advantage of being in the shotgun to run without a lead blocker – as it is much easier to know where the football is going based on alignment.
Perhaps Ohio State should have run more often – regardless of ball carrier. According to Chad Peltier, the Buckeyes had a 75 percent rushing success rate – compared to only a 37 percent pass rate. Despite Barrett's improvement as a passer he still has limitations. Ohio State's run offense remains much stronger than its passing attack – not only with Barrett, but also with an inconsistent receiving group.
Two situations in particular stand out where running the football may have helped. Following Jones and Knox's injuries, Ohio State called two consecutive passes.
Second, after receiving the football back on in its first possession in the second half on their own 42 in what was – in hindsight – the last chance for the Buckeyes to change the game's trajectory, Ohio State threw on third and three. The Buckeyes called their base mesh pass. The middle-curl was open. But Barrett's pass batted down at the line – a repeated problem on short throws against the Hawkeyes' length up front.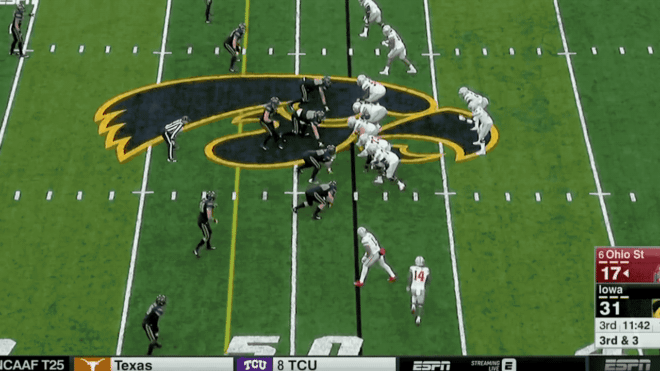 From there, Ohio State had little opportunity to run after falling behind an additional score.
So there were echoes of the recent losses to Clemson and Oklahoma where the Buckeyes unnecessarily abandoned the run game. But on Saturday – despite the turnovers – neither the run/pass selection nor the offense in general was the primary problem.
The Buckeyes, even while facing a good defense (16th in S & P+), largely moved the football in the first half (Ohio State overall had a 58 percent success rate). But mistakes and circumstances eventually overwhelmed the offense – when combined with Ohio State's systematic defensive failures. As I will discuss tomorrow, despite facing a far weaker offense (99th in S & P+), the defense struggled throughout – and not only on short fields following turnovers. Iowa also had scoring drives of 89, 80, 78, 63, 60, and 47 yards.