Fulton Analysis: It all falls apart
Ohio State's loss to Oklahoma exhibited many of the same problems that have bedeviled the Buckeye offense in previous losses in the Urban Meyer era – both in terms of individual play calling decisions and overall schematic framework.
On Saturday, the Sooners abandoned their new 4-3 under defense to copy the strategy of previous opponents. The Sooners primarily used a 3-4 odd front with two 4i defensive ends to defend inside runs, combined with cover 3 or cover 4 in the secondary that balanced soft corner coverage with shallow safeties providing run support.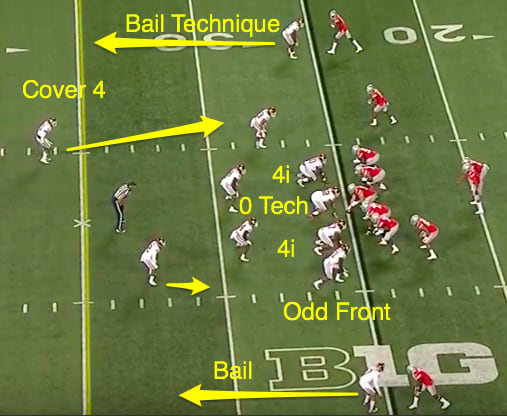 Although the Sooners' odd front was likely implemented to limit the Ohio State run game, they had only marginal success doing so. The Buckeyes had a 53 percent success rush rate under S & P+'s formula, according to Chad Peltier. Ohio State engineered this success primarily by attacking the edge outside the tight alignment of Oklahoma's defensive ends with speed option and bash.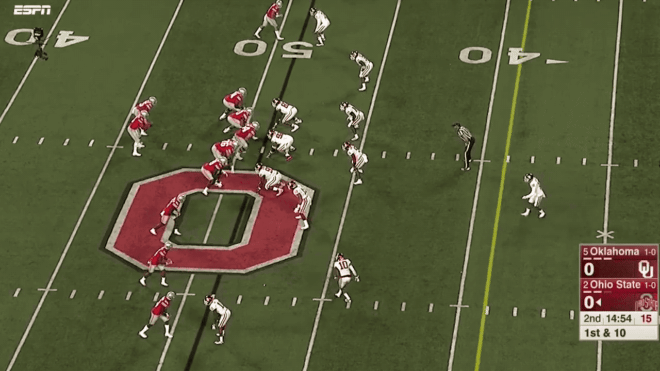 Ohio State also ran well using their base tight zone play by reading the 4i defensive end and attacking the backside A-gap bubble.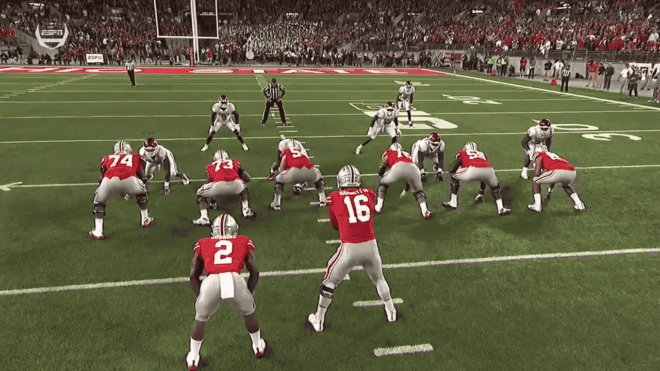 Yet Ohio State repeatedly abandoned the tailback run game. Part of this resulted from Oklahoma daring J.T. Barrett to keep. Defenses would rather have the football in Barrett's hands, as he is willing to leaves yards on the field.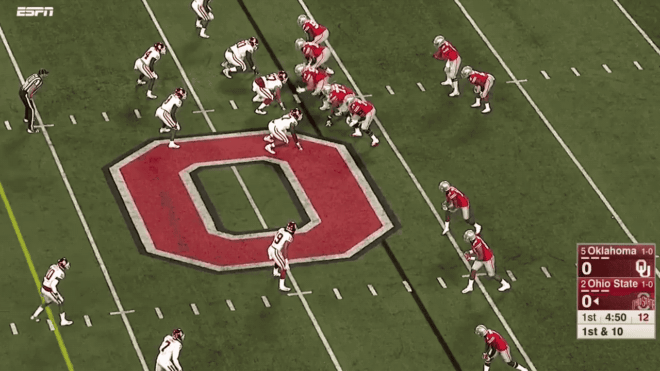 But this was not the biggest problem. Ohio State continually tried to throw on early downs despite being extremely inefficient with the passing game (31 percent overall success rate).
The passing game's problems largely remain the same. Barrett does not throw with anticipation, nor does he lead wide receivers in a way that would let receivers gain yards after the catch.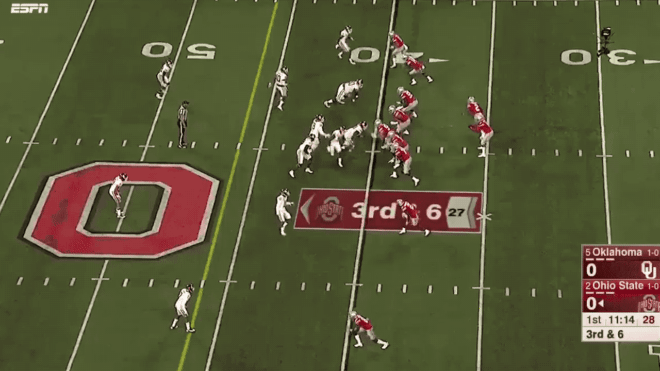 This delay in delivering the football also allows defensive backs to recover against open receivers.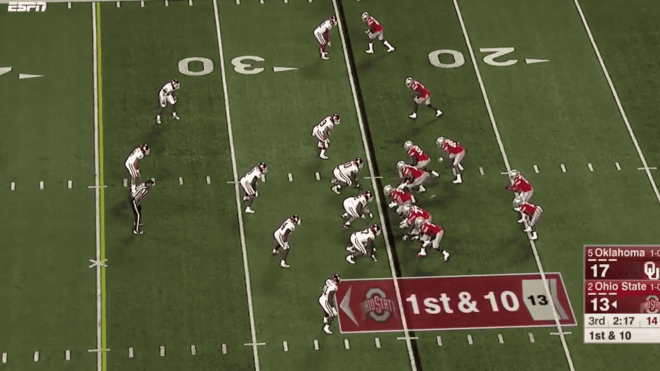 Worse, Barrett repeatedly missed open receivers,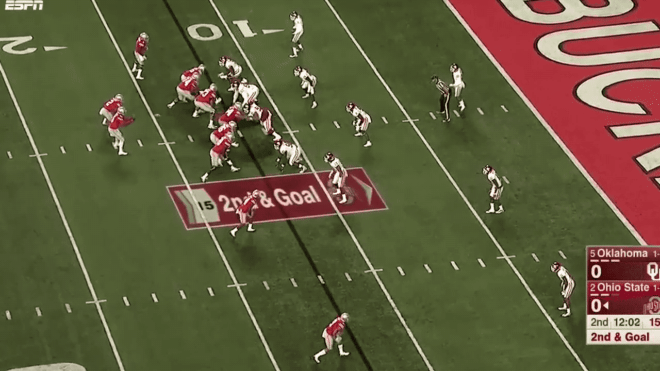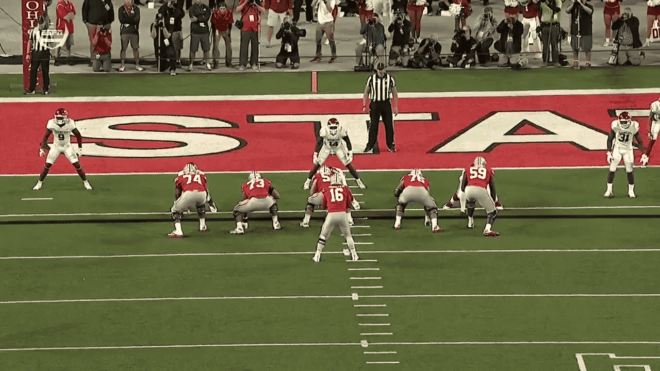 This has a cascading effect. Because Barrett holds the ball so long, it provides the defense the opportunity for negative plays even if the offensive line initially blocks them.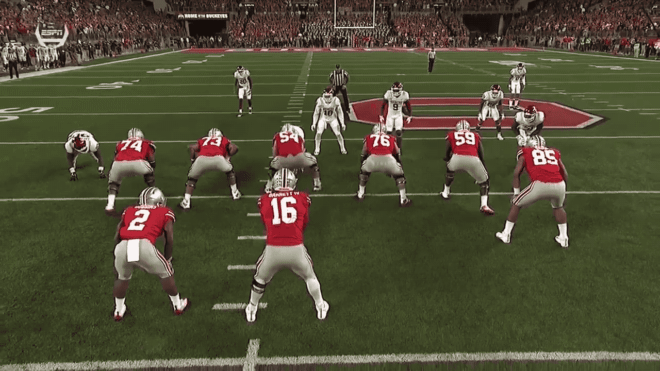 Admittedly, the passing game inefficiency is not entirely on Barrett. Terry McClaurin's drop was another example of a missed opportunity for the wide receivers to make a play. Below, once Barrett starts scrambling wide receivers need to not stand around but instead work to get open.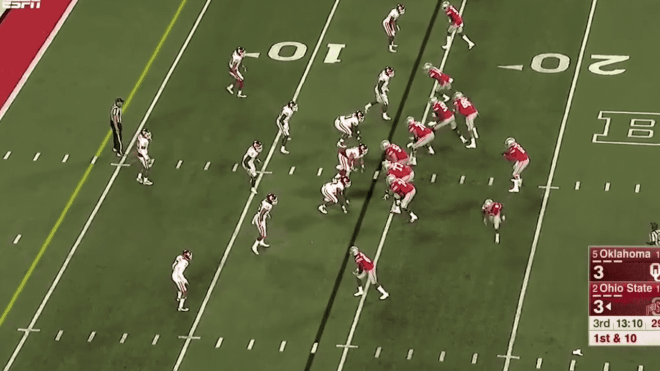 But this play is also another example of Barrett's limitations. Once he begins scrambling, he often does not keep his eyes downfield.
The upshot is that, whenever the Buckeye offense had some success against the Sooners running the football, they would short circuit behind an inefficient downfield passing game.
This was epitomized by the Buckeyes' third quarter field goal after Austin Mack's acrobatic catch that put Ohio State on the 7-yard line. On that drive, Ohio State opened with three J.K. Dobbins runs for 37 yards. Yet from the seven-yard line – one series after Dobbins scored on tight zone – Ohio State ran a speed option where Barrett made a poor read to keep. On second down, they ran Barrett on a Q-counter trey, where Oklahoma sold out to stop the quarterback run. And on third, Barrett missed an open K.J. Hill.
So at its simplest, Ohio State's problems arose from abandoning the tailback run game. This is a pattern – in Meyer's seven losses at Ohio State, the running backs have only had more than 20 carries twice. Without that inside run threat, the offense loses any sense of identity.
Balance is not the number of called runs versus passes. It is calling plays where you are gaining relatively similar yards per attempt both running and passing. On Saturday, Ohio State was gaining far more yards per attempt running. That should instruct the Buckeye staff to continue to run the football until Oklahoma has to adjust.
And Ohio State's two biggest offensive threats are its tailbacks, Dobbins and Mike Weber.
Yet that would not entirely solve the more foundational problem – which is that the passing offense is not built off of that run game. It is instead a spread-run system that is heavily reliant on the quarterback, combined with an entirely separate downhill passing game.
This can be seen in two examples. Ohio State repeatedly ran sprint-out passing plays. Not only has Barrett never been good on such calls – as he does not set his feet or turn his shoulders but instead drifts to the sideline – but they do not stress the opponent's back seven because they do not threaten with the run.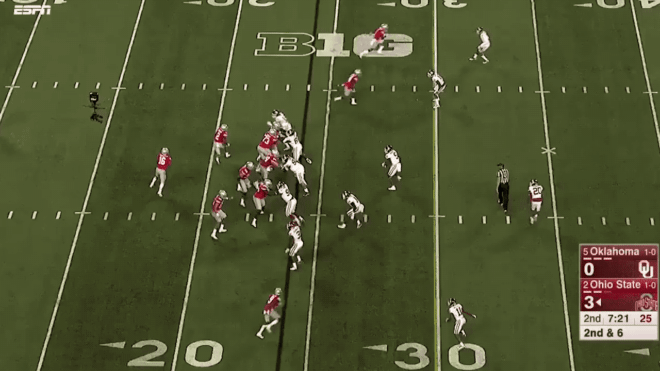 Conversely, many of Ohio State's run plays do not threaten the defense with a pass. For instance, whenever Oklahoma saw quarterback counter trey their linebackers came downhill with impunity, showing little concern for a throw.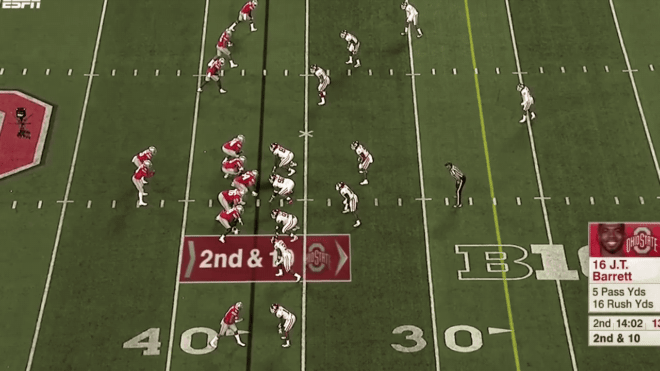 Compare that to Oklahoma. Even though Oklahoma is nowhere the running team of Ohio State, their play calls all built off the inside run threat. Many were run-pass options or quick play action throws, creating conflicts for linebackers and safeties.
Given how well Ohio State can run the football, the passing game should similarly be built around throws where the Buckeyes are showing run action – plays such as wide receiver screens, hitches against soft corner coverage, and flat and seam routes targeting linebackers. The Buckeyes will show glimpses, but such concepts go just as quickly away.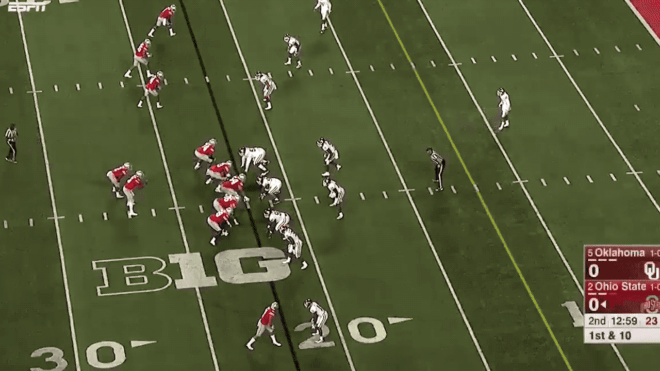 This is even more imperative given Barrett's limitations. Operating in the shotgun spread provides you a blocking disadvantage because you do not have a lead blocker. So you must constrain the unblocked defenders. There are two ways to do so – use the quarterback as a ball carrier, or use run-pass options. If Barrett cannot or will not run the football like he used to, then such run-based throws off of reading the defense become all the more critical.
And after 40-plus starts, it is folly to expect more from Barrett as a drop back passer. Meyer may want a prolific downfield passing offense. But he cannot let his platonic ideal prevent a game plan that fits with what his players can do. For this offense – and so long as Barrett is the quarterback – it is the run game behind your two best skill players, then providing Barrett short, quick run-pass option and play action throws that force him to quickly get the ball out of his hand, rather than relying upon Barrett as a runner and downfield passer to constrain the defense.