E.J. Liddell to return for Ohio State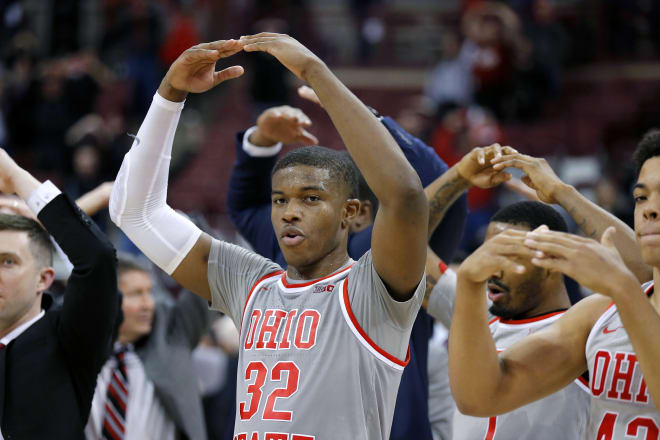 COLUMBUS, Ohio –– The Ohio State men's basketball roster received a shot in the arm Saturday, as star forward E.J. Liddell announced that he will return to the program for a junior season.
The 2020-21 first-team All-Big Ten performer declared for the NBA Draft following the end of the season, but was not invited to the official draft combine after participating in the G League Elite Camp from June 19-21.
Many assumed Liddell would ultimately be back for the Buckeyes for a junior season, given that he did not appear at all on many early mock drafts, and that inkling proved true as Liddell announced that he has withdrawn from the draft process.
As a sophomore last season, Liddell averaged 16.2 points per game and 6.7 rebounds, which were No. 2 and No. 1 on the Buckeye roster, respectively.
The 6-foot-7 forward started all 29 games in which he appeared for the Scarlet and Gray after coming off the bench as a true freshman, and the Belleville, Illinois, native took bigger strides than many expected entering his second year in the program.
Liddell turned in eight 20-plus-point efforts last season, and finished the year on an 11-game streak of double-digit scoring performances. Liddell averaged 18.3 points per game during that stretch.
Liddell helped lead the Buckeyes to their first Big Ten Championship Game appearance in eight seasons, and the program's highest seed in the NCAA Tournament (No. 2) since 2013.
However, after the season ended in disappointing fashion via a first-round upset to No. 15 seed Oral Roberts, Liddell publicly revealed several threatening and disparaging messages he received on social media, a story that quickly received national attention.
Liddell announced his decision to declare for the draft less than two weeks later, but his return now bolsters a Buckeye team that has seen no shortage of early praise in a number of preseason rankings this offseason.
Team scoring leader Duane Washington, who declared for the draft following Liddell this offseason, announced this past week that he will not return for the Buckeyes.
RELATED: How Duane Washington's departure impacts Ohio State