Dream job ends Ohio States nightmare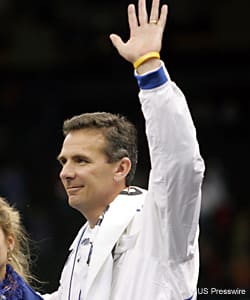 class="st_facebook_hcount" displayText="Share">
displayText="Email">

COLUMBUS, Ohio - The Urban renewal is underway in Columbus.
Arguably the most successful current coach in college football,
Urban Meyer
will be introduced as the 24th head coach of the Ohio State football program Monday afternoon.
Ohio State has scheduled a 5:15 p.m. press conference.
Meyer comes to Ohio State after a year of broadcasting college football for ESPN. Prior to his sabbatical, Meyer was the head coach at Florida for six seasons where he won two national championships - one a 41-14 win against Ohio State - and two SEC titles.
"He's a Hall of Fame coach," former Oregon head coach Mike Bellotti said after Meyer's retirement last season. "What he's accomplished, two national championships, the undefeated season at Utah, just some amazing things. When he had it going he was playing and coaching as good a football as there was in college."
In December of 2009, Meyer retired from Florida, citing health concerns, before changing his mind the next day. Following the 2009 SEC Championship Game, Meyer was hospitalized with chest pains, an issue that turned out to be esophageal spasms.
He returned to coach the Gators in 2010, but the passion was gone and Florida limped to an 8-5 record. When Meyer stepped down for good following the 2010 season, he left open the possibility of returning to the sideline but said it was not going to happen in the near future. His health and family were the main priorities.
Meyer, 47, and his wife, Shelley, have three children. Their two daughters play college volleyball, one at Georgia Tech and the other at Florida Gulf Coast. They also have a son in middle school.
Meyer inherits an Ohio State program that has been under siege since December of 2010. The 2011 season was overshadowed by NCAA violations and the departure of former head coach Jim Tressel and quarterback Terrelle Pryor. Six players were involved in a memorabilia-for-tattoos scandal and suspended from one to five games.
Luke Fickell
was elevated to the head coaching position in June after Tressel's resignation. He led the Buckeyes to a 6-6 regular season, which ended Saturday with a 40-34 loss to arch-rival Michigan.
Ohio State had subsequent violations and suspensions involving now disgraced Cleveland area booster Bobby DiGeronimo. The issues led the NCAA to levy a "failure to monitor" charge against the athletic department, the second-most serious charge that can be levied against a school.
After going before the Committee on Infractions in August, Ohio State received a second notice of allegations to which it has responded. The NCAA ruling is expected in the near future.
Ohio State has already vacated the 2010 season, paid back $339,000 in bowl revenue, been placed on two years' probation and given up five scholarships over the next three years.
Meyer took over a downtrodden Florida program in 2005 that had lost at least four games in its previous three seasons under former head coach
Ron Zook
. Meyer tallied a 36-12 conference record at the helm of the Gators, the best in the SEC during that stretch. He also reached 50 wins faster than any SEC coach in the conference's history.
"Because of what
Steve Spurrier
did for an extended period of time (12 years, six SEC championships), he will always be Florida's greatest coach,"
Tony Barnhart
, a reporter for the
Atlanta Journal Constitution
and authority on all things SEC, said. "Meyer's legacy will be the two national championships and the family atmosphere that he and Shelley built around this program."
Meyer accumulated one of the best home records in the country during his six seasons in Gainesville, leading the Gators to a 57-10 mark at Ben Hill Griffin Stadium. He also led Florida to a 5-1 record against arch-rival Florida State.
Meyer has only been a head coach for 10 seasons. In that decade, though, he accomplished as much as anyone ever has in the sport in that amount of time. His achievements include being the first coach to win two BCS titles and being named the national coach of the year on three separate occasions and at multiple schools.
Meyer's overall record is 104-23. His winning percentage of 81.9 is the highest among active coaches with at least five years' experience. Interestingly, he is 7-1 in bowl games with the lone loss coming to Michigan. A master recruiter, Meyer recruited and coached one of college football's greatest players in 2008 Heisman Trophy winner Tim Tebow.
"When he comes back, he's going to be a great coach, and I'm excited to see what happens," Tebow told the Associated Press last week. "He wants to be right by his family and have their support in anything he does."
Meyer was hired away from Utah after he led the Utes to an undefeated season in 2004, which included a Fiesta Bowl win over Pittsburgh. Utah was the first non-BCS school to qualify for a BCS game.
In two seasons at Utah, Meyer tallied 22 wins against just two losses. After leading Utah to a 10-2 record in his first season, Meyer was named the Mountain West coach of the year. In Year 2, Utah went undefeated behind the play of quarterback Alex Smith, who went on to be the No. 1 pick in the 2004 NFL Draft.
Meyer began his head coaching career at Bowling Green in 2001, where he engineered the top turnaround in college football, showing a six-win improvement from the previous season and giving Bowling Green its first winning season since 1994. He was named the 2001 MAC Coach of the Year and one year later guided the Falcons to a 9-3 record and the highest national ranking in school history - No. 16.
In two seasons at Bowling Green, Meyer was 17-6, including a perfect 5-0 against BCS schools. Meyer's teams also defeated two ranked opponents.
His famed spread offense got its start in Bowling Green. In 2002, they finished third in the nation in scoring offense, averaging 40.8 points per game. The Falcons, who became the highest scoring team in MAC history, also finished ninth in the nation in total offense - 448.9 yards per game - and 11th in rushing offense - 219.1 yards per game. Bowling Green was the only team in the nation to average at least 215 yards rushing and 215 yards passing per game.
A native of Ashtabula, Ohio, Meyer was a 13th-round draft pick of the Atlanta Braves in the 1982 Major League Baseball Draft. He spent two seasons in the Braves organization as a shortstop before opting for another career.
Meyer was a defensive back for the University of Cincinnati in 1984. He spent one season in 1985 at perennial powerhouse Saint Xavier High School in Cincinnati coaching defensive backs before attending Ohio State, where he earned a master's degree in sports management. While at Ohio State, Meyer served as a graduate assistant under Earle Bruce.
"I've never seen a coach so deep into (the game)," Bruce told Sports Illustrated about Meyer in 2010. "Some coaches bitch about the hours you put in, but the guys who like football don't; they only bitch about wasting hours. When it came time to recruit? He brought in more good players than anybody we had there."
Meyer then moved on to Illinois State to coach outside linebackers, wide receivers and quarterbacks under
Jim Heacock
for two years before being reunited with Bruce at Colorado State. Meyer spent six seasons in Fort Collins coaching wide receivers. He then moved into the same position at Notre Dame for five years until he got the call from Bowling Green.
"My dad is first, Earle is second," Meyer said about his mentors in the SI profile. "He's the ultimate man's man, the ultimate person of integrity and character, doing what's right, teaching you how to be faithful to your wife, being a good father."
Meyer has coached under Bruce, Heacock, Sonny Lubick, Lou Holtz and Bob Davie.
[rl]