Wohlabaugh is a Buckeye
Jack Wohlabaugh fills a crucial need for Ohio State as the offensive center in the class. The Ohio native and NFL legacy has signed his LOI and is set to join the Buckeyes' Slobs in June.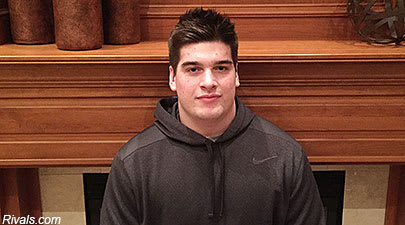 Jack Wohlabaugh has signed his letter of intent to Ohio State and will officially be joining the Buckeyes as an offensive center in June. Although it's hard to say the son of an NFL lineman and Ohio native who was recruited by Ohio State before his senior year, really flew under the radar, Wohlabaugh never blew up in the way some of his peers did.
In fact, until visiting Ohio State and eventually being offered, Wohlabaugh had yet to be rated by Rivals.com. He was somewhat of an unknown commodity for some fans but Wohlabaugh knew going into his April visit to Ohio State that something big could be coming.
"My favorite memory would probably have to be about a week before I got my Ohio State offer," Wohlabaugh said. "Coach Warinner messaged me on Twitter and said that I'd leave Ohio State a new man. He built the anticipation that something was coming, so I was really anxious and nervous leading up to that."
Once he made the visit and it turns out what coach Ed Warinner, then the offensive line coach, had been teasing was an offer, there was no doubt about Wohlabaugh's intention or where he would be playing his college football. Although he didn't sign his letter of intent until today, the process ended as soon as the word scholarship left Urban Meyer's mouth.
"Right when Coach Meyer offered me that scholarship, I knew," said Wohlabaugh. "I talked to my parents beforehand and I said that 'If I got offered a scholarship at Ohio State, I'm going to take it on the spot. It's the skill for me.' So that's what I did."
Wohlabaugh began his recruitment by Ohio State as an unknown, but the big time player out of Cuyahoga Falls (Ohio) Walsh Jesuit settled in as a four-star recruit and one of the top interior offensive linemen in America. With a father in Dave Wohlabaugh who started as a center in a Super Bowl and was at one point the highest paid center in NFL history, Jack looks ready to follow in his footsteps at Ohio State.
"I believe that plan for me is likely going to be to redshirt next year. I'll be working at the center position. I'm training really hard. I work out six days a week with my trainer and I've been doing a lot of snapping and footwork stuff," Wohlabaugh explained. "I'm just doing a whole lot of different stuff to get ready for whatever they throw at me in the summer and be prepared for it all."
With a 6-foot-4, 274-pound frame, Wohlabaugh will be ready to learn behind Pat Elflein, the surefire starting center for Ohio State in 2016 while redshirting and saving a year of eligibility. Learning under Elflein and new offensive line coach Greg Studrawa will give Wohlabaugh the opportunity to compete for a potential starting job as a redshirt freshman in 2017 if everything goes according to plan and in the meantime he'll provide depth at a position without many other natural centers.
With his future a known quantity now and all of his paperwork signed and faxed through to the Buckeyes, Wohlabaugh can finally take a deep breath and get ready to be in Columbus.
"It's kind of a big relief. Although I know that I'm going to Ohio State and that wasn't going to change, it's a good feeling to finally sign the papers and make it official," Wohlabaugh chuckled.
Ohio State is certainly happy to have him signed, sealed, and delivered.