Updated Rivals100 highlighted by slight changes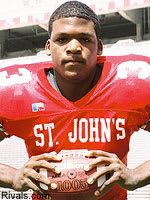 Now that the turkey is about to be put on the table, most high school football players have shelved their shoulder pads and can begin to look toward their futures in college with their seasons now in the rearview mirror.
Both Bright and Powe were involved in off-field incidents during the last two weeks that raised questions as to what might happen with their ability to be recruited.
Rumors started to flood the Internet this week that Powe assaulted his coach after a disappointing playoff loss last Friday night. Both Powe and his coach, Marcus Boyles, confirmed that everything was blown out of proportion and nothing physical happened.
Bright's situation was less clear.
What was clear is that he was suspended from school, and as a result, he could not play in his team's final game of the season. The rumors then began to grow and grow and they ranged from dismissal from the team, to expulsion from school, to being arrested.
"I won't get into details, but let's just say it was kind of a stupid prank and something I'm not proud of," Bright said. "It was a stupid mistake and I am paying for it."
The 6-foot-2, 210-pounder looked amazing on senior film, and it's easy to see why teams like Ohio State, Miami and North Carolina have him near the top of their linebacker wish lists.
McCoy makes an appearance at No. 96 on the list. He's also ranked as the nation's No. 8 outside linebacker. McCoy had 120 tackles, including five sacks, as a junior. He had 88 tackles and an interception through nine games this season.
The 6-foot, 234-pound Gwaltney rushed for 2,601 yards and scored 45 times during his junior season. Gwaltney had 1,878 yards toward the end of his senior season, including a game that saw him rack up an incredible 406 yards and nine touchdowns. That's a career for some running backs.
After reviewing his performance and the success he's had on the field this year, Gwaltney was bumped up to the No. 29 spot in the nation.