Tough Decision For Wilson Ends Well For Buckeyes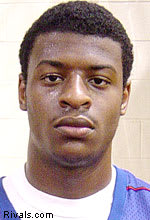 And so, for the Buckeyes, at least there was a happy ending.
Surrounded by more than 50 of his friends and teammates, his parents and various coaches, Akron St. Vincent-St. Mary defensive end Lawrence Wilson announced that he will be playing his college ball at Ohio State.
"Basically, I wanted to be home and Ohio State is home," he said.
Wilson was noticably nervous while talking to the gathering — perhaps surprising, since moments earlier he told a national TV audience of his plans on ESPNEWS.
"It was real tough," he said. "It came down to the wire. I didn't make the decision until 2 o'clock today. I came to school and told everybody I don't know where I'm going. I said, 'I don't know.'"
The press conference opened with the Ohio State fight song blaring from a stereo and with Wilson donning a customary OSU hat.
"I never thought me, Lawrence Wilson, would get all this attention."
Rivals.com ranks Wilson the nation's No. 12 weakside defensive end, though the Buckeyes staff appears to want him to play at tight end, where OSU currently sports a decided lack of depth.
The Fighting Irish star had committed to Notre Dame several months ago but decommitted following the firing of Tyrone Willingham. His interest in ND, however, was rekindled by new head coach Charlie Weis.
But the Buckeyes had the last shot at Wilson with an in-home visit following the prospect's basketball game on Jan. 28. OSU, it seems, made its last-ups count.