Time and Change: Who is Linebacker U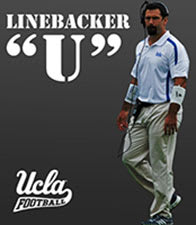 class="st_facebook_hcount" displayText="Share">
displayText="Email">

In this edition of Time and Change we have the opportunity to analyze a recent hot-button topic in college football, which is who deserves the right to call themselves "Linebacker U"?
There has been a lot of discussion, editorializing and quite frankly hot air about the "Linebacker U" moniker within college football lately. That title has consistently been claimed by Penn State (since they named themselves that, which is equal to trying to choose your own nickname). Alabama has tried to lay claim that title in recent years, as has Illinois and just a few months ago, UCLA tried to own "Linebacker U", with not nearly the credentials as some of those other schools.
First off, why are they calling themselves anything?
When I was a youngster playing football in high school, dreaming of the opportunity to play at a place like Ohio State, I was taught a very valuable lesson from one of my coaches. He was trying to instill the spirit of sportsmanship. No spiking the football, no taunting and no dancing in the end zone. Specifically, he wanted to ensure that his players were not braggarts or "hot dogs" and that they would remain humble. He used to say, "If you're good, you'll never have to tell anybody." That stuck with me for the rest of my life.
So why are these college football programs calling themselves this or that? Do you hear the Buckeyes calling ourselves "Heisman Trophy U," "National Championship U," "Offensive Lineman U," "All-American U," "Lombardi Trophy U," "Outland Trophy U," or calling ourselves "Academic All-American U"? No, we simply answer to the name, The Ohio State University. Nothing else needs to be said.
Recently, many of you have seen "Mount Rushmore" articles here on BuckeyeGrove.com, identifying specifically, the players that should be included in that proverbial "Mount Rushmore" or the top four all-time of Buckeye running backs, offensive linemen, receivers and linebackers. It is my belief, that when you are rating those players, the rating should only include what they accomplished on the college playing field. Performance in the NFL involves a new level of coaching, different playing styles, talent and motivation.
To expand on my opinion, let's look at the facts regarding "Linebacker U".


I believe the categories listed below truly reflect excellence in Linebacker play in college football. First Team All-Americans, Lombardi Trophies and Butkus Awards are mandatory measuring sticks, but I have also included first round draft picks as that measurement also relates to their college performance and their "college trained skills."
I have also included big names from each school, which brings the University of Illinois more into the picture with Dick Butkus and Ray Nitschke, two of the greatest ever. To many it is a little-known fact however that Nitschke played very little linebacker in college. Additionally, I have not included the Bednarik Award as it has only been in existence since 1995. The results are as follows: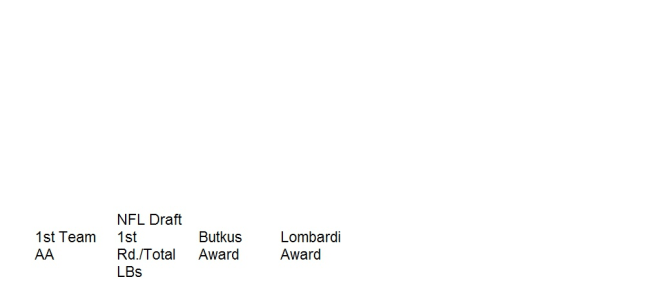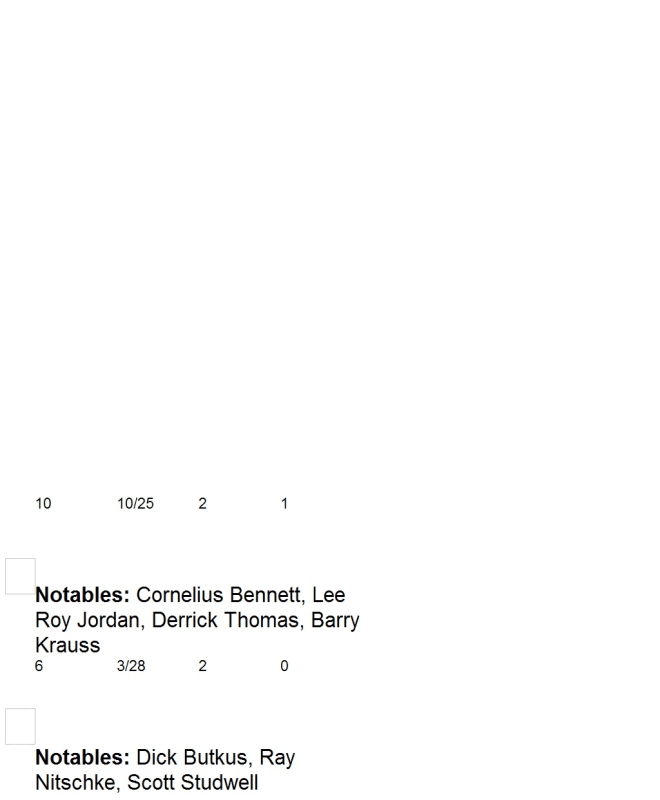 7
5/31
1
0

12
8/46
2
2


10
4/46
2
0

8
3/26
0
0
So, who could call themselves the real "Linebacker U"? I think it is pretty clear that the results speak for themselves.
Many of you have read my previous
Time and Change
pieces with former Buckeye greats like
Randy Gradishar
and
Chris Spielman
and I have spoken recently with
Tom Cousineau
,
Pepper Johnson
,
AJ Hawk
and
Bobby Carpenter
for pieces that will be published in the near future. Here is what they have said about this "Linebacker U' topic:
"I'll tell you one thing. There's a school about eight hours east of here that calls themselves "Linebacker U". That's BS, Chris said, the real "Linebacker U" is right here in Columbus, Ohio."
Chris Spielman

Two Time All-American - 1986 & 1987

Lombardi Award Winner - 1987


"All those schools Alabama, UCLA, Penn State are great schools, but in my opinion, when you consider performance, awards, fan support and the atmosphere, Ohio State stands alone."
A.J. Hawk

Two Time All-American 2004 & 2005

Lombardi Award Winner - 2005
Jack Lambert Trophy 2005
"We don't have to worry about public acknowledgement at Ohio State. What we have done speaks for itself. The other schools can call themselves superman if they want to, but we know that isn't true either..."


Tom Cousineau
Orange Bowl MVP 1976
Two Time All-American LB - 1977 & 1978
First player drafted in the 1979 NFL Draft
"Schools like Penn State and Miami have had great players in the past, but if you look at the empirical data from the 1980s, 90s and 2000s, Ohio State has had way more star linebackers than those schools. The facts speak for themselves."
Bobby Carpenter

All-Big Ten LB - 2004 & 2005
1st Round Draft Pick - 2006


"I am proud of my association with The Ohio State University to this day and I am proud to have be a part of the great Linebacker tradition at Ohio State. Those other schools can call themselves Linebacker U, but we know the real story. Simply look at the numbers, they tell the true story and the Buckeyes are at the top."
Randy Gradishar

Two-time All-American LB - 1972 & 1973
1st Round Draft Pick - 1974
7-Time NFL All-Pro
1978 NFL Defensive Player of the Year


I agree with Randy, as I am sure many of you do too. The Buckeyes are consistently at the top. We celebrate our accomplishments with joy, we do not trash talk, we act with true sportsmanship and we do not proclaim to be something we are not. We are The Ohio State University. Excellence speaks for itself.
Some things will never change.
Editor's Note: Tom Levenick played at Ohio State from 1978-1980 under head coaches Woody Hayes and Earle Bruce before a knee injury ended his career. Tom is currently a member of the 'Varsity O' Alumni Association.
[rl]