Time and Change: Randy Gradishar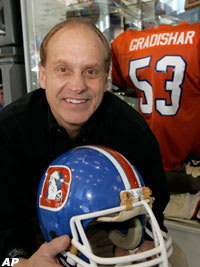 class="st_facebook_hcount" displayText="Share">
displayText="Email">

In my continuation of our Time and Change series, I recently had the opportunity to speak with the great former Buckeye linebacker, Randy Gradishar.
One of the key elements of Randy's life is the principal that many of us learned from Coach Woody Hayes, that we should focus on paying forward and not on paying back. I think BuckeyeGrove.com readers will see evidence of that with Gradishar, and I am confident you will enjoy his comments.
When discussing former great Buckeye linebackers we often hear names like Chris Spielman, A.J. Hawk, Pepper Johnson, Marcus Marek, Andy Katzenmoyer, Tom Cousineau, Steve Tovar and James Laurinaitis, but there may have been none better, in my mind, than Gradishar.
As we discuss all-time greats from Ohio State, the lines are often blurred between their Buckeye careers and their careers in the National Football League. Regardless of how anyone would rate him, Gradishar's Buckeye and NFL careers were simply incredible.
While at Ohio State, Gradishar was a consensus All-American in 1972 and a Consensus All-American in 1973 and also finished sixth in the voting for the Heisman Trophy. He was an Academic All-American and Hayes called Gradishar 'the greatest linebacker I ever coached'. He is a member of the Ohio State Varsity "O" Hall of Fame and a member of the Ohio State All-Century Team.
Gradishar's career with the Denver Broncos was even better. He was a seven time All-Pro selection, the 1978 NFL Defensive Player of the Year, the Broncos Most Valuable Player in 1978 and 1980 and a member of the Denver Broncos Ring of Fame.
As I spoke with Randy regarding changes in college football and Buckeye football since his playing days in the 1970s, he was quick to identify the size, speed and athletic ability of players today versus players in his era. "Today, linebackers are 6-foot-4, 250 pounds and run faster than most of the running backs in my day." Gradishar said.
An additional element that Randy identified was the change in scholarship numbers per school and how that has leveled the playing field. "We used to practice for Michigan on Monday, Tuesday and Wednesday and then put in the game plan for the Indiana's, Illinois' and Purdue's of the conference on Thursday and then be able to still go out and beat them decisively. That cannot happen today," Gradishar said.
I personally will never forget when I was a freshman in high school, working out twice a day with my brother who was an All-Big Ten lineman and captain of the team and M.V.P. for the University of Illinois football team. We would be finishing our workout in the evening, running wind sprints and he would say, 'Just four more'! When we were done he would say, 'Those were for Randy Gradishar'. That year, 1975, OSU played Illinois in Champaign. The halftime score was OSU 6 - Illinois 3… but when the game was over, the final score was OSU 40 - Illinois 3.
I could never bring myself to tell my brother that despite all his hard work back then, Ohio State spent the week practicing for Michigan, not the Illini. As an aside, that was why the OSU versus Michigan game was always so close during those years, because Michigan did the exact same thing.
Another element that Gradishar identified was the diverse nature of offensive strategy as opposed to years past. "Back when I played, the Big Ten was certainly 'three yards and a cloud of dust'," Gradishar said. "We had difficulty back then competing with the S.E.C.'s or the west coast offenses. I think we have now begun to grow, diversify and compete, but we still have a ways to go."
One of the additional areas that Gradishar identified was the year round training regime that college players and Buckeye players specifically undergo today as a requirement of their college football experience.
"We used to have a few breaks and an 'Offseason,'" Gradishar said. "At the end of the season, we had a few weeks before winter conditioning would begin and had a few months to ourselves during the summer, prior to fall camp. Today, those kids go almost 'year round.'"
"I remember a player at Michigan State during my years, named Brad Van Pelt, who was All Big-Ten in football, basketball and baseball," Gradishar said. "Today, that would almost never happen, due to their required schedules. There are no more three sport letter winners."
One common thread throughout many of my conversations with former Buckeye players is the camaraderie and life changing experiences they had at OSU. Those moments prevail over all their other experiences, including the National Football League.
While Randy played in AFC Championship Games, Pro Bowls and Super Bowls, he felt his days at Ohio State were the best in his life.
"I had great experiences at Ohio State," Gradishar said. "Like beating Michigan in the greatest rivalry in all of sport. However, the greatest experience was the opportunity to play for Woody Hayes. He taught me so much about character, integrity, discipline, accountability, respect and fair play."
"We would always visit Children's Hospitals and senior citizens centers, showing care, learning to help, paying forward, but not necessarily paying back."
Gradishar obviously learned well from his days with Woody and The Ohio State University. After all the success in college and the NFL, Randy still resides in Colorado after his Bronco days. He has made trips to visit and support our troops in Iraq and Afghanistan; he was President of the Denver Broncos Youth Foundation, worked with Denver Promise Keepers and is the Honorary Chair for the Susan G. Komen for the Cure Foundation.
Few would disagree that Randy Gradishar has been a champion at the college level, the professional level and certainly on the human level. He lives the mantra of 'Pay it Forward' and not only is he the greatest Buckeye linebacker ever to this date but he is also one of the greatest Buckeye citizens ever.
[rl]