Time and Change: Chris Spielman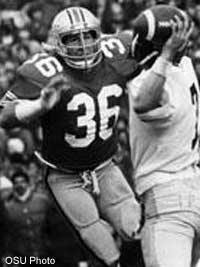 class="st_facebook_hcount" displayText="Share">
displayText="Email">

In this installment of Time and Change I had the chance to visit with one of the greatest linebackers in the history of Ohio State football, Chris Spielman.
The former All-American and NFL standout traded in the shoulder pads for the analyst's telestrator and now broadcasts for ESPN television, works radio for Columbus-area radio station 97.1 "The Fan," and devotes a great deal of his time to the Stefanie Spielman Foundation and to raising his four children.
As with many of the Buckeye greats who we have featured in Time and Change, I had the opportunity to talk with Chris about the changes he sees within college football as compared to the days when he was a student-athlete at The Ohio State University.
The topic of limited hours of practice and scholarship limits hit the radar right away as Chris and I spoke. The 85-scholarship limit has certainly had an effect on the game as coaches have to be careful not to overwork the players during game weeks.
"Obviously, with reduced player numbers, coaches have to make sure they don't beat the Buckeyes before they get a chance to beat the Wolverines," Spielman said
While the current NCAA rule limiting practice time to 20 hours a week may help keep players healthy and ensure that they have a good balance between athletics and education, Chris sees it a little differently.
"That same rule limits the interaction between players and coaches," Spielman said. "I would like to see the assistant coaches have more involvement in the player's lives off the field. Those kids are developing into young men and could benefit from the leadership and mentoring of those assistant coaches."
Another area Chris identified as one of the more significant changes is recruiting, which hits close to home for him as his son,
Noah Spielman
is currently being recruited to play D-1 college football.
"Recruiting is so much more advanced and highly competitive versus when I was recruited and played for the Buckeyes," Spielman said. "Today they have junior days, social networking and the new rule on unlimited texting concerns me. High school kids need time for themselves and it may get to the point where, colleges may need to hire a call center or texting service."
While discussing recruiting, I asked Chris why he chose to attend Ohio State and play football versus many of the other schools that recruited him.
"I grew up watching Ohio State football," Spielman said. "On Sunday, my brother and I would watch the replays of Youngstown State, the replays of Notre Dame and always the Ohio State replays. My final decision came down to Ohio State and Michigan.
"But Bo Schembechler really did a job on me and I actually wanted to go to Michigan. When I told my dad, he said, 'I'll tell you where you're going you traitor. You're going to Ohio State.' It was the best decision I ever made."
Spielman went on to a great career with the Buckeyes and in the NFL. He played in a Rose Bowl, Citrus Bowl and Cotton Bowl. He was a two-time All American in 1986 and 1987, won the Lombardi award in 1987, was elected to the College Football Hall of Fame, and was voted to the NFL Pro Bowl four times.
There have been many great linebackers at OSU. Names like Stan White, Randy Gradishar, Rick Middleton, Tom Cousineau, Marcus Marek, Pepper Johnson, Rowland Tatum, Andy Katzenmoyer, A.J. Hawk, James Laurinaitis, and of course Chris Spielman all come to mind and that is only scratching the surface.
I asked Chris who he thought was the best linebacker to ever play at Ohio State.
"That's a tough question as there were different circumstances, different offensive styles as well as teammates," Spielman said. "But I'll tell you one thing. There's a school about eight hours east of here that calls themselves 'Linebacker U'. That's B.S. -- the real 'Linebacker U' is right here in Columbus, Ohio."
Considering all those accomplishments and experiences, I asked Chris what was the greatest experience of all his football-playing days and he did not hesitate with his reply.
"Without question, it was the 1987 Michigan game when we beat Michigan in Ann Arbor and facing the tunnel, we carried Coach Bruce off the field in his last game ever as the Ohio State head coach," Spielman said. "It couldn't have been more fitting. The difference at Ohio State is the people. We were one entity within a team - that is what that day was all about."
In my Time and Change columns, I often write of the people aspects of this wonderful experience we call college football. I have written about a person in my own life, Bob Fenton, who always went out of his way, unbeknownst to me, to help me succeed and be the best I could be. So, I asked Chris, who is your Bob Fenton? Who is that person, who went out of his way for you, to help you grow and advance in athletics, education and life?
"There were so many people that helped me; parents, teachers, coaches," Spielman said. "But unquestionably, the person, who went out of their way and helped me the most, was my roommate, Frank Hoak (Hoak played for the Buckeyes in 1984 to 1987). When I was in school, I didn't have any money. Frank had a car and an allowance from his dad. We would go to Wendy's and he would always buy. He would let me use his car, even when he had his own plans. He would walk, but let me use his car. I will never forget all the great things Frank did for me."
Chris and Frank remain close as Frank resides in Columbus, working for Nationwide Insurance.
Spielman obviously learned from Frank Hoak as he advanced through life and continued to do things for others, specifically through the Stefanie Spielman Foundation.
As most of you know, the Stefanie Spielman Foundation was created in honor of Chris's late wife, who passed away from breast cancer in 2009. The foundation continues today as a centerpiece of the Spielman family, raising funds for Cancer research in conjunction with the American Cancer Society and the Arthur G. James Cancer Institute at The Ohio State University.
To date, the Stefanie Spielman Foundation has raised more than 10 million dollars for cancer research through fund raising activities such as the Buckeye Cruise for cancer, The Step Up for Stephanie 5K walk/Run and the Bottomless Mug of Coffee, sponsored by Panera Bread Company.
Chris was proud to tell me that his daughter Madison and son Noah are both involved with the foundation; Madison helping out with public check presentations and Noah was the family representative on the most recent Buckeye Cruise for Cancer.
"I am really proud of them," Spielman said. "I know their involvement keeps it fresh in their minds as to who and what Stefanie was."
Chris Spielman will go down as a legend in the history of Ohio State Football. What needs to be said and is readily evident is that Chris Spielman is also a terrific man, father, community leader and without question, he is a Buckeye.
Somethings will never change.
[rl]