Thompson to the rescue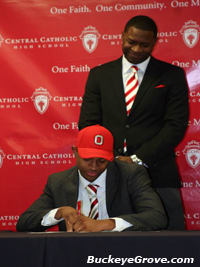 class="st_facebook_hcount" displayText="Share">
displayText="Email">

Running backs and receivers trying to cross the middle of the field aren't the only people future Ohio State football player
Jayme Thompson
enjoys stopping in their tracks.
Thompson, a prized recruit out of Toledo (Ohio) Central Catholic High School who signed with Ohio State last week, put his physical nature to use on Monday night to help defuse what could have escalated into a very serious situation.
The senior safety and his father were outside a grocery store close to their Toledo home when a man, allegedly under the influence, started causing some problems for a police officer in the parking lot.
"A car came speeding up," Thompson said. "It was going unusually fast, and we kept looking at the guy. The guy gets out of the car and just didn't look right. I just told my Dad, 'Hey, we have to stay here and watch this,' and the cop tried to go over and talk to him. I saw the cop try and grab the guy, and he like tried to swing out of his jacket so we just ran up and helped the sheriff put the cuffs on the guy and waited for the other cops to come."
Much like on the football field, where Thompson is asked to see the offensive plays happen before they actually develop, this was a situation in which he saw the direction things were headed and felt he needed to take action.
"As it was happening, you could just see it was escalating," he said. "He looked like he was about to really give the officer a fight, because it was just one-on-one. He kept like tensing up like he was thinking about fighting. We just held onto him until the officer was able to put the handcuffs on him. The police officer was super excited that we came over and helped him out."
For Thompson, the incident was a crash course in law enforcement, a field he is strongly considering once his days on the football field are over.
"I really want to be a cop," he said. "I thought that was just a prime opportunity. That's as close to the action as you can get. If I didn't want to be a cop before that, I really want to be one now. I don't know why, but I was hyped (about helping the police officer)."
Thompson's father, Deon Thompson, was there to help as well, as the two had just finished working out. Thompson credits his son for not letting them leave the parking lot and being the first to notice what was happening.
"It was Jayme that said, 'Dad, we gotta go,'" Deon Thompson said. "We were still kind of wired up from exercising and stuff like that but really it was Jayme's instincts. He really does want to be a cop and he just had the instincts of seeing what was going to happen there."
It's unclear what would have happened if the Thompsons didn't intervene, but thanks in part to them, nobody was hurt and the conflict was resolved peacefully.
"The officer told us that had we not been there the guy probably would have put up a real fight," he said. "Looking back on it now, it may not have been the smartest thing for us to do, but we just knew it could get serious if we didn't take action."
The elder Thompson praised his son's resolve.
"I'm extremely proud of him," he said. "That's a thing where we didn't want to see anybody get hurt, so I'm really proud of the way he handled things."
Don't look for this to become a normal father-son bonding ritual, however. Once was enough for the elder Thompson.
"I was definitely a little nervous, but Jayme wasn't," he laughed. "Afterwards Jayme said, 'Dad, wasn't that cool?' and I was like 'Heck no, that was nuts.' He told me that he wanted to be a cop even more now."
Columbus area criminals beware; Thompson arrives in the Capital City this summer.
[rl]