Sonny Styles role unclear but work-ethic, football IQ impressing Buckeyes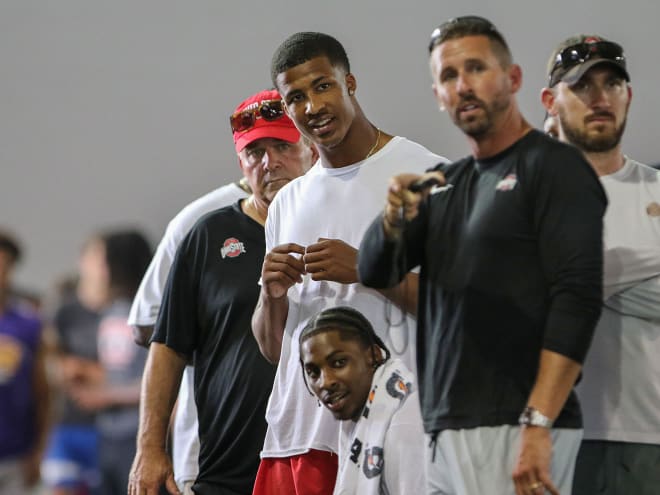 COLUMBUS — Just over two weeks ago Jim Knowles blew the whistle on the Sonny Styles project.
Knowles was asked a simple question: where does Styles fit into the Ohio State defense?
The new Buckeyes defensive coordinator set off a media storm -- and a potential NIL campaign for Styles down the road -- when he put a sexy label on the 6-foot-4, 222-pound freshman from Central (Pickerington, Ohio) High School.
"Too soon to tell," Knowles said nonchalantly. "He's gonna be a secret weapon."
The fact that Styles is even being talked about at all on a college campus right now is pretty crazy. He's just 17 years old and won't turn 18 until the majority of his freshman season is over. He should be a game deep in his final season of prep football but is instead preparing for the Ohio State home opener against Notre Dame. Though the reclassification 'trend' is picking up steam, the fact that Styles skipped his final year of high school and didn't enroll with the Buckeyes until June should have helped mitigate the hyperbole around his physical talents. Somehow it hasn't.
But Ohio State coaches aren't just impressed by the obvious athletic skills, which are clearly rare. It's the other part of the game where Styles is actually showing himself to be ahead of the curve.
A kid this young shouldn't be this advanced in his knowledge of the game. That's what has really impressed Perry Eliano, the coach working with Styles day in and day out.

"He's a beast," Eliano said. "He's a big boy. The biggest thing about Sonny is that he's 17-years-old and you'd think he was 22. Very very mature. Very humble. No entitlement. He just came in and worked.
"Very, very quiet. Embraced the culture, embraced the role of you know, learning. He's really smart. He's really, really smart. Sonny has a bright future."
Secret weapons take time to develop, though. Sonny Styles is no different in that respect. His bright future may not be all that visible this year for Ohio State. But the work that the Buckeyes legacy is putting in now has his coaches so excited for what's next.
"He's a guy who studies, learns," Knowles said. "[Sonny is] always in there. He literally ripped the ball out from the running back the other day. [He's a] playmaker, showing up in the right [spots,] picking things up ... I don't ever remember yelling at him, except for positive things. I don't remember him making a mistake, and for a young guy? That's fantastic. So I think Sonny's gonna be great.
"(He can do) all kinds of stuff. I don't want to put too much on him yet because I want to get him into the flow. But in terms of the future, it's gonna be bright and it's gonna be a lot of fun with the things we're able to do with him."
The country will know all about the former five-star prospect soon. He won't be an Ohio State secret for very long.