Signed: Rivals100 OT Ben Christman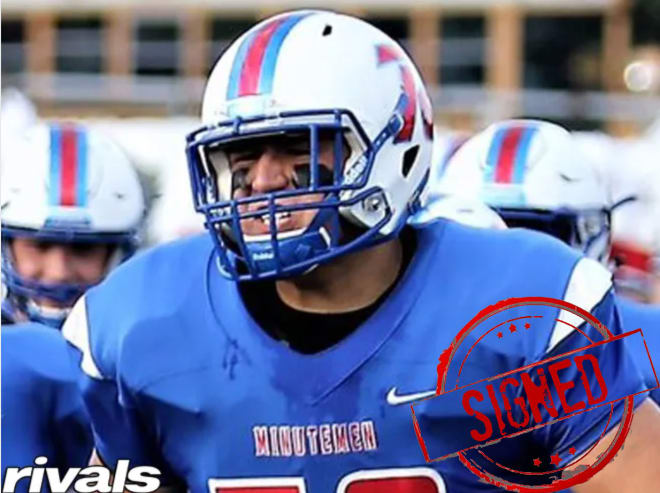 Four-star Ben Christman signed his letter of intent during Wednesday's early signing period and will enroll in January, officially joining the Ohio State program.
Christman's commitment to Ohio State dates back to June 2019, and the Buckeyes were clear frontrunners from the onset of his recruitment. Christman landed his Ohio State offer just four months prior.
The nation's No. 88 prospect and No. 3 player from Ohio then put on his recruiting cap to help the Buckeyes build out their 2021 class, which currently sits No. 2 in Rivals' team recruiting rankings.
His pitch to fellow top players was simple: be part of something special.
"Just come be a part of the best class, the best offensive class, in the country and let's go be great," Christman told BuckeyeGrove in September.
Christman and other major mouthpieces for the class such as four-star running TreVeyon Henderson provided assistance to Ohio State's staff in its recent landing of five-star wide receiver Emeka Egbuka, and several other recruits before him.
He's already working on many aspects of his game that'll need refinement for the collegiate level. And he's waiting anxiously to get started with his 2021 classmates -- he'll be in Columbus this spring as an early enrollee.
"I'm excited man, I love every single one of those guys already," Christman said.
Christman's Skill Set
If you're looking for a classic, mauling, tough-as-nails Ohio offensive tackle then you've come to the right place.
Christman demonstrates great technique on second-level blocks. He steps on the toes of backend players, lowers his pad level, and explodes up through contact to finish blocks.
I'd go so far as to say Christman is one of the best second-level blockers I've seen in the class of 2021.
When it comes to more man-on-man, first level run blocks against defensive linemen, Christman's size and drive are overpowering. His feet move through contact, and he's always looking to complete blocks with defenders on their backs.
This shows the "through the whistle" mentality it takes to be an effective run blocker at the collegiate level. Christman relayed this message when I spoke with him a few months ago, stating he becomes an entirely different person when he steps on a football field.
That mean streak is apparent on tape.
Looking ahead to his own career at Ohio State, Christman's film is that of a mauler, and a top 100 national recruit with tremendous run blocking upside and a built-in appreciation for Ohio State's traditions is never a bad land for the Buckeyes.