Rosters Announced For North-South Game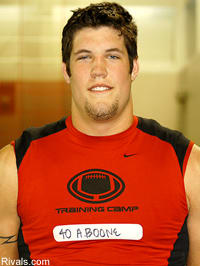 Sixty-eight of the best high school football players in Ohio will be in Columbus on Thursday at a luncheon to announce the rosters for the 2004 Grange Insurance Ohio North-South Classic, the longest-running high-school all-star game in the nation.
The luncheon will be held at noon Thursday at the Columbus Hilton, located adjacent to Easton Town Center.
The 60th Annual Ohio All-Star Classic will be held Saturday, June 18 at Columbus Crew Stadium. It will feature 68 of the top graduating seniors in Ohio, most of whom will sign letters of intent with Division I schools on Wednesday. Nineteen of the 68 have verbally committed to play for schools in the Big Ten conference, while eight others will play in the Big East, Southeastern Conference or at Notre Dame and two have verbally committed to the Mid-American Conference. A majority of the others are also expected to receive scholarships to play major-college football.
"We are proud to bring together the best high school football players in Ohio for this game," said Ed Terwilliger, president of the Ohio High School Football Coaches Association and head coach at Olentangy. "This is the premier all-star football game in the nation and the last chance to see these players before many of them go on to play at some on some of the
best Division I teams in the nation."
Here are the rosters for the annual Grange Insurance Ohio North-South Classic All-Star Game, set to be played June 18 in Columbus Crew Stadium.
SOUTH ROSTER
Player Pos. Ht. Wt. High School College
Andre Amos WR 6-2 175 Middletown Ohio State
Josh Bloomsfield LB 6-2 220 Lima Shawnee
John Buckner OL 6-5 290 Cols. Beechcroft Air Force
Cory Burcham DB 5-10 155 Symmes Valley
David Bruton WR 6-3 185 Miamisburg Notre Dame
Brady Minturn DL 6-5 245 Loveland
Terrill Byrd DL 5-11 287 Cin. Colerain Cincinnati
Tyler Clifford DL 6-4 215 Portsmouth Cincinnati
Joe Crawford OL 6-6 245 Watkins Memorial
Alex Daniels LB 6-4 230 Cols. Brookhaven Minnesota
Jovon Davis OL 6-4 306 Cin. Withrow
Jess East OL 6-4 240 Cambridge
Brandon Harrison DB 5-10 195 Dayton C-J Michigan
Dominic Jones DB 5-9 182 Cols. Brookhaven Minnesota
Jared Humphreys QB 6-1 175 Jackson
Dante Love QB 5-10 175 Cin. Withrow
Kevin Mahoney OL 6-6 305 Springfield North Bowl. Green
Keith Massey DB 6-1 200 Cols. Brookhaven Minnesota
Derek Moore DL 6-4 270 Newark Catholic
E.J. Morton-Green WR 6-4 205 Cin. Princeton Miami, Ohio
Brady Minturn DL 6-5 245 Loveland
Andrew Moses OL 6-4 261 Cols. Watterson
Greg Orton WR 6-4 195 Hubert Hgts. Purdue
Bruce Palmer LB 6-3 215 Indian Creek
Damien Palugher TE 6-4 230 Hardin Northern
Rob Schoenhoft QB 6-6 230 Cin. St. Xavier Ohio State
Matt Schumaker RB 6-2 235 Delphos St. Johns
Mark Sexton TE 6-3 235 New Philadelphia
Mister Simpson RB 5-11 200 Cin. Colerain Michigan
Austin Spitler LB 6-3 230 Bellbrook Ohio State
Gary Stubbs DB 5-9 172 Steubenville
Tom Stuck OL 6-2 285 Lancaster
Cedric Tolbert RB 6-2 205 Xenia Cincinnati
Nick Yahl WR 6-1 190 St. Mary's Memorial
Arthur Zurcher K/P 5-11 160 New Philadelphia
Head coach – Karl Johnson (Dublin Scioto).
Assistant coaches – Andrew Connor (Indian Creek), Matt Dennison (New Philadelphia), Charles Gamble (Cincinnati Withrow), Jeff Starkey (St. Henry), Rusty Webb (Symmes Valley).
NORTH ROSTER
Player Pos. Ht. Wt. High School College
Alex Boone OL 6-8 330 Lake. St. Edward Ohio State
Ryan Brinson RB 5-9 175 Canton McKinley
Rocco Cironi OL 6-6 285 Warren Harding Michigan St.
W.C. Clements OL 6-3 245 Mentor Lake Catholic
Billy Cundiff QB 6-5 205 Green
Kendall Davis DB 6-0 195 Alliance
Chris Dyko OL 6-3 305 Tol. Cent. Catholic
Steve Gawronski OL 6-3 295 Toledo Rogers
Mike Godsil DL 6-2 260 Mansfield Madison
Mike Gray LB 5-11 200 Tallmadge
Tim Hiller QB 6-5 212 Orrville
Joe Kleinsmith P/K 5-11 185 Lake. St. Edward Indiana
Fred Lenix LB 6-0 205 Cleveland Glenville Ohio State
Brandon Long DL 6-3 230 Canton GlenOak Michigan St.
Marion Manningham WR 6-0 180 Warren Harding Michigan
Anthony Marsano LB 6-3 225 Marion Harding
Jared Martin DB 6-1 175 Clyde Cincinnati
Kyle McCarthy DB 6-0 195 Youngs. Mooney Notre Dame
Brian Mellott DL 6-3 254 Austintown Fitch
Andrew Means DB 6-2 205 Avon Lake Indiana
Greg Micheli DB 6-2 185 Upper Sandusky
Jamario O'Neal DB 6-1 200 Cleveland Glenville Ohio State
Jim Ramella TE 6-4 230 Cleve. St. Ignatius Boston Coll.
Tim Reed OL 6-3 285 Trotwood-Madison
Brian Robiskie WR 6-4 195 Chagrin Falls Ohio State
Nick Simon LB 6-2 225 Shaker Heights
Derrick Stewart DB 5-11 170 Youngs. Ursuline
Trey Stross WR 6-4 190 Avon Lake Iowa
Tyrell Sutton RB 5-9 195 Akron Hoban Northwestern
B.J. Travers LB 6-1 245 Westlake Iowa
Marcus Waugh RB 5-11 228 Toledo St. John's
Aaron Waldie WR 5-11 167 Sylvania Southview
Lawrence Wilson DL 6-5 240 Akron SVSM
Stephen Zywotek DL 6-3 245 Avon Lake
Head coach – Brian Cross (Canton McKinley).
Assistant coaches – Mike Bell (Mentor Lake Catholic), Dick DeWitt (Upper Sandusky), Neil Kopp (Austintown Fitch), Jerry Rutherford (Eastwood), Joe Vassalotti (Tallmadge).