Roby making his dreams a reality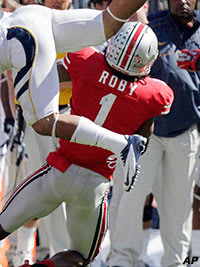 class="st_facebook_hcount" displayText="Share">
displayText="Email">

COLUMBUS, Ohio -According to Sigmund Freud's The Interpretation of Dreams, dreams often represent our unconscious wishes and desires.


That may explain what was running through
Bradley Roby
's mind as he laid in bed last Friday night. But then again, there was nothing repressed about what he wanted.
After spending the week being questioned by reporters and chastised by teammates, the Ohio State cornerback knew exactly what he wanted. And he knew when he wanted it to happen.


Throughout the first four games of what was expected to be his breakout season, Roby had already been more than impressive. The third-year sophomore led the Buckeyes in pass breakups and passes defended, blocked a punt against Michigan State, and scored a touchdown after a botched snap in OSU's season opener against Miami (OH).


Only one thing was missing: an interception.


Having played in four of the Buckeyes' five games (he sat out OSU's win over UAB with a shoulder injury) Roby was yet to have picked off any of the opposing quarterbacks that he had faced. And it was starting to get to him.


"I gotta get a pick this game," Roby said three days before the Buckeyes faced Nebraska, the desperation apparent in his voice. "I already have a couple of routes that I'm looking for to intercept, that they run a lot. Hopefully they throw them and hopefully I'm in the right position. I gotta get one this game."


Perhaps it was the Suwanee, Ga. native's chat with the media- coupled with some ribbing from fellow OSU defensive backs who had already recorded their first interceptions of the season- that led to the dream that the 5-foot-11, 190-pound corner experienced in his hotel room at the Blackwell Inn the night before the Buckeyes' Big Ten battle with the Huskers.


"I had a dream earlier in the week that I had a pick-6," Roby said following OSU's 63-38 win over Nebraska.


Apparently Roby wasn't the only one that was thinking about him returning an interception for a touchdown against the Huskers. On Saturday morning, he received a text message from his father, James Roby, who claimed to have had the same vision run through his mind.


"My dad texted me this morning and was like, 'I had a dream you got a pick-6 today,'" the younger Roby said. "I was like, damn, I'm gonna get it. I had the same dream."


As it turned out, both of the Robys' fantasies foreshadowed reality. With nine minutes and 36 seconds remaining in the first quarter of Saturday's game, Bradley intercepted a pass intended for Nebraska wideout
Quincy Enunwa
and returned it 41 yards for the Buckeyes' first score of the game.
"It was crazy. The whole atmosphere was electric. It was a night game, the crowd was crazy," Roby said. "Just to be able to score, make the first big play of the game to set it up for our whole team, it's indescribable how it feels."


One quarter later, Roby's reality surpassed his dream when he intercepted his second pass of the game- another route that he was able to interrupt thanks to his film study.


"When they line up in a certain formation, they run certain routes in downs and distance, so I saw it, and I kinda thought about it pre-snap," Roby said. "Both of them were routes that I had seen on film."


According to Ohio State cornerbacks coach
Kerry Coombs
, it's Roby's work in the film room that helps give him the confidence to do things like put pressure on himself in front of the media to record an interception against a run-heavy offense. And that's just fine with Coombs, who has witnessed the maturation of his No. 1 corner in recent months.
"Confidence, as all of us understand, comes from knowledge. Knowledge that you can do the job that you set out to do first and foremost. Knowledge of your opponent, which gives you unbelievable confidence heading into a game. I don't want to coach a single corner ever who's not cocky, who doesn't have swagger, who doesn't have arrogance," Coombs said. "(Roby) doesn't think he should ever get beat. And I don't think he should either."


From redshirting in 2010 to starting in 2011 to becoming known as one of the nation's elite corners in 2012, everything Roby has done since he arrived in Columbus has followed his plan. What the next step in his progression will be remains to be seen, but Coombs has a pretty good idea where a continued dream season could land him.


"He's by no means a finished product, he's going to be a phenomenal player. But he's much better than he was, he's worked hard at his footwork, at his craft, he studies it, and frankly I think the sky's the limit," Coombs said. "I think Bradley's a first round draft pick down the road. I really do."


[rl]