Reports: Wells to OSU, McCoy to UT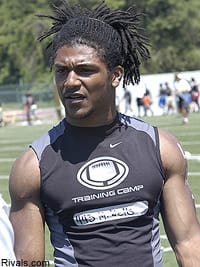 Interested parties can hear it from the proverbial horse's mouth later on today during the U.S. Army All-American Game (1 p.m. EST, NBC), but Ohio State is set to bat .500 with the two prospects it was waiting on college announcements from, according to the hometown newspapers of each player.
Bad news first -- Washington (D.C.) St. John's College linebacker
Rico McCoy
, who has had the Buckeyes as one of his favorites since the summer, has opted to commit to Tennessee, according to his father, Reggie, via The Washington Post. A four-star prospect ranked as the nation's No. 8 linebacker and No. 96 overall player, McCoy's decision came down to UT and OSU and he has apparently opted to head south to Knoxville.
McCoy was spotted wearing Ohio State apparel around All-American Game practices this year, so add his name to the long list of prospects who have mastered the art of keeping up the suspense until almost the final hour before decision time.
But the news isn't all discouraging for Buckeye fans. Jacksonville (Fla.) Sandalwood running back
Maurice Wells
-- one of the coaching staff's top targets this recruiting season -- has indeed committed to OSU, according to his high school coach. Wells' Ohio State recruitment has been rumored for some time, almost ever since he took his official visit to the school for the OSU-Michigan game weekend, but Buckeye fans can apparently now officially add his name to the list of commitments.
Georgia Tech played bridesmaid to OSU this time around.
"He has a grandmother he's close to that lives there, and he said the rest of his family will probably end up moving there anyway," Sandalwood head coach Adam Geis told the Jacksonville (Fla.) Times-Union. "He thought he could play at both places, but it came down to a family thing."
After rushing for more than 3,000 yards as a junior, Wells missed parts of two games with a hip injury in 2004 but still managed 1,836 yards on the ground. Rivals.com ranks him the nation's No. 4 all-purpose back and No. 66 player overall.
At 5-9, 177, Wells doesn't fit the profile of the classic Ohio State running back, which he has told BuckeyeSports.com in the past is a motivating factor for him. Wells hopes to show that a player of his size can succeed in the Big Ten, and apparently his coach -- whose father is an assistant with the Yellow Jackets -- will be one of the naysayers Wells is trying to prove wrong.
"I've been his biggest fan for three years," Geis said. "And I hope everything he wants comes true. But he's always told me he wants to run the ball (in college), and I just don't see it happening there (at Ohio State)."
BuckeyeSports.com and the staff at Rivals.com will have full coverage of the commitments of both Wells and McCoy, along with a number of other players expected to announce their college decision, as they occur at the All-American Game this afternoon. Stay tuned to BuckeyeSports.com for all the latest recruiting news.