{{ timeAgo('2021-01-12 15:28:58 -0600') }}
football
Edit
Recruiting Roundtable: Thoughts following Monday's national championship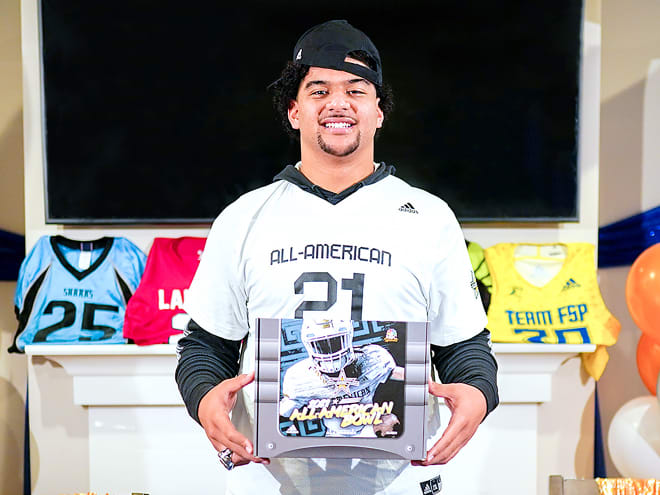 Question: What are your thoughts after having some time to digest Monday's game?
Anders: Obviously, I wasn't expecting Ohio State to get blown out, given that I picked the Buckeyes to win, but a result like this was always in the realm of possibility.
Let's be real, the move outside did not pan out for redshirt junior cornerback Shaun Wade. All season, he's been beaten by receivers with solid physical skill sets, whether it was Jahan Dotson, Ty Fryfogle or most recently DeVonta Smith.
Not that he stood alone in his struggles. A secondary which struggled throughout the year collapsed. Ohio State's linebackers had perhaps their worst game of the season, missing open-field tackle after open-field tackle. Alabama beat Ohio State to the edges and beat the Buckeyes' defense in every way imaginable, save for going up the middle.
One thing I wasn't expecting was for the Crimson Tide to be so dominant up front. Tommy Togiai and Tyreke Smith being out hurt, but the opposite line lost an All-American center to injury and unless they blitzed, the Buckeyes could get no pressure on Alabama quarterback Mac Jones.
Offensively Ohio State failed to finish a few drives and stalled out with some play calling I found questionable on a couple more -- Master Teague is a downhill running back, why anyone would go off-tackle with him is beyond me -- and the wide receivers weren't getting separation. Did they make some contested catches? Sure. But they weren't getting consistent separation and Justin Fields had a fairly inefficient night as a result.
Overall, not sure it's how anyone expected the year to end for Ohio State and certainly not what Buckeye fans wanted. But after a season with so much turmoil, a fourth straight Big Ten title and win over Clemson in the Sugar Bowl is nothing to sneeze at.
Hastings: My first thought following the game was that I was stunned how open DeVonta Smith was throughout the corse of the first half. At some point, you just have to let John Metchie or an injured Jaylen Waddle beat you, not the Heisman Trophy winner who carved up opposing secondaries all season long.
Instead, DeVonta Smith did whatever he wanted in the first 30 minutes of the game as he hauled in a dozen receptions for 215 yards and three touchdowns. It was just inexcusable how many times you would look up and see Smith in single coverage, and even a few times where he had nobody in his vicinity whatsoever.
I understand that Smith is a Heisman Trophy winner for a reason and will be a high first-round pick, but there should have been more double teams and attempting to get physical with him in press coverage, in my opinion.
Another thought I had was that I won't put too much blame on Justin Fields.
Look, there are something things he's going to need to get corrected when he is in the NFL.
He needs to stop holding on to the ball too long, should be more willing to use his legs to make defenses pay, and not try to win a game with one throw. To elaborate on that last point, there were several occasions in last night's game and in Ohio State's matchups with Indiana and Northwestern where Fields tried to make a big play too often, and forced it into areas that were highly contested.
With last night's game, however, the Buckeyes went up against an absolute juggernaut that should be considered as one of the greatest offenses in college football history. Fields did not play his best, but it was a tall order to be nearly perfect while inured, score on every drive because the defense wasn't stopping Alabama, and your No. 1 running back was injured at the start of the game.
This offense is going to be potent enough in the coming years to make the playoffs on a yearly basis, but fixing that defense will need to be the top priority if OSU is going to win a championship in the future.
Question: Based on last night's game, what position does Ohio State need to recruit at an elite level on the trail?
Anders: Is there any other way to answer this? Defensive back.
Jones threw for a championship-game record 464 yards with five touchdowns on 80 percent completions against Ohio State Monday.
This against the same secondary that allowed Indiana to pick up 491 yards through the air. In total, the Buckeyes' passing yards allowed per game finished the season No. 122 out of 127 teams in college football. That's seen as unacceptable by most teams, let alone traditional powerhouses.
It's amplified by the fact they finished No. 6 in rushing defense.
Development and better talent is clearly needed on the back end of Ohio State's defense. Luckily, there is some on the way.
Four-star cornerbacks Jakailin Johnson and Jordan Hancock, the No. 1 and 7 corners respectively in the class of 2021, are both signed on to play for Ohio State.
A five-star is committed for 2022, one Jaheim Singletary.
In the meantime, however, introspection is needed. For a long time, I've thought this Ohio State team should switch to a two-high scheme and focus on eliminating big plays in today's era of high-powered offenses, and I'm even more convinced now.
Hastings: Ohio State is already doing an excellent job recently at this position, but I'm going to say cornerback for this response.
I don't think you're ever going to be able to leave a DB on an island and handle a wideout with the caliber of DeVonta Smith for all 60 minutes, but you need someone who can win some of those one-on-one battles and make him work.
We saw Smith get plenty of easy yards because of the room the Buckeyes' defensive backs were giving him before the sticks. A physical DB with speed (I'm thinking Domani Jackson) would be the perfect guy to plug in and at least minimize the damage a player like Smith can do to a defense.
I expect the Buckeyes to compete for championships as long as Ryan Day is at the helm, so they're going to continue to go up against top quarterbacks and wideouts every year in the playoffs. As a result, recruiting top cornerbacks is a must for Kerry Coombs and company.
A couple of other positions I considered selecting for this section were defensive tackle and offensive guard. Ohio State signed just two DTs in this past cycle, but I think they need to capitalize on some elite targets in the 2022 class, such as five-stars Keithian Alexander and Walter Nolen.
They're going to need some studs in the trenches to disrupt running lanes and generate pressure on quarterbacks, which would alleviate some of the responsibilities the DBs have.
I also think guard should be a priority as the Buckeyes are welcoming two top running back prospects onto the team this year. Having a balanced attack starts with maulers in the trenches, so that's another area I believe Ohio State needs to improve their recruiting at in the future.
Question: Will the game's result impact the recruitment of J.T. Tuimoloau?
Anders: I don't believe the national championship result will heavily influence the decision of five-star defensive end J.T. Tuimoloau, primarily because I think he's known what his college choice is since before Monday.
Also though, we've said it before, one game is not enough to sway any player's recruitment one way or another.
Through beating two other high-end programs, Alabama proved it was the best team in college football this season. But Ohio State has shown it's going to be a power for the long haul. Again, it won a fourth straight Big Ten title and reached the National Championship Game after beating No. 3 Clemson.
The Buckeyes are pulling in top-flight recruiting classes, with their 2021 class No. 2 in Rivals' team rankings.
Top recruits around the country are smart enough to know that Ohio State is among the teams most likely to return to this stage in the near future. Tuimoloau knows that, too. And his recruitment will come down to the program he's built the best relationships with, that he feels is best for his future. I don't think one result is enough to sway that.
Then again, everyone wants to be a champion. We'll find out his decision within the next few weeks.
Hastings: I completely agree with everything Andy had to say above.
Tuimoloau has a strong relationship with Ohio State's staff, has heard nothing but great things from former high school teammate Gee Scott Jr., and sees potential for himself being coached up by Larry Johnson.
None of that has changed after the result of last night's game.
Sure, there will be the appeal of joining the reigning champions, but it's not a guarantee Alabama is going be this dominant in the coming years. The Crimson Tide will always be powerhouse with Nick Saban leading the program, but the departures of offensive coordinator Steve Sarkisian, as well as Smith, Mac Jones and Najee Harris, will make them less explosive on offense.
I don't believe Tuimoloau, a defensive player, is going to let a team's standout year on offense determine where he is going to go to school at the next level.
Also, it's not as if Tuimoloau is going to announce his decision tomorrow or this weekend. There are three weeks left until the sixth-ranked senior on Rivals will sign his Letter of Intent, giving Johnson and the staff plenty of time to remind him of why Ohio State should be his choice on Feb. 3.
I'm still favoring OSU to land Tuimolaou next month.
Stay tuned to BuckeyeGrove.