Reas Say: Keys To An OSU Victory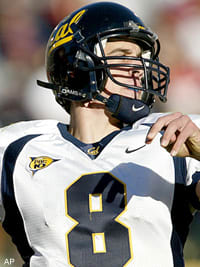 We take time out from reporting on the police blotter, various NCAA investigations and the machinations of dim-witted boosters to suggest a refreshing change. Let's talk a little football.
Ohio State winds up its 2004 season of discontent tonight when the Buckeyes take the field against Big 12 opponent Oklahoma State in the Alamo Bowl. But when the ESPN lights come on at 8 p.m. Eastern, which Ohio State will show up to play? The one that slept through the early portion of the Big Ten season and dropped three straight games or the one that rallied from within to take four of its last five including a more-than-convincing 37-21 pounding of Michigan?
If I could really foretell the future – and by looking the Fearless Forecast numbers through bowl season so far, you can tell that I most definitely cannot – I would be picking Powerball numbers and filing this story from a beach bungalow in Aruba. But since I have no advance knowledge of what will happen, I can only look at the key matchups and try to figure out what's going to happen.
I could go over each player, position by position, and try to analyze which team has the upper hand but I truly believe this game comes down to just a handful of battles.
First and foremost, Ohio State must prevent Oklahoma State running back Vernand Morency from running wild. I think it's probably foolish to believe the Buckeyes can stuff the Cowboys like they did Kansas State last year before Oklahoma State is much, much more physical up front than K-State was. The Cowboys pride themselves on playing smash-mouth football at the point of attack. It's the kind of football that Oklahoma State head coach Les Miles played at Michigan and it's the kind of football he has coached throughout his career as an assistant and head coach.
The last time the Buckeyes faced such a team was just a little over a month ago when the Wolverines rolled into Columbus with freshman Michael Hart and rolled out with their offensive egos bruised. In case you have forgotten, OSU's win over the Wolverines didn't happen just because Troy Smith had a breakout game at quarterback. After spotting UM a pair of early touchdowns, the Ohio State defense pretty much stoned the Wolverines and Hart wound up with a paltry 61 yards, less than half his average going into the game.
It was interesting to me as OSU defensive coordinator Mark Snyder and co-coordinator Mel Tucker drew parallels between Oklahoma State and three previous Ohio State opponents – Kansas State, Wisconsin and Michigan. Last year, the Buckeyes completely sold out to stop K-State's running attack – sometimes putting 10 men in the box to stop Darren Sproles – and the strategy paid off in a victory. Three out of the last four years, OSU has forced Michigan to make its quarterback win the game and neither John Navarre nor Chad Henne could get the job done. Only against Wisconsin have the Buckeyes come up short.
If Ohio State is to win this game, the defensive front of Simon Fraser, Quinn Pitcock, Marcus Green, Mike Kudla and their friends are going to have to have another outstanding game. They will have to play assignment football, stay with their individual man and avoid getting blown off the line of scrimmage. If they can do that, and occupy Oklahoma State's offensive line which averages well over 300 pounds, that allows A.J. Hawk, Bobby Carpenter and Anthony Schlegel to do what they like to do – fly to the ball without having to worry about making a lot of reads.
I fully expect for Oklahoma State to line up and try to pound the ball at the Ohio State defense. If the Buckeyes are to set the tone for the game, they need to force a couple of early three-and-outs – just like last year's Fiesta Bowl against Kansas State. That will allow the offense to understand it doesn't have to make the glory play to win the game.
The fact that Smith will not be under center has frightened a lot of Ohio State fans. They look at how Justin Zwick performed in his final three games as a starter and wince. On the service, they have a point. In his final three games as a starter, Zwick completed only 39 of 83 passes (47.0 percent) for 410 yards with just one touchdown and two interceptions. Those three games were all losses, too.
But if you look a little bit closer, you'll find that Zwick was the one who nearly erased a poor defensive performance against Northwestern by rallying the team from 10 points down late just to get to overtime. And he can hardly be blamed for the Iowa loss, a total team blowout during which he suffered his separated shoulder on the first series of the game, not in the second half as was originally believed.
As with most of the rest of the Buckeye Nation, I marveled at the way Smith took over the quarterbacking position and made it his own. His performance against Michigan was above and beyond anything any OSU fan could have hoped for. But perhaps we should be praising Jim Tressel for the way he handled the quarterback position last spring. We didn't understand it at the time, but keeping Zwick and Smith battling one another, Tressel kept both of his quarterbacks sharp with the feeling that he would need both to play at some point in the season.
Zwick returns to the starting lineup after being on the sidelines for more than two months. He may be a bit rusty tonight, but I think the time off has helped him in several areas. First, he has had a chance to sit back and watch. He has taken advantage of that time to study more film than ever and figure out where his season started heading south. Secondly, I think the time off has helped him to heal some minor injuries – as well as the major one to his throwing shoulder – and he will be as healthy as he was when he took the first snap of the season against Cincinnati.
I truly don't expect tonight's offensive game plan to waver much from the attack the Buckeyes devised for Smith. No, Zwick won't take off as much and, yes, he'll stand in the pocket a little longer and may take another sack or two. But as long as Ohio State sticks to the attack it allowed Smith to pilot, I have no reason to believe Zwick can't deliver – and excel – in the same scheme.
As long as Ohio State continues to feature Ted Ginn Jr., Santonio Holmes and Anthony Gonzalez and get the ball to them, Oklahoma State has no answer for that kind of speed. The Buckeyes will likely try to establish some kind of running presence in the game, alternating the slashing style of Antonio Pittman with the brute force of Branden Joe.
But this game will be won or lost on the ability of Zwick to find his hot receivers and the Buckeyes to use the middle of the field, not the boundaries as they did when Zwick was the starter before. If Ohio State uses the middle of the field and showcases its team speed, both on offense and defense, I don't see how they come out of the Alamodome with anything less than a victory. What that margin will be, we'll get to in a second.
**Can anyone explain to me this sudden trend where head coaches who have already accepted other jobs remain with their current teams to coach in bowl games? It happened last year with Mark Dantonio, who remained Ohio State's defensive coordinator for the Fiesta Bowl before officially taking over the reins at Cincinnati.
It happened again this year with Urban Meyer staying at Utah for the bowl before moving on to Florida and with Charlie Weis remaining with the New England Patriots before taking over at Notre Dame. If those guys can stay with their original teams, why isn't Ron Zook coaching Florida in its bowl game? Why wasn't Tyrone Willingham allowed to coach the Irish in its bowl contest?
I must say that there is very, very little common ground that I could find with Bo Schembechler. But when he essentially fired basketball coach Bill Frieder shortly before the 1989 NCAA Tournament after Frieder took the Arizona State job – despite the fact Frieder wanted to coach the Wolverines through the tourney – I think Schembechler had the right idea.
You can't serve two masters and serve them properly. Either you're a Ute or you're a Gator. You can't be both.
FEARLESS FORECAST
After starting the bowl season with four straight wins, we have taken a couple of missteps and finished last week at 3-5 straight up and 4-4 against the spread. That means a 5-5 record SU and 6-4 on the postseason ATS ledger, pushing the straight up season total to 222-68 and the against the spread total to 70-80-2.
With a total of 10 games over the next three days, we decided not to bite off more than we could chew and give you the New Year's Day and championship game predictions later in the week. Here goes nothing …
HOUSTON BOWL – DEC. 29
Colorado vs. Texas-El Paso: Why would anyone want to watch this game? Well, there are a couple of intriguing players you might want to check out in preparation for OSU's game. UTEP's quarterback is Jordan Palmer, Carson's younger brother, and he threw for 2,490 yards and 24 TDs this season. Also, the Miners are coached by Mike Price, who rebounded nicely from his debacle at Alabama. The Buffaloes are probably happy just to be in a bowl game after their season of turmoil, but I just think UTEP has more offensive firepower … UTEP 31, Colorado 17. (ESPN, 4:40 p.m. EST)
ALAMO BOWL – DEC. 29
Oklahoma State vs. No. 22 Ohio State: I've already given you the finer points of this game but it really comes down to just one thing: If the Buckeyes can stop Morency, they win. If they can't, they'll have a much tougher time. Despite the switch from Smith to Zwick, I still see the Buckeyes engineering the win … Ohio State 27, Oklahoma State 21. (ESPN, 8 p.m. EST)
CONTINENTAL TIRE BOWL – DEC. 30
Boston College vs. North Carolina: The Eagles are currently working on a four-game bowl winning streak and are playing the Tar Heels, a team that probably just feels lucky to have earned a postseason bid. All of that would seem to point toward a BC victory, but I've already witnessed at least one bowl game this postseason where a team should have wiped up the field with its lesser opponent. But UCLA clearly was disinterested in the Las Vegas Bowl and Wyoming got the win. I look for the same thing to happen here, especially since UNC will virtually have a home crowd in Charlotte … North Carolina 27, Boston College 24. (ESPN2, 1 p.m. EST)
EMERALD BOWL – DEC. 30
New Mexico vs. Navy: With Notre Dame faltering, would it surprise you to know that the Midshipmen posted the best record of all I-A independents this year? How did they do it? Well, it started with an option-style attack led by quarterback Aaron Polanco, who ran and threw for more than 1,800 yards and 20 TDs while tailback Kyle Eckel added 1,062 yards and 11 scores. The Lobos have a more conventional attack, but are a little suspect on defense. That Navy option may give them fits … Navy 28, New Mexico 14. (ESPN2, 4:30 p.m. EST)
HOLIDAY BOWL – DEC. 30
No. 21 Texas Tech vs. No. 4 California: There is no doubt that the Bears could suffer from the "woe is me" complex after the BCS dumped them out of the Rose Bowl in favor of Texas. Nevertheless, Cal is poised to make a statement and grab a possible top 3 finish in the national rankings. On paper, this ought to be a shootout, but the Bears have a pretty good defense and that's when Double-T usually struggles … California 35, Texas Tech 17. (ESPN, 8 p.m. EST)
SILICON VALLEY BOWL – DEC. 30
Troy vs. Northern Illinois: It's been 21 years since the Huskies went bowling, but it's been longer for the Men of Troy. They've never made the postseason. Other than those tidbits, this is pretty much one of those game you start watching in bed, and before you know it zzzzzzzzzzzzzzzz … Northern Illinois 24, Troy 20. (ESPN2, 11 p.m. EST)
MUSIC CITY BOWL – DEC. 31
Alabama vs. Minnesota: This is the typical good offense against the good defense game as the Gophers' vaunted running attack takes on Bama's stout run defense. Neither team enters this game on much of a roll since the Tide lost three of its last four and Minnesota dropped five of its last six. During those respective streaks, Alabama played three top 15 teams and the Gophers played three in the top 20. The average margin of loss for the Tide was nine points, 10 for Minnesota. Sit back and watch two pretty evenly matched teams who should play right down to the end … Alabama 23, Minnesota 21 (ESPN, 12 noon EST)
SUN BOWL – DEC. 31
No. 24 Arizona State vs. Purdue: Most signs would indicate a victory by ASU. The Sun Devils are 2-0 against the Big Ten this year – including a 44-7 wipeout of conference co-champion Iowa – and possess a high-powered offense that could give the Boilermakers trouble. But Arizona State will be without starting QB Andrew Walter, and its defense has been suspect. With more than a month to heal and one more game to elevate his NFL stock, look for Kyle Orton to put the ball in the air as many times as possible and the Boilers to come home with the win … Purdue 42, Arizona State 27. (CBS, 2 p.m. EST)
LIBERTY BOWL – DEC. 31
No. 10 Boise State vs. No. 8 Louisville: You want offense? You're gonna get it in this one. How the Liberty Bowl lucked into the most entertaining contest of the entire postseason is beyond me, but settle in with plenty of popcorn and frosty cold ones because this could take awhile. Both teams average 50-plus points on offense and neither has much a defense to speak of. If you like one of those boxing matches where the guys stand in the middle of the ring and blast away at one another, you'll like this one … Louisville 56, Boise State 42. (ESPN, 3:30 p.m. EST)
PEACH BOWL – DEC. 31
No. 14 Miami (Fla.) vs. No. 19 Florida: The final college football game of 2004 features a pretty tasty matchup of two programs where there is no love lost. This marks the first time in four years that the Hurricanes are out of the BCS while the Gators are playing to try and impress their new head coach Urban Meyer, who will be 2,000 miles away trying to get his old team Utah ready to play in the Fiesta Bowl. There are lots of signs that point to a Florida win here, but let's remember how close Miami was to getting that BCS berth and how the Gators' underperformance got Ron Zook fired … Miami 34, Florida 24. (ESPN, 7:30 p.m. EST)
AGAINST THE SPREAD
Colorado vs. Texas-El Paso (+3): The oddsmakers think the Buffaloes are the pick here, but I think the Miners are pick. I'll take the points in this one.
Oklahoma State vs. No. 22 Ohio State (+4): I've already said why I like the Buckeyes in the battle of the OSUs. Take the points.
Boston College vs. North Carolina (-2½): It's virtually a home game for the Tar Heels and BC's quarterback is banged up. Lay the points.
New Mexico vs. Navy (+2½): It always worries me a little bit when I pick against the chalk three out of four times. But the Middies have a pretty good team and probably don't get the recognition they deserve. I'm taking the points.
Texas Tech vs. California (-11½): This seems like a lot of points, especially for a team that is not playing in the game it believes it deserved. Still, matching these two teams on paper, Cal is 11½ points better than Texas Tech, so I'll take the Bears to cover.
Troy vs. Northern Illinois (+1): Most of Vegas has this as a pick 'em game. Translation: no one really cares. But I found one site that favors Troy, so I'll take NIU and that single point.
Alabama (-2½) vs. Minnesota: This game could be decided by a field goal and three points in probably too much to give either way. But you have to go on instincts sometimes and I think the Tide will prevail. And, I'll take them to cover.
Arizona State vs. Purdue (-7): This game would be a lot closer if Walter would play for ASU. But since he is out, the odds go up appreciably for the Boilermakers. I'll take them to cover.
Boise State vs. Louisville (-12½): This is a very scary spread, especially since the Broncos can score at will and the Cardinals can't stop much of anyone. You might want to know that the over/under number is an astronomical 81 and I think that's too low. These two teams might both go over 60, but I think Louisville has a little more than BSU and that's why I'll take the Cards to cover.
Miami-FL (-3) vs. Florida: I think the Hurricanes have underachieved at times this year, but when pressed, have about as much talent as anyone in college football. I think they cover and we'll talk again later this week.
(Mark Rea is managing editor of BuckeyeSports.com and Buckeye Sports Bulletin. His Internet columns appear each Wednesday. You may email him with questions or comments at mrea@buckeyesports.com.)