Quarterback Misses Out On OSU Camp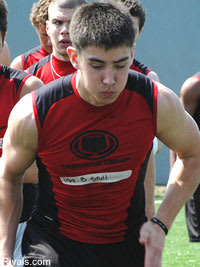 Quarterbacks are supposed to be the leaders of their teams, and the summer leading up to the season is the perfect time for a team to come together under that quarterback's leadership.
Those two factors combined to prevent Pittsburgh (Pa.) Seton-LaSalle signal caller
Bill Stull
from attending any of the sessions of Ohio State's recent football camp. His team had a seven-on-seven passing scrimmage tournament in Pittsburgh, and he didn't want to miss that.
"It's a ritual our team does every year," Stull said. "The date doesn't really change."
Stull was rewarded for his team loyalty. There were four different brackets of participating teams, and Stull's team won its respective bracket.
"It was fun," Stull said. "We did it last year, (but) it was fun to actually win this year."
Stull said that he currently was a fan of Michigan State, as he had recently visited both the MSU and Michigan camps and had thrown on both campuses.
He also said that his interest in Ohio State remained strong.
"The tradition is still the same," Stull said. "I grew up a Buckeye fan. I'm still looking at other schools, but if the interest is there for them too of course it's here."
Stull said that he does not currently plan to commit soon and that he's willing to take his time and see what happens down the line.