Mobley transfers from Ohio State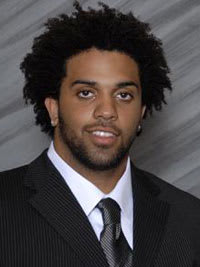 The 2009 season is not even here yet but the Buckeyes took a hit on the defensive line on Friday night when lineman
Willie Mobley
announced that he would be transferring out of the program and become a UCLA Bruin.
The Eden Prairie (Minn.) product was entering his second season in Columbus after sitting out last year with a redshirt and overcoming an injury that kept him slowed most of the way.
Mobley confirmed to BuckeyeGrove.com via phone on Friday night that he was in fact leaving but had some words that he wanted to pass on to Buckeye fans.
"I want to thank the whole Buckeye family for supporting me through my injury and everything," Mobley said. "I have learned so much from coach Tressel and the rest of the coaches and my teammates."
Mobley also was impressed with the amount of support that he received from the fans in Columbus during his short time in state.
"This had nothing to do with the state of Ohio or the fans or anything," Mobley said. "This is just something that was best for me and something that I had to do."
The 6-foot-3, 265-pounder was recruited by UCLA before committing to Ohio State but a coaching change in Los Angeles (Calif.) took the Bruins out of the running at the time. Mobley will now be reunited with his family, who have recently moved to the Los Angeles area.
Mobley considered playing I-AA (FCS) football but knew that he had what it took to play big time college football and due to the quarters system will not be penalized as much for the transfer. Mobley will be eligible to start playing in the season opener in 2010.
"It is sad and I am going to miss my teammates," Mobley said. "I have all of their support and they know that I will succeed wherever I go. "
Mobley did have one final message to give to Ohio State fans…
"Let everyone know that this won't be the last time that they hear my name," Mobley said.