Miller named Big Ten Freshman of the Year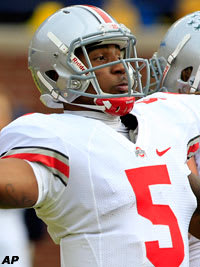 class="st_facebook_hcount" displayText="Share">
displayText="Email">

COLUMBUS, Ohio
- There was a great debate among Ohio State fans if the Buckeyes should have played quarterback
Braxton Miller
this season or not. Despite the team going a pedestrian 6-6 this season Miller was recognized as being named the Thompson-Randle El Freshman of the year by the Big Ten conference on Wednesday.
Miller did not get his first start until game four of the season but subsequently passed for 997 yards during the season with 11 touchdowns against four interceptions. His completion average was at the 50-percent mark, despite being criticized as a poor passer. Miller also was able to accomplish a lot with his legs and ran for 695 rushing yards and seven touchdowns.
"It is truly an honor to win this award, and it is definitely a surprise," Miller said in a statement provided by Ohio State. "I have to thank God, first, for blessing me with my abilities, and I want to thank my parents [Kevin and Kelly] for all their support through the years."
The Huber Heights (Ohio) native also racked up several other impressive milestones during the 2011 season including reaching the 100-yard rushing mark three times (Indiana, Penn State and Michigan). He was named the Big Ten freshman of the week two times during the season. Miller also accounted for 335 yards of total offense against Michigan, a game where he was the first Ohio State true freshman to ever start for the Buckeyes in Ann Arbor (Mich.).
Fans will remember Miller leading the Buckeyes back against Wisconsin with his late game heroics and touchdown pass to
Devin Smith
. Miller also led the Buckeyes back against Purdue with a touchdown pass to
Jordan Hall
but the team came up short in overtime. Miller also had the Buckeyes in position for comebacks against Penn State and Michigan late in the season as well.
Miller has proven to be humble during his freshman year and explained that he couldn't have done it alone.

"I look at this as a team award and so I also have to recognize my teammates, who put their trust in me and who helped me throughout this year on and off the field," Miller added.
Miller will be given his award on Friday in Indianapolis (Ind.) as part of the Big Ten Championship game festivities.
"I want to thank the Big Ten Conference and the gentlemen this award is named after - Mr. Darrell Thompson and Mr. Antwaan Randle El," said Miller. "It is an honor to win this award in their names."
Ohio State has had a total of seven winners of the Freshman of the Year award in the 25 year run of the honor.


1990 Robert Smith, RB
1992 Kory Stringer, OT
1994 Orlando Pace, OT
1996 Andy Katzenmoyer, LB
2002 Maurice Clarett, RB
2008 Terrelle Pryor, QB
2011 Braxton Miller, QB
[rl]