Matta doesnt know what to expect tonight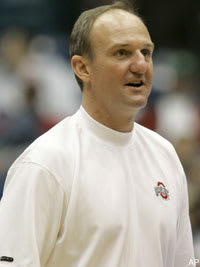 COLUMBUS, Ohio – The Ohio State men's basketball team will be a little shorthanded tonight when they take on Walsh University in their final exhibition game before the start of the regular season.
Sophomore forward
Dallas Lauderdale
injured his non-shooting shoulder in a closed scrimmage at Miami University and Thursday OSU coach
Thad Matta
said he would not be available for the exhibition game.
"He's making great progress," Matta said. "He's doing the best job I've seen of being injured and staying involved with cardio, the weight room and shooting."
Along with Lauderdale, the Buckeyes may also use very little of forward
Nikola Kecman
Thursday against Walsh. A transfer from Eastern Arizona, Kecman was benched by the NCAA for the first 12 games of the 2008-09 season for receiving more than "actual and necessary" expenses while playing for the Vizura club team in his native Serbia. Kecman has been practicing with the Buckeyes and is available for use in the exhibition game, but Matta is more concerned with getting his team ready for the regular season.
That means 6-foot-5 junior
David Lighty
will likely see the majority of the time at the four tonight as the Buckeyes attempt to get out and run with a smaller lineup surrounding 7-foot-1 center
B.J. Mullens
.
"Playing Ohio State basketball," Matta said. "Get up and down the floor as much as we can. The big thing is taking good shots and taking care of the ball."
Matta said he is still undecided on exactly who will be orchestrating that floor game or how his point guard situation will look this season. Right now it appears newcomers
Jeremie Simmons
and
Anthony Crater
have an edge on veteran
P.J. Hill
, but Matta said all three guys will have opportunities in the exhibition game.
"Those guys are going to have to vie for that," Matta said. "Right now Jeremie has a little more experience playing in two national championships but I will be interested to see how they all do."
Besides the opportunity to see each of his very different point guards run the team, what else would Matta like to see tonight against Walsh?
"Honestly, a lot of things," he said. "How we execute offensively and defensively. Do we play together, do we play off each other? How hard do we play, how do we handle adversity? Do we show any resiliency?"
The reason he is so interested to see how his team responds to these situations is that Matta genuinely doesn't know. The Buckeyes added six new players to the roster this season for the second straight year and only one player has been in the system for more than a year.
"We're making progress," Matta said. "The hard part a lot of the time with so many new faces is getting these guys to understand college basketball, anything in life, is (about) getting better every day. The little things need to become a part of who you are."
This is not the first time Matta has been forced to a coach a team with so many freshmen and first year players but it is the first time he has had to do it without the help of a senior class.
"We've had to coach it harder than any team we've ever coached before," Matta said. "When you don't have a core of veteran players with vast experience you find yourself backing up and explaining a lot."
Matta and his staff did a lot of explaining and re-explaining last season as his young squad slowly grew into the kind of team that could win a postseason tournament (albeit the NIT). That hasn't necessarily made him a more patient coach, however, because Matta has his sights set on a return trip to the NCAA Tournament.
"Has it helped my patience or made me more impatient because I don't want to go through the same growing pains," Matta said. "I'm a little impatient. I want them to become a February team in early November."
Last November the Buckeyes showed their youth and inexperience in a 70-68 loss to Findlay in their final exhibition game before the start of the regular season.
" I just thought it was going to be a tune up, I really had no clue," sophomore
Evan Turner
said. "They came in and played hard and made us look like little kids with their toughness."
At 18 years old, Turner practically was a little kid and so are many of the players on this year's team but the old man of the group David Lighty is making sure everyone remembers what happened last year and takes this exhibition game a lot more serious.
"Everyone from last year has that in the back of their mind, not letting it happen again," Lighty said. "We're making sure the younger guys know that this is a big game."
We will find out tonight when the game tips at 7 p.m. at the Schottenstein Center in Columbus. The game will not be televised but listeners can tune in to Paul Keels and Ron Stokes on AM 1460 The Fan or WBNS 97.1 FM.
Game information:
Date: Thursday Nov. 13, 2008
Opponent: Walsh University
Game Time: 7 p.m. ET
Location: Schottenstein Center (Columbus, Ohio)
Television: None
Local Radio: WBNS FM-97.1 and AM-1460 The Fan
Radio Talent: Paul Keels and Ron Stokes
Internet: bigtennetwork.com (streamed)
Brandon Castel is a staff writer for BuckeyeGrove.com. He can be reached at bcastel@rivals.com.