Luke Farrell makes it official
Standout tight end Luke Farrell committed to the Buckeyes before his senior year, but made it official on National Signing Day. The new Ohio State signee is prepared to head to Columbus in June.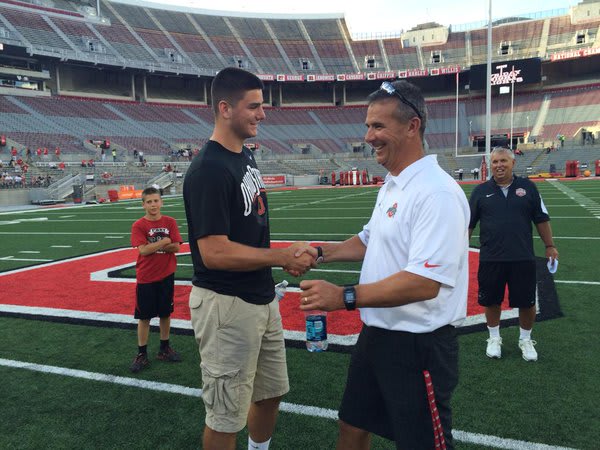 Luke Farrell was finally able to make things official with the Ohio State Buckeyes on National Signing Day, faxing in his letter of intent after being committed to the school for over six months. A 6-foot-6, 235-pound tight end out of Perry (Ohio), Farrell was recruited by many of the country's top programs. He holds scholarship offers from Alabama, Ohio State, Penn State, Michigan State, and many others, but the Buckeyes were the early favorite from the jump in his recruitment.
"They were obviously a favorite just with me being a fan and everything. After I took all of my visits everywhere else and got done with that in the early summer, when I looked at all of my top five schools, I couldn't picture myself anywhere else but Ohio State," Farrell explained. "On the ride home from that last visit to Michigan State was when I knew."
Farrell is rated as a four-star prospect and a member of the Rivals250. Widely regarded as one of the nation's best at his position, Farrell sits inside the top ten ranks for tight ends nationally and for all players in the state of Ohio. His lofty status in recruiting and the departure of veteran starting tight end Nick Vannett to graduation means Farrell will be expected to contribute to the team early, and he's preparing to do so.
"The way the coaches are talking to me and Jake [Hausmann] is that they want us to be ready when we get there. During basketball season, I get four days in in the weight room and I'm trying to get as strong as I can right now just to be able to compete when I get to Columbus," Farrell said. "And after I sign, I'll get a workout from Ohio State. So after basketball is over, I'll be hitting it really hard. They're telling me they want me to be ready and that I won't be redshirting."
Farrell will give Ohio State a physical, in-line tight end with a big frame, something they're losing with Vannett's departure. It's expected that he and fellow tight end commit Jake Hausmann of Cincinnati (Ohio) Moeller could both sit right behind expected starter Marcus Baugh on the depth chart in year one of their college careers.
With all of the difficult parts of recruiting behind him now, Farrell is able to just sit back and reflect on his best memories from the recruiting process. There won't be any controversy surrounding his signature and Farrell has known that since July, when he committed to Ohio State during their Friday Night Lights camp in Ohio Stadium.
"My favorite memory is probably the day I was first offered by Ohio State. I was at a two-day camp there and they brought a few guys in to work out on the indoor field at the Woody Hayes Athletic Center," Farrell said. "Then they brought me in to coach Meyer's office and he offered me there, so that was probably the best moment of my recruiting process. That and when I got to actually commit on Friday Night Lights in the Shoe."
With things all wrapped up, Farrell is just excited to people to get to Columbus and be apart of the team and join all of his recruiting class members as a Buckeye.
"I'm really excited to sign," said Farrell. "The way the coaches have been talking and the way our recruiting class looks now, we've got a lot of great guys. I'm excited to be there and signing the papers is the first step and it's a really exciting and a proud moment."