Kurelic Chat Transcript: July 22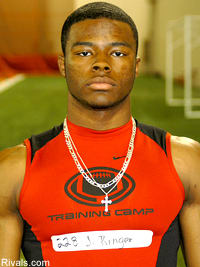 BuckeyeSports.com recruiting analyst Bill Kurelic got up early this morning to chat with our premium Internet subscribers, and it seemed that Rob Schoenhoft and running backs were on everyone's mind. Here is a transcript of that chat:
woodysknuckle got things going with this question: Seems like the Ohio crop of RBs are all on the smallish side this year. And for that matter so is (Maurice) Wells. I'm a little worried about the position especially since we have some major OL recruits. What is your view on where we are going with the RB position (big, small, waiting till next year) and who you think our top three recruits are in the position including juniors-to-be?
Kurelic: OSU will try to land the best possible running backs without regard to size. They are after Wells hard even though he is small because he is so talented. He is at the top of the list. If they have a shot at a big back that they feel is good enough, they will go after him. In other words, they like size, but talent and ability come first.
texasbuc: Can you compare Rob Schoenhoft to Justin Zwick at this stage in their careers, going into their senior year of high school?
Kurelic: Very different. Schoenhoft is much more raw at this point, but may have more physical talent.
riddledoctor3: What is the true story with Brian Cushing? Is truly interested in Ohio State? I think his decision comes down to official visits to USC, Miami, Virginia, Ohio State, and Boston College. What are your thoughts?
Kurelic: From talking to Cushing I feel he is truly interested in OSU. But there is tremendous competition. I think he goes elsewhere, but I feel OSU at least has a chance.
riddledoctor3: What shot do we have at the wide receiver Selwyn Lymon from Indiana, really? Is he also going to wait out the process? Also, is our shot at Melvin Aleaze better than it sounds? He mentions OSU, but not in very high regards.
Kurelic: OSU has a legit shot at Lymon. He is definitely interested. But I would put the Buckeyes chances at less than 50/50. I don't think he will decide anything in the near future. As far as Aleaze, I don't see OSU landing him.
BuckJ: Is it any minute now for Schoenhoft or any day? What's your gut on (Dan) Doering and (Ronnie) Wilson from Florida?
Kurelic: I expect Schoenhoft to announce sometime today. As far as Doering and Wilson, both are considering OSU, but I tend to think they both go elsewhere. I also don't expect either to make a decision anytime soon.
bhambuck: Why didn't OSU offer B.J. Travers or hasn't offered Freddie Lenix?
Kurelic: OSU simply didn't feel Travers was quite good enough, especially with the Buckeyes depth at LB. They are only going hard after a select few right now. I tend to think Lenix gets an offer eventually.
Red Vader: Of (Malcolm) Jenkins, (Shawn) Oatis and (Adam) Myers-White, do you think OSU would take all three? Where do we stand with Jenkins? He is down to OSU, Rutgers, and Virginia Tech. Did he get an offer after he camped here? Also, what OL is left that you see us making a serious run at?
Kurelic: Yes, I tend to think OSU would take all three. OSU is in pretty good shape with Jenkins. I think it will come down to OSU and Virginia Tech. I will be doing a story on him very soon. I think OSU will make a serious run at Ronnie Wilson, but I tend to think he goes elsewhere.
Red Vader: Would you say we have a better than 50 percent shot at (Rico) McCoy and (Doug) Worthington? Also, getting Schoenhoft should help us with some stud WRs. Do you see any out-of-state WRs looking our way hard?
Kurelic: I would say it's around 50/50 right now or maybe a little less with both Worthington and McCoy. I think the wide receivers in this class will come from in-state. At most I think OSU would sign one from out-of-state.
NJbuck: How many more OL do you think we will take? Anyone in Ohio close to an offer or will the in-state OLs have to wait till the season starts? Also, I assume with Schoenhoft about to make it official, any chance OSU takes a second QB or are we done until next year?
Kurelic: Look for OSU to sign five offensive linemen if they can get guys they really want. I don't see them offering any more OLs from in-state until at least part-way through the season, if then. As far as other QBs, I only see OSU taking two if they can get an absolutely great one. I don't see that happening right now.
NJbuck: Are there any big RBs out there that OSU is in on? I know Wells and (Javon) Ringer are on the radar screen but I don't know about their size.
Kurelic: Wells and Ringer are not "big back" type guys. There are no big backs right now that OSU has offered and has the lead for. But it's still a long way until signing day.
NJbuck: What did Michigan see in Mister Simpson that made them snatch him up so quick? Is OSU missing something here?
Bhambuck: I wondered the same thing.
Kurelic: They see him as an (B.J.) Askew type guy. They have had success with that type of player in their offense. Time will tell if OSU missed something there or not. Also, Simpson was almost certainly going to Michigan if they offered, so I tend to think it would not have mattered what Ohio State did in this case.
NJbuck: With Dennis Kennedy out of the picture where does OSU go for a RB or two this year? Do they offer Ringer? Any other in-state kids worth looking at?
Kurelic: If they offer Ringer I think it would be down the road. My gut feeling is it doesn't happen, but we will see how he does his senior season. Keep in mind Lenix could play RB in college. Other than that I don't see OSU going on any other in-state backs. Of course, they could land Wells from Florida.
NJbuck: Wells makes me nervous. I would hate to go down to signing day and have him pick Georgia Tech and leave OSU with no RB for this year. Is that a situation we could be looking at – Wells or bust this year?
Kurelic: It could happen that way, but they will continue to pursue others at the running back position as well. I will be doing a story on one today or tomorrow as a matter of fact. But right now he is the guy they have offered that they have the best shot at.
bhambuck: How many scholarships does Michigan have to give this year? What percentage does OSU have of landing Adam Myers-White and Alex Daniels? Why isn't Doug Worthington rated by Rivals if he has so many offers?
Kurelic: I believe Michigan will be around 20. I think OSU has around a 75 percent chance at Myers-White and a little better than 50/50 shot at Daniels. I am not sure why Worthington isn't rated yet. I think he will be eventually. He is an outstanding prospect.
Manhattan_Mike: What do you know about Chris Wells (Akron). Who does he compare to at this stage and how good is he? Is he the No. 1 junior in the state right now?
Kurelic: He is an outstanding prospect. Right now I would probably call him the top junior in the state of Ohio, but it is still very early. It's a little early to start comparing him to others.
ronbucks: Of these in state prospects who do you believe ends up Buckeyes:
1. Adam Myers-White
2. Alex Daniels
3. Antwon Hight
4. Javon Ringer
5. Freddie Lenix
6. Curtis Smith
Regarding the out-of-state prospects, would you please list two or three of the "blue chips" that you believe have a better than average chance to become Buckeyes?
Kurelic: Of those players I tend to feel OSU lands the following: Myers-White, Daniels, and possibly Lenix. Out-of-state they have a good to average shot at Wells, Ashley, and Oatis.
(Bill Kurelic hosts these kinds of chats regularly on the BuckeyeSports.com premium message board. If you are not currently a subscriber to BuckeyeSports.com's premium information and would like to see what you've been missing, simply click here to sign up for a free trial subscription.)