Kurelic Chat Transcript: Jan. 13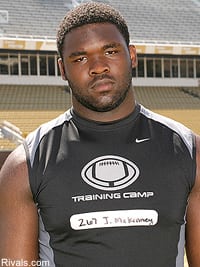 BuckeyeSports.com recruiting analyst Bill Kurelic stopped by The Horseshoe Lounge on Thursday afternoon for his weekly recruiting chat with premium Internet subscribers.
With less than three weeks until national signing day, the conversation was a lively one as the Buckeyes concentrate on their final few prospects. A lot of the discussion centered around running back Maurice Wells and linebacker Rico McCoy, both of whom are expected to announce their college decisions Saturday at the All-American Bowl in San Antonio. But there was plenty of other talk as well. Here is a transcript of the chat:
Orlando Buckeye got things under way with a series of questions:
Kurelic: I think Wells goes to Ohio State. McCoy I don't have a real good gut feeling on. But if I absolutely had to predict I would go with OSU.
Kurelic: I disagree on Wilson. I think he likes OSU a lot, but wants to completely check out all his options.
Kurelic: As far as Sledge, I think OSU has a legit shot, but I would not say a great one at this time.
Kurelic: Of the two, I think OSU has the best shot at Wilson.
Kurelic: I don't have a strong gut feeling on McCoy, but if I absolutely had to predict I would say Ohio State. Kearney does have an OSU offer.
TheTXBuckeye: Any chance of a true freshman starting in the backfield next year? Antonio Pittman has experience, Erik Haw has hype … could a Gwaltney or Wells take over?
Kurelic: I think either Wells or Gwaltney would have a legit shot at playing time as true freshman if either or both selected OSU.
RabidDog: Bill, how many scholarships are we going to have available in your estimation? Does kicker Aaron Pettrey count against this class or last? Is there anyone being discussed as a grayshirt this year?
Kurelic: OSU will sign approximately 20 players if they get the right ones. I anticipate somewhere between 17 and 20 depending on who they get. Nobody has told me they may go the grayshirt route.
Kurelic: No, there is no other OL to replace Bemoll.
Kurelic: No, he is not going to OSU.
Kurelic: Wilson and Spitler could be options, though both have been recruited for defense first. Other than those two, there is nobody else this year.
MariettaBuckeye: Regarding Jason Gwaltney, I agree with the sentiment that he's headed to USC. But I do think he likes OSU a lot and it seems OSU is the only school that has all the things that he's looking for – big-time tradition, big-time running backs and close enough for mom to come. Any chance at all for OSU?
Kurelic: Yes, I think OSU has a chance.
Kurelic: I think Worthington signs with the Buckeyes unless something else comes up between now and signing day.
Kurelic: I would be surprised if he ends up in this OSU class.
Kurelic: Yes, OSU has a shot at Thomas. I think he announces at the end of January or early February.
BuckeyeDawg: We have Pittman and Haw. Is Dennis Kennedy still on the team? He was in last year's class? Is he an option at RB? If we get Wells, that gives us at least 4 RB/TB, not to mention, the guys we fill in at FB – Dionte Johnson, Brandon Schnittker, etc. Is there a true need for two running backs? (Yes, I know, if you've got an opportunity to get a kid like Gwaltney, you don't turn him down.)
Kurelic: Yes, there is definitely a need for one and two RBs if OSU can get them. (Editor's note: Kennedy was not admitted to Ohio State. He redshirted at Akron this past season.)
MariettaBuckeye: Bill, there is lots of speculation on why OSU dropped Collins. I'm curious as to why Florida State dropped him. Do you have anything you can share on that? He lost two big offers in like 24 hours. Also, I'm in the boat that believes his revoked offer has little to do with the staff's feeling on Gwaltney.
Kurelic: Grades and other potential issues. I think OSU feels good about at least getting one other running back they have a shot at.
Kurelic: I think Ryan Williams would be a candidate, and I also like James Laurinaitis.
Kurelic: They are both very good backs, with good size. But if I could only take one I would go with Gwaltney. I think he could really be something special at the next level, a true difference-maker.
BUCKEYEBW: If Eric Sledge is going to pick a school because of its facilities and will commit to the team with the best, then we will have a new Buckeye next weekend.
Kurelic: Time will tell if you are right.