Junior duo grabbing national attention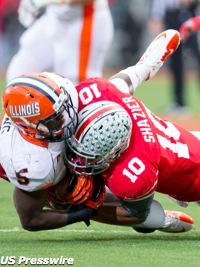 class="st_facebook_hcount" displayText="Share">
displayText="Email">

COLUMBUS, Ohio --
Neither players are seniors, and neither participated much in Ohio State's spring practice sessions last month. But when the 2013 season rolls around, make no mistake, both
Bradley Roby
and
Ryan Shazier
will make their respective presences felt on the field.
In fact, when both players were named to the Lott IMPACT Trophy watch list earlier this week, nobody batted an eye. Despite the award, which recognizes college football's Defensive Player of the Year who best exemplifies integrity, maturity, performance, academics, community and tenacity, typically being reserved for seniors, Roby and Shazier worked their way on to its watch list with their stellar play in 2012 and high expectations for 2013.


A fourth-year junior, Roby could have entered last month's NFL Draft, but opted to return to Ohio State for one last season in Columbus. A first-team All-Big Ten selection in 2012, Roby led the nation in passes defended per game (1.73), while also tallying 63 tackles, one sack, and two interceptions.


With little left to prove to the OSU coaching staff on the field, Roby spent the majority of the spring practice season standing on the sideline, not only allowing additional reps for younger and less experienced teammates, but also improving his intangibles.


"I just want to be a better leader, and everything else is going to fall into place," Roby said. "Everything will happen how it's supposed to. If I'm a better leader, the younger guys are going to be better. If the younger guys are going to be better, we're going to be better."


Buckeyes cornerbacks coach
Kerry Coombs
said that he's been impressed by the strides that Roby took this spring, even if they came without playing in Ohio State's scrimmages or spring game.
"Those kids came off the field and went to Bradley. I'm still coaching and they went to him," Coombs said of the younger Buckeye cornerbacks. "Bradley doesn't have to prove the physical nature of his game. I've given him specific things this summer he needs to do to be the kind of player he wants to be and the kind of leader we need him to be."


The only returning starter to Ohio State's front-seven this season, Shazier is being counted on to make a similar leap.


Also an All-Big Ten selection, Shazier broke out in his sophomore season, recording a team-high 115 tackles, 17 of which came for a loss, five sacks, and 12 passes defended. Forcing three fumbles -- including a crucial one on the goal line in the Buckeyes' win over Wisconsin -- and one interception that he returned for a touchdown, the Plantation, Fla. native established a reputation for himself as playmaker in his first full season as a starter at the college level.


A sports hernia kept Shazier out of action during spring practice, but like Roby, he has little left to prove physically. Ohio State head coach
Urban Meyer
admitted that he'd like to see his top returning tackler also increase his presence as a leader on a defense that will only return four starters in 2013.
"Shazier's been a name, he's always been that young linebacker. Guess what? He's not a young linebacker. And he's earned it," Meyer said. "He's played very well through injuries."


Shazier and Roby's inclusion on the Lott IMPACT Trophy watch list is proof that it's not just the Buckeyes coaches who think so highly of the junior tandem. Both players will ultimately find themselves on the watch lists for -- and perhaps winning -- several other awards, and if Ohio State finds itself holding an even more important trophy at the season's end, there's little doubt that they'll be a big reason why.


[rl]