{{ timeAgo('2021-09-15 05:00:00 -0500') }}
football
Edit
How does Ohio State replace Josh Proctor?
In a positional unit hampered by youth and inexperience, senior safety Josh Proctor stood alone as a veteran for the young guys.
That all changed in the third quarter of then-No. 3 Ohio State's home loss to then-No. 12 Oregon, when Proctor took a shot to the leg and was carted off the field. Head coach Ryan Day confirmed Monday that Proctor would miss the rest of the season with a fracture on 97.1 The Fan's "Buckeye Roundtable."
With Proctor sidelined for the rest of the season, Day admitted that he's a bit concerned about the steadiness of the safety unit without their veteran leader.
"We need experience on defense right now. We don't have a lot of guys with experience. When you lose a guy like that, it hurts because he has played for us," Day said. "When you look back there, there's a lot of guys that haven't. That's been a shot."

Serving as the free safety on a defense that has been torched in the season's first two weeks, ranking 109th in scoring defense in the FBS, Proctor's absence will certainly make an already bad situation even worse.
With the single-high safety playing a hand in both the Buckeyes' rush and pass defenses, Ohio State's rankings are uncharacteristic in those aspects — landing at 123rd in rush yards allowed and 77th in passing yards allowed.
As the Buckeyes' defense has struggled to start the season, Day said they've failed to meet expectations on that end to this point.
"But when you look at the results over the last couple games and coming off of last year, it's not what we expect here," Day said. "That's all part of looking at how we need to move forward."
There are several candidates that are likely competing to fill the void left by Proctor's injury, mostly young safeties.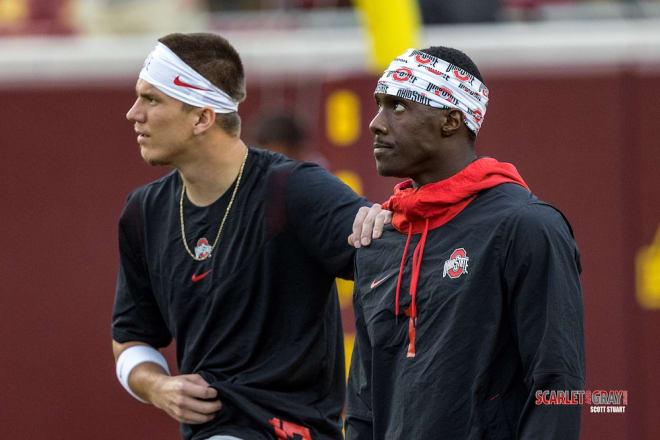 Leading the charge is sophomore Bryson Shaw, who split snaps with Proctor in Weeks 1 and 2 and struggled immensely in both the running and passing games against the Ducks.
Shaw had two key mishaps that resulted in Oregon scores in his first-career start Saturday.
During Oregon's opening drive of the second half, Shaw bit hard on an option-handoff from quarterback Anthony Brown to running back CJ Verdell, causing him to be a step behind the play. Shaw then overpursued Verdell, allowing the Ducks' running back to break free for a 77-yard touchdown and put the Buckeyes down two scores early in the second half.
Shaw's second miscue allowed the Ducks to put the Buckeyes away for good, as the sophomore bit hard on a run-pass option from Brown which freed up freshman tight end Moliki Matavao for a 14-yard touchdown, which turned out to be the difference Saturday.
In two games, Shaw has played 69 snaps while Proctor has seen the field for 84 snaps. In his split snaps, Shaw has produced six tackles.
"Bryson's had some good snaps in there, but we're going to have to take a look at what gives us the best chance moving forward," Day said. "Maybe possibly trying some guys at different spots is kind of what we're looking at."
Although Shaw is most likely to take the brunt of the snaps left behind by Proctor, junior Marcus Hooker is another option at the free safety position.
Hooker, a veteran of 21 games, is yet to play a snap at free safety this season — despite starting in four games at the position in 2020. The 5-foot-11, 200-pound safety racked up 15 tackles, three pass breakups and an interception in seven appearances in the covid-shortened season.
While Hooker has had some off-the-field issues in his time as a Buckeye, Day has been a proponent of giving him a second chance to prove that he's learned from his mistakes.
"We've given him this opportunity to prove to everybody that he can move forward and change somebody else's life after what he went through," Day said Aug. 23. "I think that's a big part of coaching football is giving these guys an opportunity to learn and grow."
With the Buckeyes looking ahead to a matchup with Tulsa, Day emphasized that there are multiple areas that need to be fixed going forward.
"I mean, giving up too many yards and too many points. That's the bottom line. I think now, it's not just a single game, it's a little bit of a pattern," Day said. "Not only of how we're attacking other offenses, but also just structurally how we're doing our day-to-day operations."