Hickman, Ohio State emphasizing 'accountability,' new defensive concepts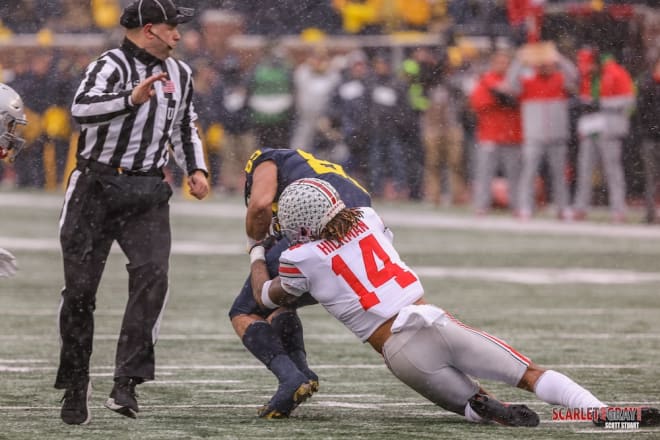 Head coach Ryan Day and Ohio State chose to go a new direction with the Buckeyes defense after last season.
Following a rivalry defeat at Michigan for the first time since 2011 and a missed trip to the College Football Playoff, Day hired Jim Knowles as new defensive coordinator. Knowles has said he wants Ohio State to be a "safety-driven defense."
Knowles isn't the first defensive coordinator nor the second that fourth-year safety Ronnie Hickman has played for with the Buckeyes. During Big Ten Media Days in Indianapolis Wednesday, Hickman said he's noticed his teammates inspiring change among each other.
"The best teams aren't coach-led; they're player-led," Hickman said. "This season is the accountability level and stuff like that. It's probably at an all-time high, so we're huge on that."
In 2021, Ohio State allowed an average of 246.2 passing yards per game, which ranked near the bottom in the Big Ten. Opponents threw for at least 200 passing yards in nine games last season.
Hickman led the Buckeyes with 100 tackles — more than 30 tackles than his next-closest teammate — and also snagged two interceptions, which tied for the team high. With a new season approaching and new defensive scheme soon to be on display, he said Ohio State is more than ready to put results on the field.
"Hunger is kind of an understatement," Hickman said. "We know what happened last year. We know the mistakes we made. We know what we have to do to correct them, and we're eager to prove to everyone that we've been putting in the work."
Hickman played well during his first season as a starter last year, and figures to be among Ohio State's leading voices in the secondary and defense overall.
"I think Ronnie really has put his time into this program," Day said. "This is the type of veteran leadership we're going to need next year, especially on defense. I think he's really taken to the new scheme with Jim Knowles."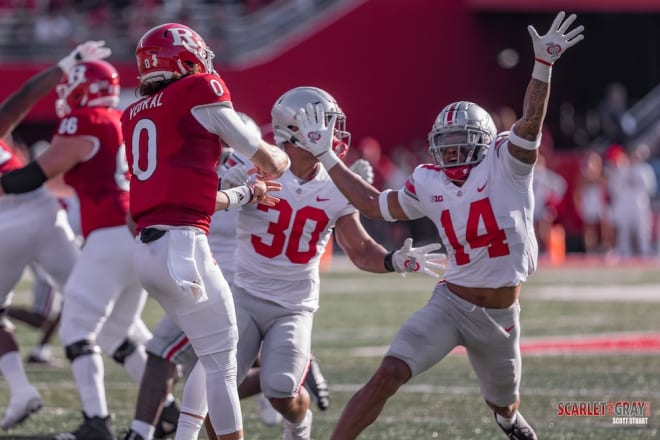 Knowles explained some of his thinking behind safeties during spring practice, and Hickman will play "adjuster" alongside the "bandit" or boundary and free safeties.
After a full spring of practicing against new schemes and concepts, third-year quarterback C.J. Stroud said he expects to see the Buckeye defense take a step in the right direction.
"I would challenge them to be a top-3 defense," Stroud said. "Just because I have so much respect for those guys and know they can do it, so it's exciting to see them getting right and doing the right things in the offseason getting prepared to dominate this year."
Hickman said Ohio State's skill on the field "will take care of itself," so he's putting more focus on leadership — something intangible.
Not meeting the goal of beating Michigan and advancing to the Big Ten Championship game stung last season, and Hickman wants a different outcome to come from a greater, collective objective.
"That rivalry is the rivalry it's always been, so we're going to wake up feeling the same way regardless," Hickman said. "We put in the work because we respect the rivalry and respect that team, so the work's going to get put in regardless of what happened last year."