Hawkins signs his papers
Kierre Hawkins is one of Ohio's top prospects and the big, dynamic athlete signed on with the Buckeyes today, making things official. Hawkins brings a blend of his size and speed few in the state can offer.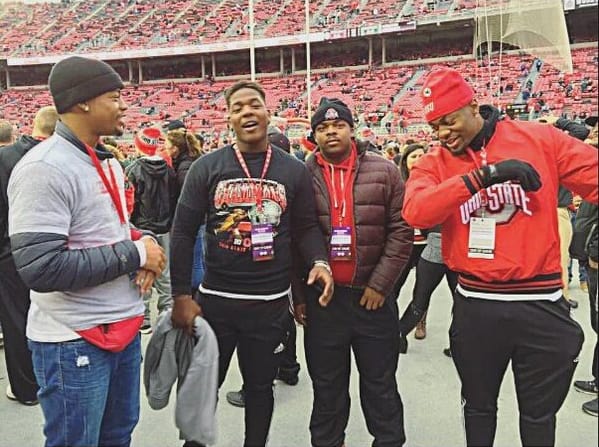 For Maple Heights (Ohio) native Kierre Hawkins, his Buckeye dreams have been a long-time coming. There was never any doubt, at least to Hawkins, that this 6-foot-4, 217-pound dynamic athlete would one day play in Ohio Stadium wearing the scarlet and gray. Hawkins showed up to a camp in Columbus at Ohio State without any offers in the summer before his junior season, and by the time he left, every coach on the Buckeyes staff knew who he was.
Hawkins showed up in Ohio State shorts and a simple black Under Armour tank top, without any of the fanfare that many of Ohio's top athletes arrived with, and started doing what he does: playing football wherever you line him up. Hawkins got personal attention from then-running backs coach Stan Drayton and then-tight ends coach Tim Hinton and eventually received a scholarship offer in October. That offer from Ohio State, joining schools like Nebraska and Kentucky, signaled the end of Hawkins' recruiting process.
"I always knew I wanted to go to Ohio State," Hawkins said. "As soon as I got the offer, they invited me to the Rutgers game in 2014, and I knew I was going to take it. I just knew right off of the top."
Really, the only problem with the whole thing for Hawkins was just trying to figure out how he was going to make his commitment.
"When I got the offer, the next week I went to the Rutgers game. Coach Drayton had took me down to see coach Meyer before the game, where all the players were getting ready and sit down in the locker room. I was down there sitting with Urban Meyer and that was the first time I had ever seen him in real life and really talked with him. When I talked to him, he was telling me how much he wanted me to come to the school and all of that and had my mind blown. I was star struck. I couldn't say anything. So I went back down to the locker room after the win while coach was giving his speech. I told coach Drayton I was going to commit, but I didn't know how to say it," Hawkins laughed.
"So [Drayton] was hyping me up and telling 'You got to man up. You've got to just do it!' I was thinking I'm just going to go in and talk to coach Meyer straight up. When he got done giving his speech, I just walked up to him and told him I was going to be a Buckeye. At first he just looked at me like 'What?' So I repeated it: 'I want to be a Buckeye. I want to commit.' All of the coaches were excited and cheering and everybody was happy for me."
While there may not have been any confusion as to where he's going to play his football in terms of school, there is a little question as to where he'll play his football position-wise. Hawkins is rated as a four-star tight end by Rivals.com, but it's pretty much the only position on the field he hasn't played before.
"I really don't know where I'll play. I've never played tight end before, so they had to recruit for some reason. All I did was play running back, quarterback, wide receiver, defensive end, linebacker, and all of that for my whole high school career. Everything but tight end pretty much. They might have seen something in me, maybe like an Aaron Hernandez type on the field, not off," Hawkins laughed. "Like a dual-threat tight end, H-back hybrid. I can sneak out of the backfield, receiver slash fullback slash H-back."
Wherever he ends up playing at, be it tight end or the jumbo H-back position similar to the one that Noah Brown filled as a freshman at Ohio State, it's clear that Hawkins is doing everything he can to be ready for his opportunity. He's been grinding all offseason and all year to get prepared for life as a Buckeye.
"I work out every day. I lift weights probably five times a week. The other two days of the week, I'm doing drills. I wake up in the early morning and get a lot of drilling in with my coach at like 6 AM before school. We're doing ball control stuff, body control, hands, routes," Hawkins said. "Then I'm still lifting all throughout the week trying to maintain my weight and get stronger before I get down there. I'm going to try and make my way on the field in any way possible. I'm just trying to be an athlete. Wherever I fit in at, I'm going to play."
It's been a long way to get here for Hawkins, but now that he's finally made things official and has signed his papers with the Buckeyes, it's the realization of a lifelong dream.
"It feels great. I've finally gotten to where I really wanted to be in life. I've really met my dreams. Most people don't achieve their dreams, so this is really exciting," Hawkins said.
Now the ink on his letter of intent will join the ink on his skin before he enrolls at Ohio State in June.