Harris Says Hes Staying Put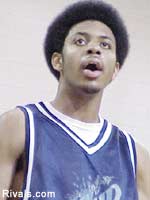 Among the hundred or so interested spectators inside the Schottenstein Center's auxiliary gym Friday afternoon was Ivan Harris.
When Jim O'Brien was fired as basketball coach at Ohio State on June 8, Harris was one of the only Buckeyes who expressed any interest in leaving the school. It was a rumor that had followed Harris ever since the end of his up-and-down freshman season.
But when Thad Matta was formally announced, Harris was among the players in attendance at his first on-campus news conference to help welcome him to Ohio State.
"I think it's a good choice," Harris said of Matta's hiring. "He's very outgoing, and I like coaches like that. I like coaches that tell you what's on their mind. If I have any trouble or anything I feel like I can go to him and he can give me advice and lead the way. It's exciting."
How exciting? Harris, a McDonald's All-American who struggled last year as a freshman, admitted considering a transfer after O'Brien was canned. Most reports had him out the door to Providence. How close Harris was to leaving he won't say but it doesn't matter now.
"I'm staying," he stated. "It's a new start for me. We've got a new coach, some new players on the team and guys have to take it one step at a time. I'm just going to play hard for him.
"I know I have to step it up a notch. I've been working hard in the weight room and running. I've been playing pretty good in the Worthington (summer) league. I'm trying to be focused on stepping my game up to the next level."
Harris is no stranger to change. He played for three different schools in the prep ranks and knows what adjusting to a new style and new coach entails. Ditto that for transfers J.J. Sullinger and Tony Stockman, as well as incoming JUCO transfer Je'Kel Foster.