Gerald's a Buckeye
A road grader of an offensive lineman, Tyler Gerald of Sciotoville (Ohio), is enrolled early in Columbus as a Buckeye. On National Signing Day, the rest of his classmates will join him.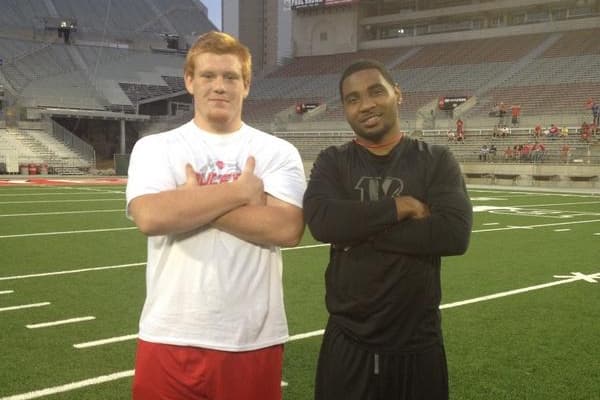 Tyler Gerald has been committed to Ohio State for so long that it can sometimes be easy to gloss over how important he is to the Buckeye recruiting. A four star offensive guard originally hailing from southeastern Ohio before moving down to Bradenton (Fla.)'s IMG Academy for football purposes, Gerald was the first 2016 Buckeye commit all the way back in June of 2014.
"After you commit, it's just like, welcome to the brotherhood. It's a nice family environment, especially being from Ohio," Gerald said. "It's something you dream about as a little kid as an Ohioan. It's hard to explain. It's awesome."
Gerald chose the Buckeyes over offers from schools like Virginia Tech, Maryland, and Penn State and pursuit from Alabama. As a native Ohioan, it wasn't too difficult of a choice for the big offensive lineman.
"It's that intense atmosphere. That expectation of winning. The expectation of being excellent and of being great," Gerald said when explaining his choice.
Gerald is already enrolled on campus at Ohio State, starting back in January. Gerald moved back to his small hometown in southeastern Ohio after a year spent at IMG Academy.
"I don't plan on being redshirted my freshman year, I plan on going straight into the system, especially after a year at IMG. With that kind of training, I think I'll be able to come in and fit right in," Gerald told Rivals.com Florida analyst Rob Cassidy back in March.
Unfortunately, Gerald suffered a shoulder injury that kept him out of action for the Ascenders and it's unclear how that injury may effect his chances of playing time as a freshman.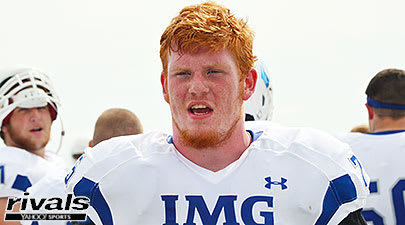 Gerald excels in the run-blocking game. He's a big, physical, nasty interior offensive line prospect who likes to get inside of his man and drive him off of the ball. Gerald's physicality and thickly-built frame at 6-foot-5 and 300-pounds will lend themselves to what Urban Meyer has traditionally liked to do in his "power spread" run game.
Gerald's quick feet and ability to fire off of the ball and explode well through his hips will give him a chance to compete for playing time as soon as he's healthy. That is, if he can refine some of his pass protection techniques. It's an area where he's had limited experience, like many high school offensive linemen, and will need reps to learn a college scheme.
Gerald is ultimately a physically gifted lineman with a mean streak that earn him playing time in the scarlet and gray. He is ranked as a top-15 offensive guard in the nation and as a four-star prospect by Rivals.com