Future Buckeyes are all over the map in the updated state rankings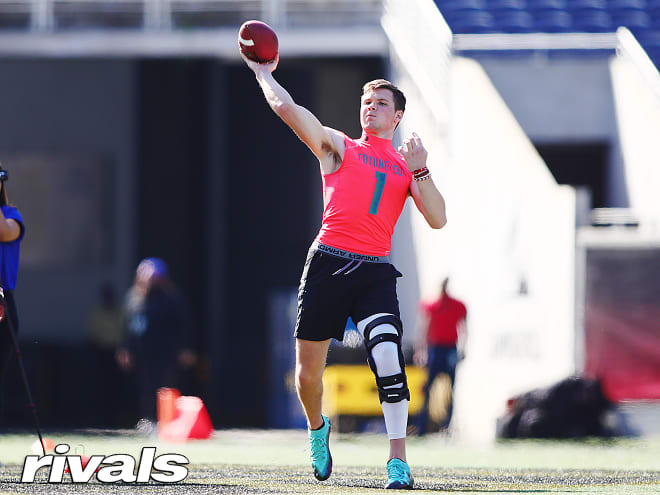 The Buckeyes locked things down in the state of Ohio in this cycle, with them holding commitments from a half-dozen Ohio-based prospects.
Along with keeping top talent in the state, Ryan Day's program also made their presence known across the country. Ohio State has secured pledges from at least one recruit in 12 different states, with all of them but one being labeled by Rivals as top-10 seniors in their respective states.
BuckeyeGrove examines the updated state rankings for every future Buckeye, and discusses what their efforts in each state means for the program.
Arizona
Top-Ranked Prospect in Arizona: Ty Thompson
Where Ohio State's Commits Stand: Denzel Burke is labeled as the third-ranked senior in the state.
How Arizona and Arizona State Recruited in AZ: None of the top-15 prospects in Arizona are committed to the Wildcats or the Sun Devils. Both programs combined have just two Arizona-based players committed to them in the 2021 class.
What This Means: Oregon did an excellent job recruiting in Arizona this cycle, but Ohio State was able to sneak in and land Burke back in May. They'll look to continue that success in the next class by adding Arizona Wildcats commit Kyion Grayes to the fold.
Colorado
Top-Ranked Prospect in Colorado: Terrance Ferguson
Where Ohio State's Commits Stand: Sam Hart is the fourth-ranked 2021 prospect in Colorado.
How Colorado recruited in CO: The Buffaloes hold commitments from a trio of Colorado-based players, including two of the top-10 seniors in the state.
What This Means: While Ohio State was also looking to add Hudson Wolfe to their class as well, Hart was a solid pickup at tight end late last year. The Buckeyes will be more than satisfied with Hart arriving next year, and Benji Gosnell and Bennett Christian coming in 2022.
Georgia
Top-Ranked Prospect in Georgia: Amarius Mims
Where Ohio State's Commits Stand: Jordan Hancock, who just missed out on the Rivals100, is the eighth-ranked player in Georgia.
How Georgia Recruited in GA: Unsurprisingly, the Bulldogs recruited well yet again in their home state. They hold commitments from eight of Georgia's 27 four-star prospects, including pledges from a pair of five-stars in Mims and Brock Vandagriff.
What This Means: Hancock was not necessarily a direct recruiting battle that Ohio State won over Georgia; more so, it was a major win over fellow powerhouse program Clemson. Hancock was a fantastic addition back in July, but him convincing Tigers pledge and high school teammate Barrett Carter to flip to the Buckeyes would be massive for their recruiting efforts in the Peach State.
Indiana
Top-Ranked Prospect in Indiana: Blake Fisher
Where Ohio State's Commits Stand: Zenuae Michalski catapulted himself to the sixth spot in Indiana in the new rankings update.
How Indiana Recruited in IN: The Hoosiers hold commitments from five of the top-20 highest-rated players in Indiana. Overall, a handful of commits, which is nearly half of Indiana's 2021 class (12 total commits), are from their home state.
What This Means: Zenuae Michalski leaped up in the rankings recently as he earned his fourth star and elevated his Rivals Rating from 5.5 to 5.8. Ohio State was the first major football program to offer him, and that could pay dividends as Michalski could be seen as one of the top steals of this class.
Kentucky
Top-Ranked Prospect in Kentucky: Jager Burton
Where Ohio State's Commits Stand: Even though he is a three-star prospect, Dunn is labeled by Rivals as the second-ranked 2021 recruit in Kentucky.
How Kentucky Recruited in KY: Mark Stoops and his program essentially locked down top talent in Kentucky in this cycle. The Wildcats have received commitments from six of the top-10 highest-rated players in the state thus far.
What This Means: Ohio State did miss out on Burton, who would have greatly improved the perception people have of how they recruited offensive linemen in this cycle. Either way, they did land Dunn back in the spring, and he's another prospect, alongside Jaylen Johnson, who could end up receiving their fourth star in the final rankings update.
Missouri
Top-Ranked Prospect in Missouri: Jakailin Johnson
Where Ohio State's Commits Stand: Johnson is the top-ranked senior in Missouri for the 2021 cycle
How Missouri Recruited in MO: Missouri did a pretty good job recruiting in their state as six of the top-20 Missouri-based prospects are committed to the Tigers.
What This Means: Ohio State always does well pursuing prospects who are from Missouri. That's evident by Johnson's commitment and their roster, which features four players from the state. They were hoping to continue their St. Louis success with 2022 Oklahoma commit Luther Burden, but Toriano Pride is someone who remains on their radar.
North Carolina
Top-Ranked Prospect in North Carolina: Will Shipley
Where Ohio State's Commits Stand: Evan Pryor holds on to his spot as the third-ranked senior recruit in North Carolina.
How North Carolina Recruited in NC: Mack Brown and his coaching staff did an exceptional job keeping talent in the state this cycle. The Tar Heels are in possession of 11 commits from the top-20 highest-rated recruits in the state, and 15 of their 18 pledges in the 2021 class are from North Carolina-based prospects.
What This Means: On top of contending with North Carolina, Ohio State also had to beat out Penn State for Pryor's services back in March. The Nittany Lions are a program his mom likes and his sister attends the school as well, so snatching Pryor away from North Carolina and Penn State was an impressive victory for the staff.
Ohio 
Top-Ranked Prospect in Ohio: Jack Sawyer
Where Ohio State's Commits Stand: Sawyer checks in at No. 1 in the state, Ben Christman, Michael Hall and Reid Carrico hold the No. 3-5 spots, Jayden Ballard is at No. 7 and Jaylen Johnson is the 11th-ranked player in Ohio.
What This Means: While a program like Penn State struggled to hold on to top prospects from their own state, that wasn't the case with Day's staff. They got Sawyer on board in February of his sophomore year, and never looked back in this cycle.
The way things are going right now, the Buckeyes should have equal or better success in Ohio for the 2022 cycle.
Pennsylvania
Top-Ranked Prospect in Pennsylvania: Nolan Rucci
Where Ohio State's Commits Stand: Kyle McCord is second in the state, while Marvin Harrison Jr. is third.
How Penn State Recruited in PA: The Nittany Lions hold commitments from only three of the top-30 highest-rated prospects in Pennsylvania. Those players are Lonnie White Jr., and three-stars Nate Bruce and Khalil Dinkins. Pittsburgh (five) has more top-30 Pennsylvania-based recruits committed to their program, while Rutgers and Syracuse are tied with the Nittany Lions at two apiece.
What This Means: The Buckeyes did miss out on Derrick Davis and Rucci in this cycle, but they accomplished a lot in Pennsylvania. Luring Harrison and McCord out of the state gives them a potentially potent quarterback-wide receiver combo while also taking top talent away from a conference rival.
Tennessee
Top-Ranked Prospect in Tennessee: Hudson Wolfe
Where Ohio State's Commits Stand: Andre Turrentine is the fifth-ranked prospect in Tennessee for the 2021 class.
How Tennessee Recruited in TN: The Volunteers hold commitments from five of the top-25 highest-rated prospects in the state, according to Rivals. Hudson Wolfe was the big fish in the state in this cycle, and they landed a commitment from him back in June.
What This Means: Wolfe would have been a huge get for Kevin Wilson and company, and it appeared at one point as if Ohio State was in the lead in his recruitment. Either way, the Buckeyes walk away from Tennessee with Andre Turrentine, a top-200 overall player who will be a good addition to their secondary.
Texas
Top-Ranked Prospect in Texas: Tommy Brockermeyer
Where Ohio State's Commits Stand: Donovan Jackson is the third-ranked overall senior in the Lone Star State.
How Texas and Texas A&M Recruited in TX: Neither the Aggies nor the Longhorns hold commitments from any of the top-10 prospects in Texas. In fact, Oklahoma has pledges from three of the top-20 seniors in the state, which is just as much as Texas and Texas A&M have combined.
What This Means: Ohio State did receive a five-star from Texas this time around, but they're taking things to another level for the 2022 class. They recently reeled in pledges from Caleb Burton and Quinn Ewers, and are trending for Rivals100 wideout Armani Winfield.
Virginia
Top-Ranked Prospect in Virginia: Tristan Leigh
Where Ohio State's Commits Stand: Henderson is the second-ranked senior in Virginia, while Williams comes in at No. 8 in the state.
How Virginia and Virginia Tech recruited in VA: The Virginia Cavaliers have reeled in commitments from eight prospects based out of Virginia. On the other hand, Virginia Tech also saw success in the state as they hold pledges from a half-dozen recruits from the state.
What This Means: Ohio State was hoping to also land Leigh in this cycle, but that seems unlikely with LSU and Oklahoma trending heavily in his recruitment. They'll ultimately wind up with one of the top, if not the best, running back in the nation, and another defensive tackle to pair alongside Hall at the next level.
Stay tuned to BuckeyeGrove.