Friday Night Lights: Sept. 30-Oct. 2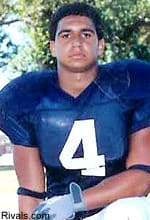 Throughout the high school football season, BuckeyeSports.com and Buckeye Sports Bulletin will be tracking the progress of Ohio State's football commitments along with some of the top prospects the coaching staff is tracking around the state and country.
Here is how OSU's verbal commitments and their teams fared over the most recent weekend of high school football action, Sept. 30-Oct. 2.
DB Malcolm Jenkins, Piscataway, N.J. – Jenkins helped his squad to a 35-0 blanking of J.P. Stevens, catching three passes for 50 yards and picking off a pass. Piscataway is ranked sixth in the state among big schools and second among public high schools.
Piscataway stood at 3-0, and Jenkins doesn't think it will really be challenged until Oct. 22 against Old Bridge.
"They're pretty good," he said. "They have a nice offense. That will be a challenge for us."
WR/DB Andre Amos, Middletown, Ohio – Amos and the Middies had a tough go of it against Cincinnati Colerain, with the team falling 55-7. Only an early fourth-quarter touchdown run by Darrin Conley prevented the shutout as Middletown fell to 1-3 in the conference and 2-4 overall.
The Middies' performance didn't help Amos pad his statistics much. He caught just one pass for 3 yards and carried three times for minus-4 yards.
OG Kevin Bemoll and DE Ryan Williams, Mission Viejo, Calif. – The Diablos continued to have their way with top-ranked competition, knocking off Long Beach Poly by a 41-14 score on Oct. 1. MVHS is the No. 1 ranked team in the state while the Jackrabbits were No. 2.
Williams, who registered six tackles in the game, led a stingy defense that gave up just 69 yards on the ground and grabbed three interceptions.
Meanwhile, Bemoll continues to get healthy from a nagging hip injury and helped blow open holes for junior fullback Chane Moline, who carried 20 times for 191 yards.
Mission Viejo is the No. 3 high school team in the nation according to USA Today.
OL Alex Boone, Lakewood (Ohio) St. Edward – Facing the prospect of potentially having to forfeit early-season games, the Eagles took their frustrations out on Washington (D.C.) Calvin Coolidge, recording a 52-0 shutout Oct. 2 in the nation's capital. Boone graded out at 93 percent with 4 knockdown blocks and was out of the game shortly after halftime as the Eagles rolled up more than 300 yards rushing in the contest. St. Edward may have to forfeit four of its first five victories due to a paperwork snafu involving a transfer student.
OL Jim Cordle, Lancaster, Ohio – The Gales defeated Newark 24-17. Cordle helped open several huge holes on the offense line as Lancaster rushed for 245 yards and scored three times on the ground.
DL Todd Denlinger, Troy, Ohio – Denlinger stepped up big in a 30-7 Trojans victory over archrival Piqua. The defensive lineman made eight tackles, including three for loss, along with registering a sack and a forced fumble.
DB Jamario O'Neal, Cleveland Glenville – As usual, the Tarblooders didn't face much competition in Senate Athletic League action Oct. 1, blanking Cleveland South 49-0. Senior running back Tim Conner again did much of the damage, rushing for 100 yards and two touchdowns on the ground and pulling in a touchdown reception as well.
QB Rob Schoenhoft, Cincinnati St. Xavier – With first place in the Greater Catholic League South Division on the line, St. X did something no team had done since 2000 – win at Cincinnati Elder's famed "Pit." The Bombers grabbed sole possession of the top spot in the division with a 33-30 double-overtime victory Oct. 1, with running back Chris Cionni's 2-yard scoring run securing the victory.
Schoenhoft completed 13 of 21 passes for 193 yards with a touchdown and an interception. He also scored on a 7-yard TD run in the second quarter and set up the game-winning touchdown with a 16-yard pass to Jeff Lindeman in the overtime.
DL Doug Worthington, Athol Springs (N.Y.) St. Francis – A week after perhaps the biggest win in program history, a 28-13 triumph at Cleveland St. Ignatius, the Red Raiders came back to earth in a loss against Erie (Pa.) McDowell. Jayson White, who has received some recruiting interest from the Buckeyes as a fullback, ran for four touchdowns in the first half as the Trojans rolled to a 50-7 victory.
Worthington recovered a fumble for St. Francis, which had been ranked the nation's No. 22 prep program by USA Today.
Here is a look at several other prospects from around the country that OSU is tracking. All are seniors unless noted.
DT Walker Ashley, Eden Prairie, Minn. – After a couple of hard-fought wins, the Eagles eased up Oct. 1 with a 35-7 win over Eastview during which head coach Mike Grant emptied his bench again to play over 100 players.
Ashley played only the first half and picked up three tackles, one sack and two quarterback hurries.
Eden Prairie continues to be the No. 1-rated team in Minnesota and sports a perfect 5-0 record.
LB Alex Daniels, Columbus Brookhaven – In a battle of City League titans, Daniels' team knocked off Beechcroft, 15-2, Oct. 1. Daniels suffered a thigh contusion on the first play of the game but still managed five tackles and a forced fumble, which he recovered.
"I wasn't coming out," Daniels told BuckeyeSports.com. "The game meant too much to us. Our defense shut down their passing game, and that was the only way they were going to come back."
Daniels said depending on how he feels, he could sit out the Bearcats' Oct. 8 game against Columbus East.
QB Mike Hartline, Canton (Ohio) GlenOak (junior) – A stout GlenOak defense nearly blanked North Canton Hoover, and Hartline's arm made sure the Golden Eagles would have enough points to secure the 28-7 victory. Still playing without injured OSU verbal Brian Hartline, who will miss the season with a broken leg, younger brother Mike completed 18 of 33 passes for 270 yards and two touchdowns, both of which went to receiver Kirby Mayle.
After the GlenOak defense stoned Hoover on the 1-yard line in the third quarter, the younger Hartline directed an 11-play, 99-yard drive that he capped with a 1-yard touchdown run for the final score of the game.
DB Shawn Oatis, Chino, Calif. – In nonleague action, the Cowboys suffered an upset at the hands of Murrieta Valley, which converted a two-point conversion with 30 seconds remaining to pick up a 22-21 victory.
Oatis had two touchdowns and more than a half-dozen tackles, but he was disappointed with Chino's effort as a whole.
"The guys didn't come to play individually," he told BuckeyeSports.com. "I had a good game, but it is a team game and we lost as a team."
RB Javon Ringer, Dayton Chaminade-Julienne – Week after week, Ringer makes his case as perhaps the favorite for Ohio's "Mr. Football" award. Against Cincinnati Purcell Marian Oct. 1, the nation's No. 20 running back according to Rivals.com carried 28 times for 372 yards and five touchdowns, including runs of 77 and 57 yards. The Eagles prevailed easily, moving to 5-1 overall and 3-0 in the Greater Catholic League North Division with a 42-13 win.
In six games, Ringer had compiled 1,584 yards on 166 carries – good for an average of 9.5 yards – and he had rushed for 18 touchdowns.
QB Miles Schlichter, Washington Court House (Ohio) Miami Trace (junior) – Schlichter had perhaps his best game of the season so far, leading the Panthers to their sixth straight win, a 42-6 victory over London Madison-Plains in the South Central Ohio League opener for both teams.
Schlichter connected on 13 of 19 passes for 302 yards and a pair of touchdowns. He now has connected on 52 of 83 passes this season (62.7 percent) for 1,045 yards, 11 TDs and just two interceptions. He has also run for 307 yards on 55 carries.
Miami Trace is the No. 1 ranked team in Region 12 of Ohio's Division III.
RB Chris Wells, Akron Garfield (junior) – Akron Central-Hower remained winless thanks in part to Wells, who rushed 18 times for 239 yards and a score in Garfield's 42-6 blowout win.
RB Maurice Wells, Jacksonville (Fla.) Sandalwood – Wells was leading his area in rushing with 667 yards in three games, but he suffered a hip pointer during practice in the week leading up to his team's game against White and carried just once for 1 yard before limping off the field. Even without him, Sandalwood moved to 4-0 with an 18-13 victory, and afterward Wells said he would be ready for his team's Oct. 8 contest.