Friday Night Lights: Opening weekend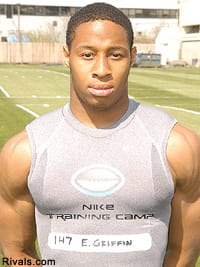 The Cleveland Glenville football team rolled to a 32-0 victory over Mentor Friday night, but that was far from the best news the Tarblooders received all weekend.
Ginn watched his team's victory from the press box -- where he was joined by his son, Ohio State star Ted Ginn Jr. -- and seems likely to return to the sidelines next week.
Here is a look at some of Ohio's other top football games, beginning with those involving Buckeye verbals and also including some looks at how out-of-state prospects performed. Note that not every state has yet begun their high school season, and there are several games scheduled for Saturday night, including Cincinnati Colerain squaring off with Cincinnati St. Xavier in the Queen City. Expect this story to be updated on Sunday and return throughout the football season.
All schools are in Ohio, unless otherwise noted.
Here is a look at some of the other top performances from around the state and country.