Five up in Ohio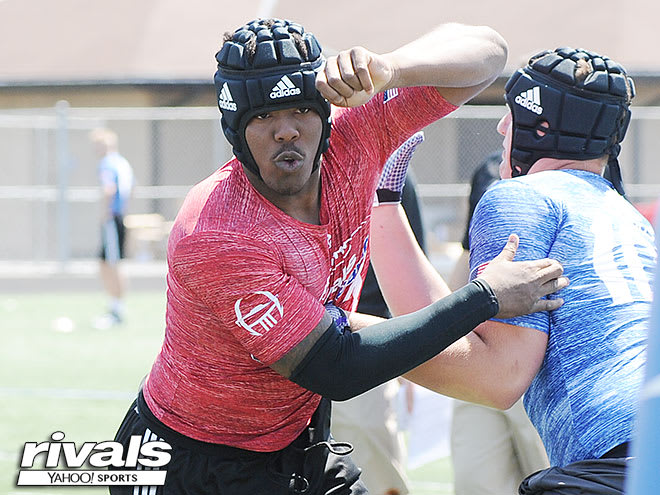 Every year the state of Ohio produces great talent but with more than 100 Division I prospects per year, some prospects get a later start than others when it comes to being heavily recruited. With that in mind, we're taking a look at five class of 2018 Ohio prospects who have really helped themselves this spring with big-time performances on the camp circuit.
Asamoah is always going to be at least slightly undersized for a linebacker prospect, but he has put on very good weight in his upper body this off-season while keeping all of the explosiveness that has made him such a heavily recruited prospect. Asamoah was dominant at times at the Cleveland Nike Camp and his added weight and strength will be very interesting to watch on display this fall.
Kline's offer list, or lack thereof, remains Ohio's biggest mystery. Kline was tremendous at the Cleveland Nike Camp in April and then took home Linebacker MVP at the Columbus Rivals Camp ahead of other more highly rated prospects. Kline has ideal size and is a long athlete that can run. Pop in his tape and you'll see a downhill player who flies to the ball and arrives with bad intentions. Kline is sitting on just three Power Five offers so far with Boston College coming through recently. He'll camp around the Midwest this summer and it wouldn't be a surprise if he pulled a big offer or two during that time.
Madison is the only prospect on this list without a scholarship offer and it is a bit of a mystery. A junior starter at tackle for powerhouse Pickerington Central, Madison has excellent feet, especially at his size, and a broad frame that makes it tough for edge rushers to get around him.
He was among the top offensive line performers at the recent Columbus Rivals Camp and continues to challenge himself on the outside against speed rushers when his height and frame suggest a likely move to guard at the college level.
Madison has also made tremendous progress this off-season in reshaping his body and looks lighter on his feet each time I see him. He'll hit the college camp circuit hard this summer and it would be a surprise if he didn't land a few offers at that point.
What is a Rivals250 prospect doing on here?
Smith has played a very limited amount of high school football to this point and seemingly every explanation of his ranking has been littered with words like 'potential' and 'upside'. It is time to start realizing that Smith isn't as raw as his level of experience would make you believe. He has showed excellent technique at this camp stops this spring and can really use his hands to disengage.
But perhaps the best thing Smith has done this off-season is that he has trimmed a few pounds and reshaped his body. He looks more like a strong-side end now, not someone who is on the move to the three-tech spot. Smith measured in at 6-foot-4.5 at the Columbus Rivals Camp with a 6-foot-9 wingspan so the physical tools are there to stay outside.
Upshaw is no longer just a wiry basketball athlete. He has started to really fill out his frame over the past several months and his ball skills and route running were greatly improved when I saw him in Cleveland at the Nike Camp. Upshaw's size and length have always made him intriguing but the finer points of the game are coming to him now.
He hasn't quite blown up yet with offers, which means somebody is going to get an absolute steal on June 2nd when he plans to announce his decision.