{{ timeAgo('2021-01-13 19:35:06 -0600') }}
football
Edit
Five-star LB Shawn Murphy includes Ohio State in his top eight
Given the results from this week's championship game, Ohio State fans have been seeking good news since Monday night.
Buckeye Nation got just that a few minutes ago as Shawn Murphy, the second-ranked outside linebacker on Rivals, included the program in his top eight. Along with Ohio State being included, Alabama, Clemson, Florida, Georgia, Oklahoma, Oregon and Penn State also made the cut.
Al Washington and the rest of OSU's staff is putting together a potentially all-time great class when it comes to linebackers. They already have five-star CJ Hicks and Rivals100 prospects Dasan McCullough and Gabe Powers in the fold, and Murphy would put the icing on the cake in this upcoming cycle.
If the Rivals FutureCasts are to be believed, then it appears as if Ohio State is on their way to landing yet another five-star in their 2022 class. A handful of FutureCasts have been submitted in favor of the Buckeyes so far, and they still appear to be the front-runner for his services.
One of the reasons why the program is so high on Murphy's radar is due to the relationship he has with Washington. OSU's linebackers coach is in touch with Murphy multiple times per week, and has done a good job of relating with him about life on and off the gridiron.
"I have a really, really good relationship with coach Al," Murphy told Rivals.com's Adam Friedman when discussing why the Buckeyes were on his list. "He's a really cool dude and he knows what he's doing. He's also one those young coaches and everything he does on the field is really nice too. When we spoke, if I were to play at Ohio State, I know I'd have a lot of freedom on the field and that's what I like to see. I want to be the middle linebacker that can use my running skills and showcase all my abilities.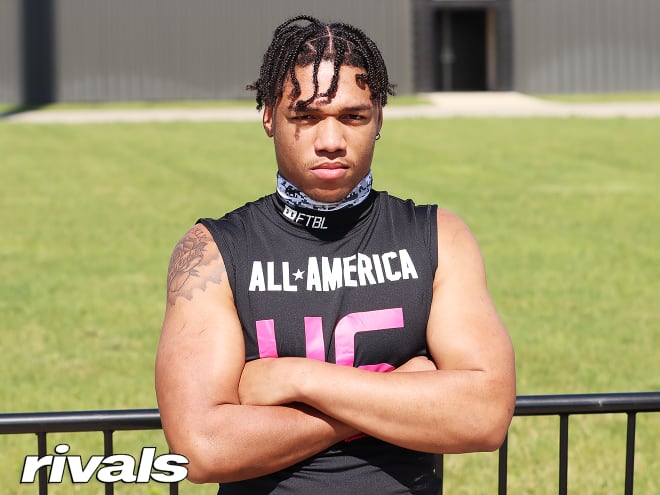 Another part about Ohio State that is catching Murphy's attention is the way they've performed on the field and the success they had in this up-and-down season. The product out of Manassas, Virginia, also likes that Washington is going to give him positional flexibility and allow him to play whichever linebacker position he wants.
We'll also note that Murphy will have a lot of familiar faces alongside him if he opts to make the move to Columbus for college. He has constructed relationships with commits, such as Hicks and McCullough, and could be interested in joining forces with former high school teammate Tyleik Williams at the next level.
While we were speaking with Murphy a couple of months ago, Williams chimed in during the interview.
"He's going to be a Buckeye," Williams said. "Just watch, just watch. I'm going to get him."
The next step Ohio State is hoping to happen with their pursuit of Murphy is for the 6-foot-3, 220-pounder to take another visit to the school in the near future. This could occur soon as OSU's 2022 pledges are planning on doing a Buckeye Bash event soon, though Murphy told Friedman that he does not intend on taking any visits during the dead period.
If that does not transpire, then the Buckeyes will hope to secure an official visit from Murphy after the dead period ends on April 15. It's still not clear which five programs will receive officials from Murphy when recruiting trips resume.
Murphy does not yet have a commitment date locked in, so there is seemingly a lot of time left in his recruitment before he wraps up his recruitment.
Stay tuned to BuckeyeGrove.