Five players involved in employment scandal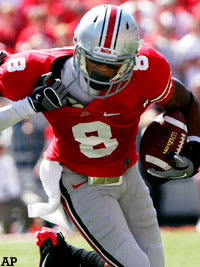 class="st_facebook_hcount" displayText="Share">
displayText="Email">

Instead, only Adams and Thomas will be in uniform Saturday when the Buckeyes take on Nebraska at 8 p.m., Ohio State Director of Athletics Gene Smith announced on Monday.
"This is an employment violation," Smith said." The violation involves excessive compensation regarding hours worked and hours paid. This was a rigorous investigation collaborated with the NCAA enforcement staff. The dollar amounts with each student-athlete determines the penalty that will ultimately be levied by the NCAA."
Herron, Posey,
Marcus Hall
and
Melvin Fellows
are suspended for Saturday's game. The Ohio State Department of Athletics learned that, in a separate probe by the NCAA, the four players, along with
Etienne Sabino
, were paid inflated wages for a summer job at Independence Excavating, located in Independence, Ohio, a company owned by
Bobby DiGeronimo
. The five players were employed dating back to June 2009.
Fellows is sitting out the 2011 season due to a medical hardship, while Smith said Sabino's issue has been resolved and he will be eligible for the Nebraska game.
In Ohio State's letter to the NCAA, the University said, "The types of jobs were primarily day labor such as clean-up work at a carwash, picking up scrap metal at the recycling yard or sorting through items in a storage area. The student-athletes were paid $15 per hour, a rate that was less than that paid to nearly all Independence employees since most company employees are unionized.
"It was not obvious to the student-athletes that they were being overpaid. The student-athletes were not told their hourly wage. According to the controller, no timecards were completed, as a supervisor verbally reported the hours worked to the controller, who wrote the check."
It also revealed that the players did not register the jobs with the Ohio State compliance department, which is required.
Fellows worked 61 hours, but was paid for 82.5, resulting in $292.50 more than he should have made.
Hall was paid $225 over or for 15.5 hours he did not work.
Herron, like Fellows, received $292.50 for work he did not do.
Posey was paid for 48.5 hours he did not work amounting to $720. Posey also received an extra benefit valued at $102 as a result of golfing with Columbus-based photographer Dennis Talbott.
Sabino was only overpaid by $60.

Click
Here
to view this Link.DiGeronimo was previously tied to the suspensions of
Corey BrownClick
Here
to view this Link.,
Jordan HallClick
Here
to view this Link. and
Travis HowardClick
Here
to view this Link.. They received $200 each while attending a charity event in Independence. The three players were suspended for the first two games of the season.
Smith said DiGeronimo has been sent a disassociation letter.
"Because of your failure to meet with the University to discuss these important issues and in light of the information we have learned regarding your involvement with the NCAA rules violations, this letter is formal notification of your immediate disassociation with The Ohio State University's Department of Athletics," the letter reads.
It continues: "This disassociation means that you are to be completely eliminated from any involvement in the University's athletics program, and no benefit or privilege related to Department of Athletics will be provided to you that generally is not available to the general public."
DiGeronimo was associated with the Ohio State athletics department for the last 30 years. He has employed football and basketball players in the past on a part-time basis. It is not a violation as long as the work is actually done and the athletes are paid no more than someone else working the same job.
In an interview with the Columbus Dispatch, DiGeronimo said, "There were no irregularities. The hours they were paid were the hours they worked. They were not paid inflated rates. As of (last) Friday, everything seemed fine. I am surprised by this."
When asked if Ohio State feared being hit with failure to monitor or lack of institutional control by the NCAA, Smith did not seem concerned.
"We're optimistic that failure to monitor and lack of institutional control will not emerge," he said. "We're working with enforcement staff to develop a report that will go to the Committee on Infractions.
"The NCAA has done a very thorough job of evaluating us. These failures are individual failures. They involve failures of individual athletes, our previous coach and a booster. These aren't systemic failures."
Smith did go on to say he holds himself responsible for the department's shortcomings.
"I am held accountable," he said. "That's why I'm sitting here today. We have to constantly work with our student-athletes to educate them about accountability and then educate those people around them to ensure that our student-athletes aren't taken advantage of by people around them."
Adams, Herron, Posey and Thomas - and
Terrelle Pryor
- were suspended after the University and NCAA learned in December they received improper benefits in the form of discounted tattoos in exchange for memorabilia. Pryor eventually left school and was selected by the NFL's Oakland Raiders in the NFL Supplemental Draft.
Jordan Whiting
was suspended for the season opener.
[rl]