Fast facts on the OSU vs. USC rivalry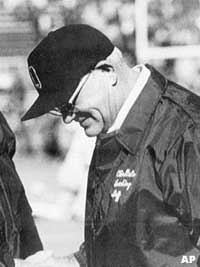 People are already calling the Ohio State versus USC showdown on Sept. 13 the Game of the Century. While it is difficult to believe that title when the game has not even started, it does have the makings of an excellent match up. Looking into the past, the battle of OSU and USC has decided four national champions and has rarely ended in a blowout. For whatever happens in the next five days, one thing is for certain; this game will not disappoint.
Some of their greatest players participated in the Ohio State/USC battles; including Charles White, Jim Otis, Jack Tatum and O.J. Simpson just to name a few. Soon, current Buckeyes and Trojans will be looked upon as some of the best they have ever had, but legacies could be tainted in the outcome of this year's game. The Buckeyes have lost five straight to USC, but they have not met since 1990. Here are some facts about the rivalry that is Ohio State/USC.

Fast Facts
USC leads the series against Ohio State 11-9-1 and is 4-3 against the Buckeyes in the Rose Bowl.
Only Michigan and USC have met in more Rose Bowls than Ohio State/USC.
Even though USC has more wins in the series; Ohio State has averaged more points than the Trojans, (17.10-16.71)
The last time Ohio State won in the Coliseum was in 1946.
Eight Heisman trophy winners have played in this match up, four on each side:
1944: OSU QB/RB Les Horvath
1950: OSU RB Vic Janowicz
1955: OSU RB Howard Cassady
1965: USC RB Mike Garrett
1968: USC RB O.J. Simpson
1974-75: OSU RB Archie Griffin
1979: USC RB Charles White
1981: USC RB Marcus Allen
The only tie between Ohio State and USC occurred in 1949 at the Coliseum. The final score was 13-13.
The 1955 Rose Bowl was the first time USC and Ohio State met in Pasadena and was the only time it heavily rained during the Rose Bowl (It drizzled in 1997 during Ohio State vs. Arizona State). In fact, the grounds crew at the Coliseum did not even have a tarp for the field due to how rare a rainstorm was. It was the first time it rained in Pasadena on New Year's in over 50 years.
This years and next year's games were agreed by two former Heisman winners, Archie Griffin, who was OSU's associate athletic director back in the summer of 1999 and Mike Garrett, who is the athletic director at USC. Garrett even thought to himself after they agreed on it "I sure hope we're good by then."

Hayes vs. McKay
Woody Hayes was not fond of the Trojans after the 1955 Rose Bowl. Woody was furious that the Coliseum did not have a tarp for their field, letting the rain turn the Rose Bowl into a mud pit. Hayes also took on the Roses committee for letting the bands perform on the field during halftime. Even though the Buckeyes won easily 20-7 over the Trojans, there was always bad blood between the two that led into the late 1960's.
Hayes had many enemies in football. One of those enemies was USC coach John McKay. Both men had great teams in the 60's and 1970's and met in the Rose Bowl four times against each other. McKay was not a big fan of Hayes right off the bat. After Woody and the Buckeyes defeated McKay and the Trojans in 1969 for the national title, Hayes was confident about their match up in 1973. McKay would be ready this time around.
"I got fed up with Woody," McKay said, after Hayes kept saying that if his No. 3 ranked Buckeyes beat USC, they deserved to be No. 1. "Woody is an excellent coach, but he's so damn cantankerous."
Their rivalry heated up at the 1973 Rose Bowl luncheon, with coach Hayes and coach McKay speaking to the media. Woody spoke first and McKay was to speak second.
After Hayes finished, McKay approached the podium to get ready to speak. Hayes walked out, saying, "I have to go to work. Put John's words on tape for me."
"It was a stupid play to shake me up," McKay said in his book. "I figured he'd do something like that, but he didn't have to tackle me; he had to tackle Anthony Davis."
Davis ended up rushing 157 yards, helping the Trojans crush the Buckeyes 42-17 for McKay's second national title, but that game was only the beginning of three straight Rose Bowl showdowns between Ohio State and USC. The Buckeyes turned it around in 1974, winning 42-21, but in 1975, USC pulled out a nail-biter 18-17, which is considered one of the best games in college football history.
When asked about Hayes, Davis only remembers the great coach by a certain saying,
"A horse's ass," Davis said. "That's all I thought of him."