Denzel Burke, Cameron Brown take over Ohio State's cornerbacks room
Cameron Brown's the old man in Ohio State's young cornerbacks room.
The redshirt senior is the only member of the room with more than one full season's worth of experience, a smaller room than it originally was heading into the spring with third-year cornerback Lejond Cavazos entering the transfer portal, leaving six scholarship options for new secondary and cornerbacks coach Tim Walton to choose from.
There's no way Brown would rather have it.
Deciding to return for one more season with the Buckeyes, the fifth-year senior said he plans to be what Jeff Okudah was to him when he made the transition to cornerback: taking the younger defensive backs under his wing and teaching them everything he knows.
Now, though, he has the in-game reps to back it up, returning to the starting lineup in 2021 after tearing his Achilles against Penn State in 2020.
"They saw me doing it in practice, but when you're doing it in the game, it's a different feeling because now the guys are like, 'OK, we'll look up to you. We can trust you,'" Brown said.

But in 2022, Brown doesn't have to lead the room by himself. On the other side of the line returns a player the redshirt senior called the most mature freshman he had ever seen.
Denzel Burke: Ohio State's leading snap getter on defense last season, the player who emerged and took over as a former four star and the No. 11 cornerback in the 2021 class.
His success, the 48.4% reception rate by opposing wide receivers per Pro Football Focus, not allowing a single passing touchdown in coverage, the 42 targets spread across the final 10 games of the 2021 season, did not come as a shock to Burke. He knew it was something he was capable of from the moment he stepped on campus.
"I already knew what I got: my work ethic and my competitive edge," Burke said. "So I just felt like if I just kept my head down, be humble, everything was going to work out."
Even with a small room, even with a room filled with inexperience in terms of service time, Brown and Burke bring the Buckeyes much more stability heading into 2022, a year in which there's a desperate need for the defensive backs to step up after finishing with the third-worst pass defense in the Big Ten last season.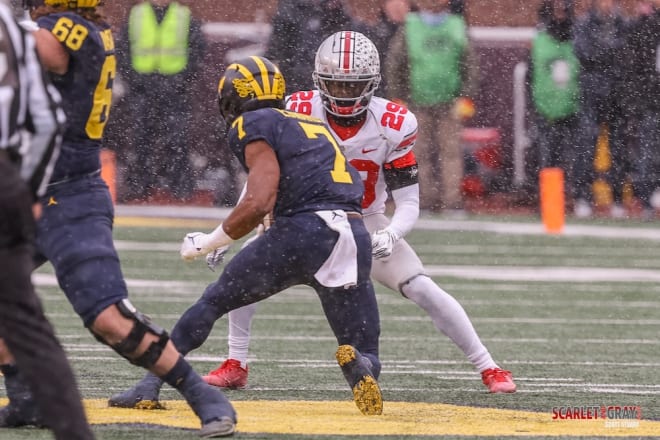 To Brown, the cornerbacks' confidence heading into 2022 with a new defensive coordinator and a new position coach stems from Burke and his readiness to respond to high expectations.
"Denzel has always been confident, but his confidence is off the roof right now," Brown said. "He finally understands the game. He sits down and just realizes, 'OK, I got a year under my belt and I was competing with everyone, Chris (Olave), Garrett (Wilson), the list goes on, people from last year.' But now that he gets to go this year, his confidence is already through the roof because this offense is all receivers he went against."
Over the course of his freshman season with the Buckeyes, Burke said the game began to slow down, finding himself able to recognize tendencies in each offense he faced. With that in-game experience, the now-sophomore feels so much more calm heading into 2022, eager to improve.
"I feel like I have a chip on my shoulder," Burke said. "I got expectations to meet, and even for myself too. I'm my biggest critic, so I want to just level up and be even better than I was last year."
Brown sees it from Burke. He sees that same mentality in Jakailin Johnson and Jordan Hancock. He sees it in the newcomers Ryan Turner and Jyaire Brown: the competitive eagerness against each other, against Ohio State's receivers.
Brown sees a room that's not afraid of anyone.
Combined with a more dominant and confident defensive front, forcing the ball out of quarterbacks' hands more quickly, the redshirt senior sees potential with the combination of the talent in his small and inexperienced room along with Walton's technique.
He sees a room with a lot of juice and with a lot of cornerbacks ready to take the next step.
Heading into 2022, Brown sees himself as a leader of an Ohio State cornerbacks room that isn't going to get beat a lot.
"This year's the last of me. This is my last year," Brown said. "This is my last chance to play with these guys, the last time playing for this university, playing in the Shoe. So I just want to leave it all out. Leave everything I got out."