Deja vu all over a Ginn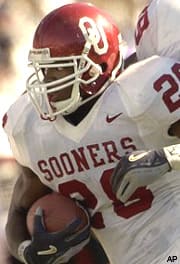 There's nothing that college football coaches covet more than speed. And then there's the kind of speed that Ted Ginn Jr. has, something most coaches are resigned to dreaming about.
As the season progressed, the Ohio State freshman made an increasingly significant impact for the Buckeyes, and on Saturday, Ginn helped pave the way for a 37-21 victory against rival Michigan.
The 6-foot, 170-pounder caught five passes for 87 yards and returned four punts for 123 yards, including a breathtaking 82-yard scamper for a third-quarter touchdown that ultimately defined the game's outcome.
For his efforts, and for the second time this season, Ginn has been named the Rivals.com National Freshman of the Week.
"I'm overwhelmed," Ginn said after his first appearance in arguably college football's biggest rivalry. "I just tried to make it better for the seniors, because they wanted to beat Michigan."
Ginn, rated in February by Rivals.com as the No. 2 player in the class of 2004, has now returned four punts for touchdowns this season, establishing Ohio State season and career marks in the process. He needs just one more punt return for a score to tie former Iowa standout Tim Dwight for the Big Ten career mark, not too bad for a rookie.
"Ginn is an amazing athlete," Michigan cornerback Marlin Jackson said. "He has everything a team could ever want in a player. He has the ability to make people miss like you saw all year and today."
With his team clinging to a 20-14 lead early in the third quarter, Ginn fielded a punt at his own 18 and seconds later sent more than 105,000 fans at Ohio Stadium into a frenzy. Ginn appeared to be hemmed in when he received the ball, but he broke a couple of tackles, exploded to the left sideline and outran the Michigan coverage for the score.
"Ginn's punt return changed the complexion of the game," Michigan coach Lloyd Carr said. "Now we're throwing on almost every down, which is exactly where a defense wants to get you."
Ginn, who was named Rivals.com's Freshman of the Week after a three-touchdown performance against Michigan State two weeks ago, started the season working mostly at cornerback. But he's become a force with the ball in his hands. In addition to his special team's prowess, Ginn now has 17 receptions for 258 yards and two touchdowns, as well as four carries for 68 yards and a score.
Said Ohio State coach Jim Tressel, whose team closed the regular season at 7-4, "He's special. I'm sure he'll have a chance to do lots of things in the future."
Other freshmen of note
After gaining just 58 yards against Nebraska, Oklahoma's Adrian Peterson rebounded to rush for 240 yards and three touchdowns in the Sooners' 35-0 win against Baylor. He tied an NCAA freshman record with his 10th 100-yard game and now has 1,671 yards on the season.
Georgia Tech's Calvin Johnson is the frontrunner for ACC rookie of the year honors and probably wrapped up the award with five catches for 108 yards in a 30-10 loss to Virginia.
Cal running back Marshawn Lynch had another big game with nine carries for 122 yards and a touchdown in a 41-6 win against Stanford. He also added a 20-yard touchdown pass on a halfback option play.
Boston College has been one of the surprise teams in the nation, and the recent play of running back L.V. Whitworth has been a major reason for the Eagles' success. He had 17 carries for 151 yards and two touchdowns in a 34-17 victory against Temple on Saturday.
Florida stunned Florida State 20-13 and linebacker Brandon Siler had a big day, leading the Gators with eight tackles, including two for losses.
Two Iowa State rookies came up big in the Cyclones' 37-23 victory against Kansas State. Quarterback Bret Meyer was 16-for-30 for 234 yards and a touchdown through the air and added 20 yards and a score on the ground. Also, kicker Bret Culbertson made 3 of 4 field goals (30, 26 and 36 yards) and all four of his PATs.
Purdue ripped Indiana on Saturday, 63-24, and wide receiver Dorien Bryant had a big game with a 62-yard touchdown run and five catches for 131 yards and a score.
Virginia entered its game with Georgia Tech ranked last in Division I in net punting. Chris Gould got the nod for the first time this season and responded with seven kicks for a 43.7-yard average. He also had two punts downed inside the 20-yard line in the victory.
2004 National Freshman of the Week winners