Defense Lets OSU Down In Loss To Wildcats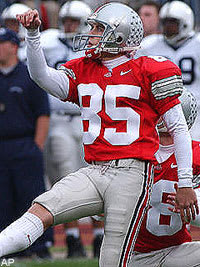 It's not often that history is made during football games, and it's even less frequent for Ohio State to be on the wrong side of things under Jim Tressel.
But that's what happened in the Buckeyes shocking 33-27 overtime loss at Northwestern Saturday night in Evanston. It was the first time the Wildcats had beaten the Buckeyes since 1971, and the first time they had won in Evanston since 1958.
That the Buckeyes, who lost a Big Ten opener for the first time under Jim Tressel, even had a chance to win the game was a bit amazing. The offense worked in fits and starts, but OSU managed to force overtime when Justin Zwick, erratic for much of the night, threw deep to Santonio Holmes, who went up to make an acrobatic catch between two defenders for a 21-yard score.
Northwestern won the toss in overtime and elected to play defense, and the Buckeyes were, as was the case most of the night, confused and disjointed offensively. A handoff to Tony Pittman netted three yards, a pass to Holmes was wide and a blitz forced Zwick to throw the ball away on third down.
OSU sent Mike Nugent, who has been Mr. Automatic this season after making 10 of his first 11 field goal attempts, to try a three-pointer from 40 yards out. The kick was easily long enough, but sailed just outside the right upright.
"No one feels worse about it than Mike does," Tressel said after the game. "But that was just part of what we weren't perfect at."
Northwestern's overtime possession started when Noah Herron, who finished the night with 113 yards and two scores, gained nothing on an inside handoff. Wildcats QB Brett Basanez went left and cut it up inside on a designed draw play for 19 yards, giving Northwestern first and goal at the three. A dive play to Herron got nothing, but a second try was successful and started the pandemonium at Ryan Field.
"They did a lot of great things tonight," Tressel said. "They hurt us with screens. They executed. There was a period where they were staying a step ahead of us on offense. I thought we got it back for a bit, but they regained it in overtime. We didn't do the things we needed to do to win the game."
Northwestern gained 444 yards offensively while the Buckeyes were limited to just 308 yards.
The Wildcats got on the board first thanks to a 41-yard field goal from Brian Huffman in the first quarter, but OSU tied the game on the next series when Nugent connected from 33 yards.
Northwestern pushed the lead to 10-3 when Herron scored on a screen pass from Basanez that covered 15 yards. OSU had three separate shots at Herron but couldn't corral him.
OSU looked lifeless until Holmes returned a punt 63 yards for a score, tying the game at 10 near the end of the half. NU regained the lead on a 40 yard field goal by Huffman as time expired on the first 30 minutes.
Northwestern went up 20-10 when Mark Philmore scored on a third down screen pass in the third quarter. Philmore ended the night with 11 grabs for 134 yards.
The Buckeyes cut the lead to 20-17 on a three-yard dive by Lydell Ross on a drive that included a great leaping catch by Roy Hall that covered 49 yards. Hall went up between defenders to snag a Zwick floater.
Herron put the Wildcats back up by 10 on a dive in the fourth quarter, and it looked like OSU was cooked after Zwick made an ill-advised throw into the end zone that was picked off by Jeff Backes. A Nugent field goal had cut the margin to 27-20, and Zwick got a shot at redemption and found it when he connected with Holmes for the tying score.