Dallas Gant commits to Ohio State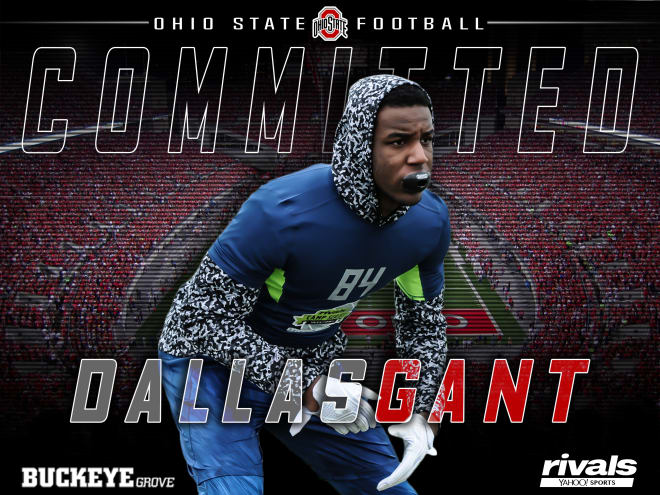 Ohio State's push towards landing the nation's top 2018 class got another big boost on Tuesday afternoon as the Buckeyes landed a pledge from Toledo (Ohio) St. John's linebacker Dallas Gant. The 6-foot-3, 225-pound prospect announced for Ohio State at his high school, picking the Buckeyes over Notre Dame, Michigan, Michigan State, and Penn State.
"Ohio State was just the place that felt most at home to me," said Gant. "Coach Meyer and I had a great relationship, coach Davis as well, it just felt like the right place for me."
Gant had recently narrowed his list to the five regional powers, with Ohio State and Notre Dame being the two presumed favorites to land his commitment. Gant is commitment No. 10 for Ohio State in the 2018 class, but only the second from the state of Ohio. Nine of Ohio State's pledges are rated at least four-stars by Rivals.com.
Ohio State appeared to take a big lead for Gant this past fall with the four-star prospect having great relationships with head coach Urban Meyer and then linebackers coach Luke Fickell. Fickell's departure to take the Cincinnati head coaching position left the door open, but Bill Davis stepped in and took over where Fickell left off and was able to keep the ball rolling in Ohio State's favor.
"Coach Fickell left and at the time Ohio State was my No. 1," Gant recalled. "When coach Fickell left I was kind of unsure, so that's when Notre Dame made their (move) up to that second spot. Ultimately it just took a little longer. Coach Davis is a great coach with a ton of experience, I don't think there is a any drop-off at all there (from Fickell)."
Ultimately after a final round of spring visits, Gant reverted back to the relationships at Ohio State, becoming the second Ohioan to join the fold in 2018 for the Buckeyes along with Westerville South star Jaelen Gill.
"I wasn't quite ready to commit (in the fall) but I just knew that Ohio State was my number one," he said. "When (Fickell) left I was just uncertain. It wasn't coach Davis' fault, I just wanted to make sure."
The Toledo area has historically been a major battleground city for Ohio State, with Michigan doing the most damage to the Buckeyes' efforts in the area. Michigan was a little late in recruiting Gant which helped Ohio State hold off a late charge by the Wolverines.
"It was interesting (being recruited by the two rivals)," he explained. "Michigan got in pretty late but it was cool. I got to visit (Michigan) and loved it. Got to talk to coach Harbaugh, it was a great time there. Overall, I just felt more comfortable with Ohio State."
Gant's athleticism and frame makes him a versatile prospect within the linebacker group in Columbus. The Buckeyes are taking a wait-and-see approach in terms of where he best projects.
"They just said they are going to see how my body turns out," Gant said. "Right now it's probably weak-side backer, but it just depends on my body."
Stay tuned to BuckeyeGrove.com for more on Gant, including a breakdown of what his commitment means for Ohio State.