Bucks go ice cold in loss to Michigan State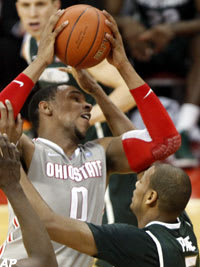 COLUMBUS, Ohio
- Throughout the 2011-12 season the Buckeyes have been the bully but on Saturday the team was able to find out what it meant to get bullied as the Spartans pushed the Buckeyes all over the court and never allowed
Jared Sullinger
to get off.
Adreian Payne
led a trip of double-digit scoring Spartans with 14 and Michigan State won the points in the paint battle 30-12 en route to a 58-48 win to snap Ohio State's 39-game home winning streak.
Both
DeShaun Thomas
and
William Buford
were non-factors for the game and combined for a total of 12 points on combined 4-24 shooting as the Buckeyes were held to their lowest shooting percentage output (26.4-percent) in recent memory.
"You have to make a shot, have to put the ball in the basket," Ohio State head coach
Thad Matta
said after the game. "Some of the looks we had down the stretch were rough. I'm not taking anything away from Michigan State; they had a lot to do with it."
Sullinger earned a dubious triple-double on Saturday evening with 17 points, 16 rebounds (eight offensive) and 10 turnovers. His five made field goals (of 15 attempts) led the team. Overall Ohio State only went 14-53 from the field and the team looked battered and defeated after the game.
"We were out of sync," Sullinger said. "We weren't going to play our offense. Everybody wasn't paying attention to the plays and didn't run plays correctly. I think that's what messed us up the most without shooting."
The Buckeyes did enjoy a brief lead early in the game, getting up by five points after Sully got down low and banked in the high-percentage shot. But that lead was short-lived. Michigan State would go on a 7-1 run to take an 11-10 lead and would eventually start to pull away after
Keith Appling
nailed a three (14 points on the game). Michigan State would take that run out to a 9-2 margin after
Draymond Green
hit the soft jumper (12 points on the game.)
Ohio State went on a small five point run to get it back down to three after a pair of
Aaron Craft
free throws and a three by Sullinger (one of two threes hit by Ohio State - 2/15 from distance).
"I thought Ohio State missed some shots that I see them normally make," Michigan State head coach
Tom Izzo
said. "We had to run them to wear them down a bit. It was physical inside both ways."
The Spartans would take a ten point lead to the halftime locker room, 35-25 and there was an uneasy feeling that fell upon the sellout crowd at Value City Arena. Though it did seem that most fans were expecting an Ohio State run to get back in control of the game, that run never happened.
Ohio State had a chance however and cut it down to four when Sullinger hit a jumper and gave the Bucks life but then Sullinger got whistled for his third foul and Appling hit a pair of free throws to get it back up to six and it would never get any closer than that the rest of the way.
,br>
"We have to look at why we didn't play well and get those things corrected," Matta said. "First and foremost you have to stay together. We're still sitting at top of the conference. As I told them, 'Hey we'll see what kind of team we have tomorrow when we come back for practice."
The Buckeyes don't have much time for a turnaround as the team heads to Minneapolis on Tuesday for a Valentine's Day special with the Gophers.
[rl]