Bucks cruise into bye week with big win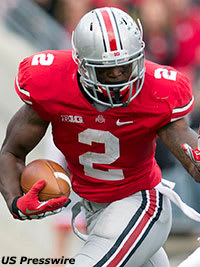 class="st_facebook_hcount" displayText="Share">
displayText="Email">

COLUMBUS, Ohio - Any worries battle-worn Ohio State harbored about an uninspired effort against outmanned Illinois were put to rest in the first half Saturday.

The sixth-ranked Buckeyes scored 24 points in the second quarter and ran and hid from the Fighting Illini in a 52-22 victory powered by running back
Carlos Hyde
and dual-threat quarterback
Braxton Miller
before 105,311 in Ohio Stadium.
Reaching 10-0 for the first time since 2007, Ohio State became the first team to post 10 wins in major-college football this season. And heading into a bye week with a 6-0 record in Big Ten play, the Buckeyes also moved a step closer to winning the Leaders Division title.

The hard-charging Hyde rushed for three touchdowns in the first half and finished with 137 yards on 18 carries, boosting his season totals to 738 yards and 13 TDs.

Hyde's maturation from the time
Urban Meyer
took over in January has impressed his coach.
"He was kind of a guy that didn't have a great reputation," Meyer said. "Our first month together was not pleasant. (But) he's a genuine guy. I actually have really grown to appreciate him as a person. I think the perception of him was incorrect.

"There's very good energy in that running-back group right now."

Miller continued to bring plenty of juice to the offense. He ran for a score to open the third quarter and also passed for two TDs, the second a 37-yard catch-and-run by wide receiver
Corey Brown
to give the Buckeyes a 45-14 lead.
Meyer pulled the Heisman Trophy-candidate Miller for the day after Brown's touchdown with 12:39 to play in the game. Ohio State's final score came on a 3-yard run by freshman
Bri'onte Dunn
with 1:26 left.
Miller completed 12 of 20 passes for 226 yards and ran for 73 yards on 18 carries for a combined 299 yards. The Buckeyes racked up 330 yards on the ground and 567 total yards, topping 500 for the third time this season and 11 yards short of their season-best 578 against Indiana.

Meyer liked the outcome but saw room for improvement.


"We still have weaknesses," Meyer said. "We've worked so hard at developing a passing game and I can't see we did it successfully. It's still a work in progress. We're going to keep grinding and pushing at it because at some point we have to be a balanced team. We're not there yet."


Miller elevated his sterling season numbers to 1,165 yards rushing and a school-record 13 touchdowns for a quarterback, breaking the mark set by Cornelius Greene in 1973, and 1,753 yards passing and 14 TDs.

"Braxton Miller is a fantastic football player," Illinois coach
Tim Beckman
said. "He fuels this Ohio State team with his ability to make guys miss and that is how he hurt us today. He also made big plays with his arm and exposed some coverage issues in our secondary."
In one of its better performances of the season, the Ohio State defense limited Illinois (2-7, 0-5) to 170 total yards, the first time it had allowed fewer than 300 this season, and only 32 in the second half. The Illini added a late score on a 78-yard fumble return.

Linebacker
Ryan Shazier
led the defense with 14 tackles, including a career-high 11 solos, and two tackles for loss.
Zach Boren
continued to look more comfortable at linebacker after his move from fullback, contributing eight tackles.
"The defense is getting better because of all of the criticism we have been receiving," Shazier said. "We are trying and succeeding, slowly but surely, at becoming a better football team."
Meyer reserved most of his praise for the offensive line.

"What I liked best about it is when you control the line of scrimmage," he said. "That offensive line, I keep talking about them. And just where they've come from. It's almost overwhelming if you think where they were the first week of spring practice to where they are now."

The Buckeyes finished far better than they began the game.

"After a slow start, the offensive and defensive lines took over the game," Meyer said. "If you do that without turning the ball over, usually you'll win."

Ohio State lost 5 yards on its first possession and Illinois responded with an 11-play, 39-yard drive on its second series, which ended with a 43-yard field goal by
Nick Immekus
.
But Illinois' 3-0 lead was the last time it was in front.

From there, the Ohio State offense shifted into another gear. The Buckeyes marched 79 yards in 10 plays to move ahead 7-3 on a 3-yard touchdown run by running back
Carlos Hyde
. A key play on the drive was Miller's nice 24-yard touch pass to wide receiver
Jake Stoneburner
on the sideline.
After Illinois pulled to 7-6 on a 28-yard field goal by Immekus, Ohio State's
Drew Basil
kicked a 31-yard field goal for a 10-6 lead.
The Buckeyes widened the gap to 17-6 with 9:01 left in the second quarter when Hyde scored his second touchdown of the first half on a 5-yard run set up by a 32-yard pass from Miller to Brown.

Miller threw his first touchdown pass of the game, connecting for 51 yards with a wide-open
Rod Smith
running a wheel route. Hyde followed with his third touchdown of the first half, a 3-yard run 1:56 before halftime.
With Ohio State out to a 31-6 lead, the outcome essentially was sealed - a breathe-easier rarity for the Buckeyes in a season of close encounters against inferior teams.


Ohio State rolled to 310 total yards in the half while holding Illinois to 138, including 61 in the second quarter. Miller accounted for 229 yards (152 passing, 77 rushing).

"I've been fortunate to have a couple of top-five (ranked) teams," Meyer said, "and this one probably has more holes than those other ones. However, there's also some great performances."

NOTES:
Ohio State boosted its record in the series to 64-30-4. The Buckeyes have played Illinois more than any Big Ten team other than Michigan. … The Ohio Stadium scoreboard and video board went dark before the game because of power outage affecting part of the facility. The PA system and scoreboard went back online just before kickoff. … Illinois lost linebacker
Jonathan Brown
, their leading tackler this season, in the first quarter with an unspecified injury. … Injured Ohio State players included safety
Orhian Johnson
and offensive tackle
Reid Fragel
. … Ohio State cornerback
Travis Howard
's interception in the second quarter gave him a team-leading four picks this season.
[rl]